I'm from a Lutheran & Catholic family, and believe that there are sound, religious reasons to support immigration, and especially to support Dreamers' continued residency in America. (Indeed, the are sound reasons of free markets in labor to support an immigration policy as open as possible.)
For today, though, let's consider – as a purely political matter – the huge break that Steve Bannon has offered the Catholic Church in America. The American church has faced all manner of self-inflicted moral and political wounds in the last generation, abuse scandals primary among them. (I would not look aside or set aside any of those inflicted injuries – each one should be redressed, so much as one can redress any grievous harm.)
Now, along come the modern-day Know Nothings, looking to keep out as many non-whites as they can, Steve Bannon and Breitbart being in the vanguard of that group. A report this morning contends that, in an upcoming 60 Minutes interview with Charlie Rose, Bannon will hit the Church on immigration:
Bannon: The bishops have been terrible about this. By the way, you know why? You know why? Because unable to really – to – to – to come to grips with the problems in the church, they need illegal aliens, they need illegal aliens to fill the churches. That's – it's obvious on the face of it. That's what – the entire Catholic bishops condemn him. … They have – they have an economic interest. They have an economic interest in unlimited immigration, unlimited illegal immigration. And as much as –

Rose: Boy, that's a tough thing to say about your church.

Bannon: As much as I respect Cardinal Dolan and the bishops on doctrine, this is not doctrine. This is not doctrine at all. I totally respect the pope and I totally respect the Catholic bishops and cardinals on doctrine. This is not about doctrine. This is about the sovereignty of a nation. And in that regard, they're just another guy with an opinion.
(Obvious point: the Church does point to doctrine on immigration, clearly, exhaustively,  and repeatedly. Bannon surely knows this – he's simply lying.)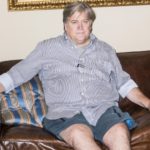 But consider this politically for a moment: if one had to pick an adversary, right out of central casting, what better foe than a broken-down bigot with a horde of lumpen followers?
Jennifer Rubin was right about Trumpism, and that these times are about Trump vs. an America that works:
….We don't think it is a coincidence that in the election Trump lost the most economically productive areas of the United States. Brookings found,"The less-than-500 counties that Hillary Clinton carried nationwide encompassed a massive 64 percent of America's economic activity as measured by total output in 2015. By contrast, the more-than-2,600 counties that Donald Trump won generated just 36 percent of the country's output—just a little more than one-third of the nation's economic activity." To be clear, Clinton carried the most diverse, most cosmopolitan and most successful parts of America. ("Her base of 493 counties was heavily metropolitan. By contrast, Trumpland consists of hundreds and hundreds of tiny low-output locations that comprise the non-metropolitan hinterland of America, along with some suburban and exurban metro counties")….
A reasonable person wouldn't want a fight over immigration, knowing that free markets in labor are beneficial to society. A fair person wouldn't displace children.
If one had to face a fight with nativists, however, one could not have found more desirable opponents. A fight with Bannon puts the Church squarely in the camp of the most dynamic parts of the country, against stagnant ones. Bannon and his ilk have forced this issue, but on terms favorable not to themselves, but favorable instead to the pro-immigration forces of which the Church is a key part.