David Frum, writing about Trump's failure to advance health care legislation, observes the truth about Trump:
Regular reminder that Donald Trump's core competency is not dealmaking with powerful counter-parties. It is duping gullible victims.

— David Frum (@davidfrum) March 24, 2017
That's right, and cannot be said enough: Trump's a confidence man, and he preys on the unwary, desperate, or gullible.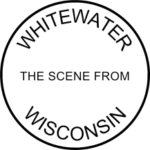 There's a local angle in all this: although Whitewater's policymakers and town notables want to portray themselves as advancing sophisticated (often tech-oriented programs), their plans rest mostly on false claims and third-tier work hawked to an economically struggling community. They claim job gains without describing them in detail, they claim economic benefits without enumerating them in detail, and they hide costs and setbacks that would place in context any benefits they hazily claim.
The few, self-described 'Whitewater Advocates' who push these policies aren't selling community betterment: they're selling their own social advancement at the cost of the disproportionately large number of indigent and struggling residents in this city. And Like Trump, when they meet capable counter-parties, their scheming fares poorly.
They've had over the years, from their own perspective one supposes, public-relations success with dodgy proposal after dodgy proposal. I'd guess the high watermark for them was several years ago, around 2010-2012. They should have quit then, while the tide was still high. The water's receding now, and one sees how much waste litters the shore.