Good morning.
Sunday in Whitewater will be sunny with a high of seventy-eight. Sunrise is 7:01 AM and sunset 6:22 PM, for 11h 21m 27s of daytime. The moon is a waning gibbous with 90.2% of its visible disk illuminated. Today is the three hundred thirty-third day.Days since Trump's election, with 11.9.16 as the first day.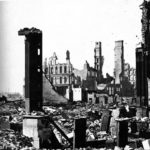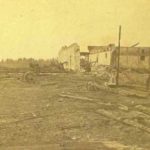 On this day in 1871, the Great Chicago Fire, a blaze that killed hundreds, "started at about 9:00 p.m. on October 8, in or around a small barn belonging to the O'Leary family that bordered the alley behind 137 DeKoven Street.[2] The shed next to the barn was the first building to be consumed by the fire, but city officials never determined the exact cause of the blaze.[3] There has, however, been much speculation over the years. The most popular tale blames Mrs. O'Leary's cow, who allegedly knocked over a lantern; others state that a group of men were gambling inside the barn and knocked over a lantern.[4] Still other speculation suggests that the blaze was related to other fires in the Midwest that day.[5] " Also on this day in 1871, Peshtigo, Wisconsin "was devastated by a fire which took 1,200 lives. The fire caused over $2 million in damages and destroyed 1.25 million acres of forest. This was the greatest human loss due to fire in the history of the United States."
Recommended for reading in full —
Ari Berman reports Trump Election Commission Leader Sought a Radical Change to a Key Voting Law ("New documents show that Kris Kobach wanted Trump to make it much harder to register to vote"):
Kansas Secretary of State Kris Kobach, the vice chair of President Donald Trump's election integrity commission, urged the Trump administration to weaken a key federal voting law, according to documents released by a federal court on Thursday. Kobach called for amending the 1993 National Voter Registration Act, which requires states to offer voter registration at the DMV and other federal agencies, to allow states to require proof of citizenship in order to register—a requirement that has blocked tens of thousands from the polls in Kansas.

On November 20, 2016, Kobach met with Trump at the president-elect's golf club in Bedminster, New Jersey. Kobach was a top adviser to Trump on immigration and voting issues and at the time was under consideration to lead the Department of Homeland Security. As he greeted Trump, Kobach was photographed holding a white paper outlining the "Kobach Strategic Plan for the Next 365 Days."

Though partially obscured, the document revealed a wish-list of radical policies for the Trump era that included "extreme vetting" and tracking of "all aliens from high-risk areas," reducing the "intake of Syrian refugees to zero," deporting a "record number of criminal aliens in the first year," and the "rapid build" of a wall along the US-Mexico border.

At the bottom of the document was a section called "Stop Aliens From Voting," where Kobach said he wanted to "Draft Amendment to National Voter Registration Act to promote proof-of-citizenship requirements." On Thursday, in response to a lawsuit from the ACLU, a federal court ordered Kobach to release the document to the public, along with a draft of his proposed amendment. Those documents show how Kobach would alter one of the country's most important voting rights laws by adding a new requirement that would make it much more difficult for Americans to register. (Kobach wrote to Trump's transition team the day after the election and made the same policy recommendation.)

Kobach's proposal is modeled after a law in Kansas requiring citizenship documents to register to vote, such as a birth certificate, a passport, or naturalization papers. Since the law went into effect in 2013, one in seven Kansans trying to register has been prevented from doing so. Nearly half of those 30,000 people have been under the age of 30. A federal appeals court blocked a key part of the law last year, ruling that "there was an almost certain risk that thousands of otherwise qualified Kansans would be unable to vote in November." Kobach has appealed that ruling….
David Daley writes How the GOP Made Your Vote Useless:
Ed Gillespie masterminded the devastating 2010 GOP strategy to retake Washington by winning crucial state and local elections that brought the power to redistrict the U.S. House.

His plan, aptly dubbed REDMAP, worked so well that Republicans captured almost 700 state legislature seats in an epic rebuke of Barack Obama and Democrats nationwide. The true spoils of that victory came the following year. New GOP majorities in Michigan, Ohio, North Carolina, Wisconsin, and Pennsylvania reinvented the gerrymander as a blunt-force partisan weapon.

It took Democrats many years to realize how long-lasting the consequences of 2010 would be. Now—just as the Supreme Court is hearing oral arguments in Gill v Whitford, a landmark case that could create the first-ever constitutional standard to define when a partisan gerrymander goes too far—Democrats have realized that the future of their party will be determined down-ballot. Gillespie, the godfather of the GOP gerrymander and the Republican nominee for governor of Virginia, is their most crucial target.

A Gillespie win, combined with well-cemented Republican majorities in the state assembly and senate, would lock in GOP control when new legislative districts for statewide and congressional races are drawn in 2021….
David Corn writes Did Russia Hack the 2016 Vote Tally? This Senator Says We Don't Know for Sure:
At a packed press conference on Capitol Hill on Wednesday, Sen. Richard Burr (R-N.C.), the chairman of the Senate intelligence committee, provided a progress report on his panel's investigation of the Trump-Russia scandal. Naturally, this is a touchy and dicey matter for a Republican, and Burr tried to make some points that appeared designed to limit President Donald Trump's political vulnerabilities on this front.

First, Burr declared that although Russian hackers had probed or penetrated the election systems of at least 21 states, he could confidently state that the Russian meddling in the 2016 election resulted in no changes to the vote tallies. That is, there's no reason to question Trump's Electoral College win. And second, Burr said that Russia's use of Facebook ads during the presidential campaign seemed "indiscriminate" and not designed to help a particular candidate—meaning the recent revelations do not bolster the case that Trump was the Kremlin's choice.

"The chairman said that he can say 'certifiably' that there was no vote tampering. I do not agree with this judgment."

But Sen. Ron Wyden, (D-Ore.), a feisty member of the intelligence committee, says both assertions are bunk. In an interview with Mother Jones on Thursday, Wyden argued that Burr's confidence in the election system was unwarranted. "The chairman said that he can say 'certifiably' that there was no vote tampering," said Wyden. "I do not agree with this judgment. I don't think it is possible to know that. There was no systematic analysis of the voting or forensic evaluations of the voting machines."

Wyden pointed out that the Department of Homeland Security has noted that its assessment that there was no finagling with the vote count was made with only "moderate confidence." For Wyden, that's not good enough for such a sensitive and significant matter—and it sends the misguided signal that the voting system is doing just fine. Wyden believes that's the wrong message. This week he sent a letter to the major manufacturers of voting machines demanding information about how they protect themselves from cyberattacks.

Wyden also said that Burr erred in declaring that the Russian Facebook ads—some of which targeted swing states—did not favor a presidential candidate. (Presumably Wyden has seen or been briefed on the content of the ads.) "That's one reason why the ads need to be released to the American people," Wyden remarked, "so Americans can make up their minds"….
Donnie Sullivan reports an Exclusive: Russian-linked group sold merchandise online:
"Young, gifted and black." "Melanin and muscles." "Our sons matter." The slogans on the clothing that a group called "Blacktivist" offered for sale through Facebook were supposed to look like they came from American Black Lives Matter activists. But they were in fact being promoted by a Russian-linked group working to amplify political discord in the U.S. before the presidential election.

CNN first reported last week that "Blacktivist" accounts on Facebook and Twitter had regularly shared content intended to stoke outrage in an apparent attempt to amplify racial tensions during the U.S. presidential election. The accounts have been suspended and are among those handed over to Congress as part of its investigation into Russia's meddling in the 2016 presidential election.

 The page appears to have sold fewer than 100 items of Blacktivist-branded merchandise, but the actual amount of clothing sold is less significant than what the effort represented: A move by the people behind Blacktivist to go beyond social media and spread their influence into the physical world. The Blacktivist Facebook page also promoted at least seven rallies and demonstrations around the U.S. in 2016.

Related: Exclusive: Fake black activist accounts linked to Russian government

Jonathon Morgan, the founder of New Knowledge, a company that tracks the spread of misinformation online, says the promotion of events and the sale of merchandise is straight out of the Russian misinformation handbook, and that it "fits a pattern of Russian propagandists' attempts at appearing as authentic Americans participating in politics"….
(One can expect future, more effective Russian attempts if reliable counter-measures are not adopted. See Pell Center Study Warns Russia Threat is Bigger than the 2016 Election.)
Among all animals, these are the animals that travel the farthest: