Good morning.

A new month begins in Whitewater with sunny skies and a high of fifteen. Sunrise is 7:08 AM and sunset 5:08 PM, for 10h 00m 41s of daytime. The moon is a waning gibbous with 98.6% of its visible disk illuminated. Today is the four hundred forty-eighth day.Days since Trump's election, with 11.9.16 as the first day.
Whitewater's Landmarks Commission meets at 6 PM, the Whitewater Fire Department for a business meeting at 6:30 PM, and the Police & Fire Commission also at 6:30 PM.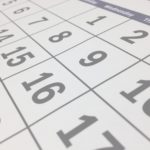 On this day in 1960, the Greensboro sit-ins begin:
On February 1, 1960, at 4:30pm, the four sat down at the lunch counter inside the Woolworth store at 132 South Elm Street in Greensboro.[3] The men, later also known as the A&T Four or the Greensboro Four, had purchased toothpaste and other products from a desegregated counter at the store with no problems, and then were refused service at the store's lunch counter when they each asked for a cup of coffee.[2][8][9] Following store policy, staff refused to serve the black men at the "whites only" counter and store manager Clarence Harris asked them to leave.[10] However, the four freshmen stayed until the store closed that night.

The next day, more than twenty black students, recruited from other campus groups, joined the sit-in. Students from Bennett College, a college for black women in Greensboro, also joined. White customers heckled the black students, who read books and studied to keep busy, while the lunch counter staff continued to refuse service.[9]

Newspaper reporters and a TVfilmographer covered the second day, and others in the community learned of the protests. On the third day, more than 60 people came to the Woolworth store. A statement issued by Woolworth national headquarters said that the company would "abide by local custom" and maintain its segregation policy.[9]

On the fourth day, more than 300 people took part. Organizers agreed to expand the sit-in protests to include the lunch counter at Greensboro's Kress store.[9]

As early as one week after the Greensboro sit-ins began, students in other North Carolina towns launched their own. Winston-Salem, Durham, Raleigh, Charlotte, and out-of-state towns such as Lexington, Kentucky all saw protests.

The sit-in movement then spread to other Southern cities, including Richmond, Virginia and Nashville, Tennessee, where students of the Nashville Student Movement were trained by civil rights activist James Lawson and had already started the process when Greensboro occurred. Most of these protests were peaceful, but there were instances of violence.[11] In Chattanooga, Tennessee, tensions rose between blacks and whites and fights broke out.[12] In Jackson, Mississippi, students from Tougaloo College staged a sit-in on May 28, 1963, recounted in the autobiography of Anne Moody, a participant. In Coming of Age in Mississippi Moody describes their treatment from whites who were at the counter when they sat down, the formation of the mob in the store and how they managed finally to leave.[13]

As the sit-ins continued, tensions grew in Greensboro. Students began a far-reaching boycott of stores with segregated lunch counters. Sales at the boycotted stores dropped by a third, leading their owners to abandon segregation policies.[3] On Monday, July 25, 1960, after nearly $200,000 in losses ($1.7 million today), store manager Clarence Harris asked three black employees to change out of their work clothes and order a meal at the counter. They were, quietly, the first to be served at a Woolworth lunch counter.[14] Most stores were soon desegregated, though in other Tennessee cities, such as Nashville and Jackson, Woolworth's continued to be segregated until around 1965, despite many protests.[9][15]
Recommended for reading in full —
➤ Norman Eisen, Caroline Fredrickson and Noah Bookbinder contend Trump's Saturday Night Massacre Is Happening Right Before Our Eyes ("The aim of the campaign against the Mueller investigation and the FBI is clear: Obstructing justice"):
The FBI issued an extraordinary statement on Wednesday, pushing back on the release of a partisan congressional memo alleging the bureau used improper evidence to obtain legal permission to surveil a Trump campaign adviser. We've never seen anything like it. "[T]he FBI was provided a limited opportunity to review this memo the day before the committee voted to release it," the bureau said. "As expressed during our initial review, we have grave concerns about material omissions of fact that fundamentally impact the memo's accuracy."

The memo, written by Congressman Devin Nunes and barreling toward public circulation at the president's discretion, has already created a firestorm, and it is not even out yet. Nunes fired back at the FBI hours later, claiming, "It's clear that top officials used unverified information in a court document to fuel a counterintelligence investigation during an American political campaign."

Let's be clear about what's happening here: This memo is the latest escalation in an eight-month effort to tarnish the Russia investigation that might be the most significant smear campaign against the executive branch since Joe McCarthy—only here, the effort is being led by the head of that branch himself. As the New York Times reported, the Nunes memo seems like a dagger aimed by President Trump at Deputy Attorney General Rod Rosenstein, who is supervising the Russia probe for the Justice Department.
Republican huzzahs over Special Counsel Robert Mueller's appointment were still echoing when the opening salvo of this shocking campaign was launched: the claim that Mueller had disqualifying "conflicts." Never mind that the Justice Department cleared Mueller of conflicts before he was appointed. Or that ethical standards do not remotely support disqualification over issues like Mueller's professional acquaintance with James Comey, his employment at a firm that represented Trump associates, or even a long-ago dispute over the amount of fees Mueller owed at a Trump golf course. These meritless conflicts claims have continued to resurface like a game of whack-a-mole, popping up elsewhere after they are knocked down.
➤ Jo Becker, Mark Mazzetti, Matt Apuzzo, and Maggie Haberman report Mueller Zooms In on Trump Tower Cover Story:
What is already clear is that, as Mr. Trump's aides and family members tried over 48 hours to manage one of most consequential crises of the young administration, the situation quickly degenerated into something of a circular firing squad. They protected their own interests, shifted blame and potentially left themselves — and the president — legally vulnerable.

The latest witness to be called for an interview about the episode was Mark Corallo, who served as a spokesman for Mr. Trump's legal team before resigning in July. Mr. Corallo received an interview request last week from the special counsel and has agreed to the interview, according to three people with knowledge of the request.

Mr. Corallo is planning to tell Mr. Mueller about a previously undisclosed conference call with Mr. Trump and Hope Hicks, the White House communications director, according to the three people. Mr. Corallo planned to tell investigators that Ms. Hicks said during the call that emails written by Donald Trump Jr. before the Trump Tower meeting — in which the younger Mr. Trump said he was eager to receive political dirt about Mrs. Clinton from the Russians — "will never get out." That left Mr. Corallo with concerns that Ms. Hicks could be contemplating obstructing justice, the people said.
➤ Moriah Balingit reports of forgotten Americans in 'Why can't I have my life back?': In Puerto Rico, living and learning in the dark:
Hurricane Maria devastated one of the nation's largest and poorest school systems, a district of about 347,000 students where nearly all qualified for free meals. Even now, the storm hampers the day-to-day operation of schools. By the time classes resumed after winter break, the island's education department had decided to close 21 schools because of damage or flagging enrollment.

Of the 1,110 that remained open, nearly one-third had no power. More than 25,000 students had fled the island — many without their parents — in search of more stable schooling in the continental United States. Nearly 200 educators joined them, exacerbating a teacher shortage and leaving scores of students unsupervised during parts of the school day. Teachers struggle to get the basic resources they need to do their jobs, shelling out their own money for food when cafeterias run out and for projectors and air conditioners.

"It's an injustice," said Aida Díaz, president of one of Puerto Rico's teachers unions. "We want to give [children] the best, but it's impossible."
➤ Jonathan Chait lists 4 New Trump Corruption Stories From the Last Day Alone:
Politico reported yesterday that Brenda Fitzgerald, director of the Centers for Disease Control and Prevention, purchased stock in Merck & Co., Bayer, Humana, and a tobacco company after taking her post last June. Politico quoted numerous ethics watchdogs expressing opposition to the conflicts of interest she took on by buying stock in firms affected by her work. Fitzgerald resigned today.

Also today, the Washington Post reports that Health and Human Services Secretary Ben Carson's son, Ben Carson Jr., participated in his father's work in ways that may have benefited his son's businesses. The scandal would come as no surprise if you had read Alec MacGillis's report on HUD from last August. MacGillis found Carson Jr. constantly hanging around and networking HUD projects in ways that implied some relation to his own businesses. And sure enough, HUD staffers privately expressed concern that he was inviting clients or potential clients to HUD events and "gave the appearance that the Secretary may be using his position for his son's private gain."

A report yesterday found that Trump's infrastructure council is filled with business owners who stand to benefit from the policies Trump is advancing. For instance, Richard LeFrak, one of the developers on Trump's council, has lobbied against flood-risk regulations that Trump has eliminated. The plan writ large would steer public funding toward privately owned infrastructure projects that would benefit the developers on Trump's committee, as well as potentially members of his own family.

Meanwhile, the Palm Beach Post reports that Trump Realty is expanding its operations in southern Florida. The ongoing business by Trump's business empire is a massive corruption risk, as Trump and his family can benefit from the publicity conferred by his public office, and stand to benefit by anybody who wants to curry favor throwing business their way. The whole problem has faded into the background to the degree that revelations that once would have counted as first-tier presidential scandals — Jimmy Carter was forced to sell his peanut farm to avoid having any pro-peanut bias affect his policies — have disappeared. One of Trump Realty's agents tells the Post that she "is confident the recent tax law will further spur relocations from high-tax states in the Northeast to South Florida." This was not an exposé of a reporter discovering that Trump stands to benefit from his tax law. It was a casual boast by the business's manager to a journalist.
This monster machine is the ultimate carrot harvester pic.twitter.com/yJDdleojGX

— Business Insider (@businessinsider) February 1, 2018