Good morning.

Friday in Whitewater will be partly sunny with a high of thirty-seven. Sunrise is 6:15 AM and sunset 5:54 PM, for 11h 39m 31s of daytime. The moon is a waning crescent with 48.5% of its visible disk illuminated. Today is the four hundred eighty-fourth day.Days since Trump's election, with 11.9.16 as the first day.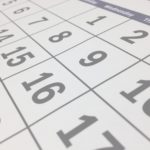 On this day in 1841, the United States Supreme Court rules in United States v. The Amistad [United States v. Schooner Amistad, 40 U.S. (15 Pet.) 518 (1841)]:
In 1840, a federal district court found that the transport of the kidnapped Africans across the Atlantic Ocean on the Portuguese slave ship Tecora was in violation of laws and accepted treaties against the international slave trade by Great Britain and Ireland, Spain, and the United States. The captives were ruled to have acted as free men when they fought to escape their kidnapping and illegal confinement. The court ruled the Africans were entitled to take whatever legal measures necessary to secure their freedom, including the use of force. Under international and sectional pressure, eighth American President Martin Van Buren (1782-1862, served 1837-1841), ordered the case appealed to the Supreme Court. It affirmed the lower district court ruling on March 9, 1841, and authorized the release of the Africans, but overturned the additional order of the lower court that they be returned to Africa at government expense.

Supporters arranged for temporary housing of the Africans in Farmington, Connecticut as well as funds for travel. In 1842 they transported by ship those who wanted to return to Africa, together with American Christian missionaries.
Recommended for reading in full —
➤ Chris Mueller reports Gov. Scott Walker: Wisconsin fending off 'very real' cybersecurity threats:
APPLETON – Gov. Scott Walker said Wednesday that Wisconsin faces daily cybersecurity threats and continues to learn how best to fend them off.

"There are attempts every single day to compromise our systems," he said.

Walker emphasized cybersecurity during his speech at the annual Governor's Conference on Emergency Management and Homeland Security on Wednesday at the Fox Cities Exhibition Center in downtown Appleton.
➤ Max Boot contends North Korea and South Korea snooker Trump:
South Korean conservatives have had two nightmare scenarios about President Trump: that he would either embroil their country in a ruinous war with North Korea or that he would sell out their interests to the North.

Trump spent his first year in office lending credence to the first concern. He threatened to rain "fire and fury" down on North Korea. He called its dictator, Kim Jong-un, "Little Rocket Man," and bragged that his "nuclear button" was much bigger than Kim's. Administration officials claimed that deterrence couldn't work and discussed the possibility of a "bloody nose" strike that could have triggered a nuclear war.

Now, in a head-snapping display of incoherence, Trump has agreed to meet Kim, giving the worst human-rights abuser on the planet, what he most wants: international legitimacy. Kim will be able to tell his people that the American president is kowtowing to him because he is scared of North Korea's mighty nuclear arsenal.
➤ Dan Friedman writes Here's Why Republicans Stopped Talking About a Uranium One "Whistleblower" ("The guy they hoped would implicate Hillary Clinton doesn't appear too reliable"):
A former FBI informant who GOP lawmakers have claimed could implicate the Clintons in the so-called Uranium One scandal failed to produce any evidence of wrongdoing by the Clintons or anyone else during a February 7 interview with staffers of three congressional committees, Democrats on the House Oversight and Government Reform Committee say in a summary of the meeting released Thursday.

For months Republicans have said the informant, a former lobbyist named William D. Campbell, had explosive information regarding the sale of Uranium One, a Canadian firm that owned mines in the United States, to Rosatom, a Russian-state owned company. They claimed that Campbell could shed light on how Russians exerted influence over then-Secretary of State Hillary Clinton—allegedly steering money to her family foundation—in order to win approval of the sale. Senate Judiciary Chairman Chuck Grassley and several House Republicans cited Campbell's claims to urge the appointment of a new special counsel to investigate the Uranium One sale. But lately, Republicans have largely stopped talking about Campbell. His recent congressional interview may help explain why.

During the meeting, Campbell admitted that he lacked knowledge of the interagency review process through which the sale was approved. Campbell said he "looked on Google to see" how the process worked, according to Democrats, who also note that he "identified no evidence that Secretary Hillary Clinton, President Bill Clinton, or anyone from the Obama Administration took any actions as a result of" Russian influence.
(See also Interview Summary of Uranium One "Confidential Informant" William Campbell.)
➤ Ella Nilsen and Rachel Wolfe aggregate stories about the Seychelles — land of sun, surf, and suspicious meetings with Russians:
The latest place of interest in special counsel Robert Mueller's investigation is Seychelles, an East African archipelago nation in the Indian Ocean. [Huffington Post / Nick Visser]
It's the location of a January 2017 meeting that Mueller is homing in on, between Trump campaign adviser (and Blackwater founder) Erik Prince and a Russian investor named Kirill Dmitriev, who was reportedly there representing Russian President Vladimir Putin. [NYT / Mark Mazzetti, David Kirkpatrick, and Adam Goldman]
Reporters have been getting bits and pieces about this meeting from anonymous sources, who have long claimed that the Seychelles meeting was supposed to set up a covert channel between the Trump and Putin teams, to communicate without others knowing. We now know that Mueller is digging deeper. [Vox / Andrew Prokop]
The interesting news is that a Lebanese-American businessman named George Nader, one of the people who helped set up and attend the meeting, is now claiming that's exactly what happened. Nader is cooperating with Mueller and recently testified before a grand jury. [Washington Post / Sari Horwitz and Devlin Barrett]
This goes against what Prince said in testimony last year (he claimed he was in Seychelles on business). [Vox / Andrew Prokop?]
On Capitol Hill, Democrats working on the congressional Russia investigation are wondering if Prince lied under oath, while some Republicans are dismissing the issue. [CNN / Manu Raju and Marshall Cohen]
We don't know what was discussed at the meeting, but we do know Mueller is examining a money trail between the men. Where it leads is the next question. [NYT / Mark Mazzetti, David Kirkpatrick, and Adam Goldman]
➤ Free-Diving Under Ice, 'There Is No Place For Fear, Panic, or Mistakes':
"At first, I did not like it," says Johanna Nordblad, who holds the Guinness World Record for 50-meter free-diving, in a new short film from Ian Derry. "The cold was agony. But slowly, I got used to the feeling." As Nordblad descends into the unforgiving subterranean world of the Arctic Ocean, she reveals the wherewithal necessary for free-diving under the ice. "There is no place for fear," she says. "No place for panic. No place for mistakes. Under the ice, you need total control."

Johanna was born of accidents. Nordblad began free-diving after suffering an injury; she was required to submerge in freezing water for treatment. Derry, too, suffered an accident and received a settlement, which he used to fund the film, his first directorial effort. "I wanted to do something positive from the negative," the filmmaker told The Atlantic. "When I think back, it was quite fortuitous that accident happened."

But the process of making the film was characterized by strict intentionality. "This is not something you can do without a proper approach," Derry said. "Safety was paramount. We needed a safety team in and out of the water, so we had to be very precise." The main enemy was the cold, which drained the camera's batteries during the first two minutes of filming. Later, in the -16 ºC air temperature, the camera froze. Water leaked into the monitor. Despite the various setbacks, Derry and his team managed to capture the serene beauty of Nordblad's sport.

"She is not just a woman who can free-dive in freezing water," Derry said. "She genuinely is a creature with aquatic DNA."