Good morning.

Thursday in Whitewater will be partly cloudy with a high of sixty-nine. Sunrise is 5:36 AM and sunset 8:06 PM, for 14h 29m 44s of daytime. The moon is a waning crescent, with 26.4% of its visible disk illuminated.
Today is the five hundred forty-sixth day.
Days since Trump's election, with 11.9.16 as the first day.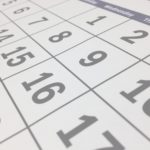 On this day in 1865, a traitor to America, Confederate President Jefferson Davis, is captured:
The 1st Wisconsin Cavalry was one of the first units sent to search for Jefferson Davis, the president of the Confederacy, after the surrender of General Robert E. Lee. A Michigan unit, also sent to find Davis, accidentally attacked the cavalry before dawn. A few hours later, both units captured the Confederate president in Irwinville, Georgia.
Recommended for reading in full —
➤ Mike McIntire, Kenneth P. Vogel, Katie Thomas, and Cecilia Kang report How Michael Cohen, Denied Job in White House, Was Seen as Its Gatekeeper:
After paying off a pornographic film actress and doing other tasks to help his boss win the presidency, Michael D. Cohen was surprised to find that the doors to the White House were mostly closed to him.

Mr. Cohen did not land a hoped-for job in President Trump's administration — he imagined himself as chief of staff — and in January last year he left the Trump Organization, where he had long served as the in-house fixer without a clear portfolio. But he managed to turn what looked like an exile into a lucrative opportunity.

Armed with the self-appointed title of "personal attorney" to the president, Mr. Cohen, who had served as a personal-injury lawyer and owned a taxi business, became seen as the man who could help others gain access to the seat of power that had been denied to him. Major corporations including AT&T, Novartis and the law firm Squire Patton Boggs collectively paid him over $2 million for advice about navigating the suddenly foreign terrain of Mr. Trump's Washington.

Most of the arrangements remained a secret until Tuesday, when details first appeared in an account released by Michael Avenatti, the lawyer for Stephanie Clifford, the actress who was paid $130,000 to keep quiet about her alleged affair with Mr. Trump and is now suing to be released from the agreement. The New York Times confirmed many of Mr. Avenatti's disclosures through a review of financial records.
➤ Greg Sargent has A taxonomy of Michael Cohen and potential Trump corruption:
What did President Trump know about Michael Cohen's quasi-shakedown operation, and when did he know it? That's an important question, but in this particular case, we need to add a second one: Whether or not Trump knew about Cohen's efforts, to what degree did he personally benefit from them?

Thanks to major new investigative pieces by The Post and the New York Times, we now have real insight into how Cohen, Trump's personal lawyer, set up a company in October 2016 called Essential Consultants, which paid off the hush money to Stormy Daniels and subsequently took in millions of dollars in fees from corporations looking for "insight" into how the Trump administration functioned.

The story is straightforward enough. After Trump's shocking win, corporations suddenly realized they couldn't rely on traditional lobbying channels for access, and Cohen raced to capitalize on it. He overtly marketed himself as the president's "fixer" to potential clients, and presented himself to companies as someone who was knowledgeable about Trump's, er, thinking on questions important to their bottom line.
➤ Nicholas Fandos and Michael Wines report Russia Tried to Undermine Confidence in Voting Systems, Senators Say:
WASHINGTON — Russia was preparing to undermine confidence in the United States' voting process when its hackers surveilled around 20 state election systems in the run-up to the 2016 elections, the Senate Intelligence Committee concluded in a brief report released on Tuesday.

But the committee said it saw no evidence that the Russians had ultimately changed vote tallies or voter registration information. In a few states, however, Russian hackers were "in a position to, at a minimum, alter or delete voter registration data," the committee said.

"These activities began at least as early as 2014, continued through Election Day 2016, and included traditional information-gathering efforts as well as operations likely aimed at preparing to discredit the integrity of the U.S. voting process and election results," the senators wrote.

The Intelligence Committee has been investigating Russia's election interference campaign for well over a year now. The findings and earlier recommendations related to election security amount to its first public conclusions based on that work.
➤ Jessica Guynn, Elizabeth Weise, and Erin Kelly report Thousands of Facebook ads bought by Russians to fool U.S. voters released by Congress:
SAN FRANCISCO — Democrats on the House Intelligence Committee released thousands of Russian Facebook ads on Thursday, offering the public its first in-depth look at the troubling messages used to heighten tensions among Americans during and after the 2016 U.S. presidential election.

The release of the ads, which Facebook says were purchased by the Kremlin-linked Internet Research Agency to sway public sentiment, comes as the giant social network races to tighten restrictions on political ads to head off manipulation of upcoming elections, including this fall's hotly contested midterms.

Pressure has intensified since the Justice Department charged 13 Russians and three companies in February, exposing a wide-ranging effort to subvert the election and to support the Trump campaign.
➤ So, Is Honey Vegan?