Good morning.

Saturday in Whitewater will see intermittent rain with a high of fifty-seven.  Sunrise is 5:34 AM and sunset 8:08 PM, for 14h 34m 06s of daytime.  The moon is a waning crescent, with 11% of its visible disk illuminated.
Today is the five hundred forty-eighth day.
Days since Trump's election, with 11.9.16 as the first day.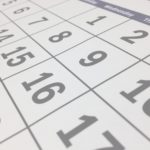 On this day in 1949, the Berlin Blockade ends:
During the multinational occupation of post–World War II Germany, the Soviet Union blocked the Western Allies' railway, road, and canal access to the sectors of Berlin under Western control. The Soviets offered to drop the blockade if the Western Allies withdrew the newly introduced Deutsche mark from West Berlin.

In response, the Western Allies organized the Berlin airlift (26 June 1948–30 September 1949) to carry supplies to the people of West Berlin, a difficult feat given the size of the city's population.[1][2] Aircrews from the United States Air Force, the British Royal Air Force, the French Air Force,[3] the Royal Canadian Air Force, the Royal Australian Air Force, the Royal New Zealand Air Force, and the South African Air Force[4]:338 flew over 200,000 flights in one year, providing to the West Berliners up to 8,893 tons of necessities each day, such as fuel and food.[5] The Soviets did not disrupt the airlift for fear this might lead to open conflict.[6]

By the spring of 1949, the airlift was clearly succeeding, and by April it was delivering more cargo than had previously been transported into the city by rail. On 12 May 1949, the USSR lifted the blockade of West Berlin. The Berlin Blockade served to highlight the competing ideological and economic visions for postwar Europe.
Recommended for reading in full —
➤ Robert Pear reports Trump's Plan to Lower Drug Prices Diverges From Campaign Promise:
WASHINGTON — President Trump vowed on Friday to "bring soaring drug prices back down to earth" by promoting competition among pharmaceutical companies, and he suggested that the government could require drugmakers to disclose prices in their ubiquitous television advertising.

But he dropped the popular and populist proposals of his presidential campaign, opting not to have the federal government directly negotiate lower drug prices for Medicare. And he chose not to allow American consumers to import low-cost medicines from abroad.

He would instead give private entities more tools to negotiate better deals on behalf of consumers, insurers and employers.

Speaking in the sun-splashed Rose Garden of the White House, Mr. Trump said that a "tangled web of special interests" had conspired to keep drug prices high at the expense of American consumers.
(Americans should be able to buy medicines from abroad, as they should be able to freely trade in goods, generally; private entities cannot negotiate truly better deals if they do not have access to all possible sources of a medicine.  As for breaking his campaign promise, well, Trump said what he knew some wanted to hear.)
➤ John Santucci, Matthew Mosk, Katherine Faulders, and Soo Rin Mim report EXCLUSIVE: Special counsel probing donations with foreign connections to Trump inauguration:
Special counsel Robert Mueller's team has questioned several witnesses about millions of dollars in donations to President Donald Trump's inauguration committee last year, including questions about donors with connections to Russia, Saudi Arabia, the United Arab Emirates and Qatar, sources with direct knowledge told ABC News.

…

According to a source who has sat with the Mueller team for interviews in recent weeks, the special counsel is examining donors who have either business or personal connections in Russia, Saudi Arabia, the United Arab Emirates and Qatar. Several donors with those ties contributed large sums to the non-profit fundraising entity – gifts that topped out at $1 million dollars, according to public records.
➤ Conor Friedersdorf contends It's Time for Trump Voters to Face the Bitter Truth ("Republicans elected a president who promised to take on D.C.—instead, Trump has presided over an extraordinary auction of access and influence):
Donald Trump promised to "drain the swamp" while running for office. Voters gave him the opportunity to follow through when they propelled him to the White House. Instead, he surrounded himself with people who saw his victory as an opportunity to enrich themselves by selling the promise of access or influence.

This betrayal of the American public warrants more attention. Trump voters who wanted to rid Washington of sellouts should be most upset, but no one wants to admit that the person they voted for was misrepresenting his intentions. And those who rely on commentators like Sean Hannity, Laura Ingraham, Rush Limbaugh, and Tucker Carlson for information lack many relevant facts.

Here's what Trump voters should know. Michael Cohen was the president's personal attorney. He stepped up when someone was needed to pay hush money to Stormy Daniels on the eve of the election, even using a shell corporation created under a pseudonym to hide the matter.

But that corporation wasn't just for paying off the pornography actress. He also used it to receive huge sums of money from folks with powerful interests in influencing the U.S. government. "A Korean defense company competing for a U.S. contract said it paid him $150,000 to advise it on accounting practices," The Washington Post reported earlier this week. "A global pharmaceutical company said it paid him $1.2 million to provide insight into health-care policy—money it said it was required to keep paying even after concluding that Cohen had little to offer. A telecommunication company said it turned to him simply to better understand the Trump administration."
➤ Eric Lipton and Lisa Friedman report E.P.A. Emails Show an Effort to Shield Pruitt From Public Scrutiny:
WASHINGTON — It was supposed to be a town hall meeting where Iowa ranchers could ask questions directly of Scott Pruitt, the head of the Environmental Protection Agency. But when the agency learned that anyone would be free to ask anything, they decided to script the questions themselves.

"My sincere apologies," an E.P.A. official wrote to the rancher who would be moderating the event. "We cannot do open q&a from the crowd." She then proposed several simple questions for him to ask Mr. Pruitt, including: "What has it been like to work with President Trump?"

Details about the December event, and dozens of other official appearances from Mr. Pruitt's scandal-plagued first year at the E.P.A., have until now been hidden from public view as a result of an extraordinary effort by Mr. Pruitt and his staff to maintain strict secrecy about the bulk of his daily schedule.

But a new cache of emails offer a detailed look inside the agency's aggressive efforts to conceal his activities as a public servant. The more than 10,000 documents, made public as part of a Freedom of Information lawsuit by the Sierra Club, show that the agency's close control of Mr. Pruitt's events is driven more by a desire to avoid tough questions from the public than by concerns about security, contradicting Mr. Pruitt's longstanding defense of his secretiveness.