Good morning.

Tuesday in Whitewater will be partly sunny with a high of sixty-nine.  Sunrise is 5:24 AM and sunset 8:18 PM, for 14h 53m 42s of daytime.  The moon is a waxing gibbous with 54.8% of its visible disk illuminated.
Today is the five hundred fifty-seventh day.
Days since Trump's election, with 11.9.16 as the first day.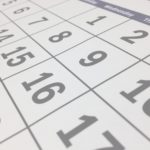 On this day in 1968, the Milwaukee Bucks get their name: " 'Milwaukee Bucks' was selected as the franchise name after 14,000 fans participated in a team-naming contest. 45 people suggested the name, one of whom, R.D. Trebilcox, won a car for his efforts."
Recommended for reading in full —
  Thomas Franck reports 
Goldman Sachs: The fiscal outlook for the US 'is not good'
:
Jan Hatzius, chief economist at Goldman Sachs, sees the deficit ballooning to $2.05 trillion (7 percent of GDP) by 2028."
Lawmakers might hesitate to approve fiscal stimulus in the next downturn in light of the already substantial budget deficit," the economist said.
The Congressional Budget Office projects that debt could equal GDP within a decade, a level not seen since World War II.
(Trump ran his businesses into the ground; unchecked, he'll do the same to America's economy.)
Adam Serwer contends 
There Is Only One Trump Scandal ("The myriad Trump scandals can obscure the fact that they're all elements of one massive tale of corruption")
:
There's the ongoing special-counsel investigation into whether the Trump campaign aided a Russian campaign to aid Trump's candidacy and defeat his Democratic rival, Hillary Clinton; there's the associated inquiry into whether the president obstructed justice when he fired former FBI Director James Comey, whom he had asked not to investigate his former national-security adviser; there are the president's hush-money payments to women with whom he allegedly had extramarital affairs, made through his personal attorney, Michael Cohen, and facilitated by corporate cash paid to influence the White House; there is his ongoing effort to interfere with the Russia inquiry and politicize federal law enforcement; there are the foreign governments that seem to be utilizing the president's properties as vehicles for influencing administration policy; there's the emerging evidence that Trump campaign officials sought aid not only from Russia, but from other foreign countries, which may have affected Trump's foreign policy; there are the ongoing revelations of the president's Cabinet officials' misusing taxpayer funds; there is the accumulating evidence that administration decisions are made at the behest of private industry, in particular those in which Republican donors have significant interests.

The preceding wall of text may appear to some as an abridged list of the Trump administration's scandals, but this is an illusion created by the perception that these are all separate affairs. Viewed as such, the various Trump scandals can seem multifarious and overpowering, and difficult to fathom.

There are not many Trump scandals. There is one Trump scandal. Singular: the corruption of the American government by the president and his associates, who are using their official power for personal and financial gain rather than for the welfare of the American people, and their attempts to shield that corruption from political consequences, public scrutiny, or legal accountability.
Desmond Butler and Tom LoBianco write of 
The princes, the president and the fortune seekers
:
"I think my friend not very wise for you to be seeing (sic) at this event," Nader wrote to Broidy. "Many journalists and people from Russia and other countries will be around."

Broidy met Trump once again on Dec. 2. He reported back to Nader that he'd told Trump the crown princes were "most favorably impressed by his leadership." He offered the crown princes' help in the Middle East peace plan being developed by Jared Kushner. He did not tell Trump that his partner had complete contempt for the plan — and for the president's son-in-law.

"You have to hear in private my Brother what Principals think of 'Clown prince's' efforts and his plan!" Nader wrote. "Nobody would even waste cup of coffee on him if it wasn't for who he is married to."

Days after Broidy's meeting with Trump, the UAE awarded Broidy the intelligence contract the partners had been seeking for up to $600 million over 5 years, according to a leaked email.
Eric Bader reports 
Ariane chief seems frustrated with SpaceX for driving down launch costs
:
When pressed on the price pressure that SpaceX has introduced into the launch market, Charmeau's central argument is that this has only been possible because, "SpaceX is charging the US government 100 million dollar per launch, but launches for European customers are much cheaper." Essentially, he says, launches for the US military and NASA are subsidizing SpaceX's commercial launch business.

However, the pay-for-service prices that SpaceX offers to the US Department of Defense for spy satellites and cargo and crew launches for NASA are below those of what other launch companies charge. And while $100 million or more for a military launch is significantly higher than a $62 million commercial launch, government contracts come with extra restrictions, reviews, and requirements that drive up this price.

Even as Charmeau decries what he calls subsidies for SpaceX from the US government, he admits that Ariane cannot exist without guaranteed contracts purchased by European governments. To make the Ariane 6 vehicle viable, Charmeau said Ariane needs five launches in total for 2021 and eight guaranteed launches for 2022.
Chuck Quirmbach reports 
UW-Madison Study Explores Bats As Skeeter-Eaters
:
Post navigation