Good morning.

Friday in Whitewater will be partly sunny with a late afternoon thunderstorm, and a high of eighty-six. Sunrise is 5:22 AM and sunset 8:21 PM, for 14h 58m 42s of daytime. The moon is a waxing gibbous with 83.8% of its visible disk illuminated.
Today is the five hundred sixtieth day.
Days since Trump's election, with 11.9.16 as the first day.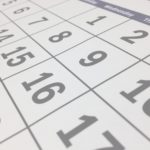 On this day in 1787, the Constitutional Convention begins in Philadelphia.
Recommended for reading in full —
Eric Gay reports on an
ACLU Report: Detained Immigrant Children Subjected To Widespread Abuse By Officials
:
Immigrant children in the custody of U.S. border authorities allegedly suffered pervasive abuse ranging from insults and threats to physical assaults, according to documents reviewed by the American Civil Liberties Union.

A report released this week by the ACLU is based on more than 30,000 pages of documents obtained through the Freedom of Information Act. The documents, it says, "expose of culture of impunity" within U.S. Customs and Border Protection and the Department of Homeland Security.

In response, Customs and Border Protection issued a strongly worded statement in which it called the ACLU report "unfounded and baseless."

The documents describe hundreds of cases of alleged abuse said to have occurred between 2009 and 2014, according to Mitra Ebadolahi, staff attorney with the ACLU's Border Litigation Project.

"These documents provide a glimpse into a federal immigration enforcement system marked by brutality and lawlessness," Ebadolahi said in a statement.

…

Among the allegations, U.S. officials are said to have:

Denied a pregnant minor medical attention when she reported pain, which preceded a stillbirth.
Subjected a 16-year-old girl to a search in which they "forcefully spread her legs and touched her private parts so hard that she screamed."
Left a 4-lb. premature baby and her minor mother in an overcrowded and dirty cell filled with sick people, against medical advice.
Threw out a child's birth certificate and threatened him with sexual abuse by an adult male detainee.
Ran over a 17-year-old with a patrol vehicle and then punched him repeatedly.
Martin Cizmar writes
Reporter perfectly explains Roger Stone's weird dealings with Julian Assange and a radio DJ
:
Roger's Stone's dealings with Julian Assange and a failed stand-up comedian who interviewed the Wikileaks founder is a lot to process.

The notoriously shady Stone pretty much lies about everything, which makes untangling his dealings a mess.

But the Wall Street Journal's Shelby Holliday has spent some time looking into Stone and Randy Credico, the DJ for WBAI, and laid out their ties to Assange in a brilliant MSNBC segment that pretty much explains the whole thing.

"There are a lot of layers here," she says, before getting into the complex dealings.
David Frum lists
Fifteen Unanswered Criminal-Law Questions About Trump
:
Trump campaign aides and associates met with Russian agents in advance of the Russian hacks and releases of Democratic internal communications. Did these meetings lead to any form of coordination between the Trump campaign, the Trump family, or Trump supporters on the one hand and Russian intelligence and its proxy, WikiLeaks, on the other?
Russia engaged in large-scale and illegal expenditures on social media to help elect Trump. Did the Trump campaign, the Trump family, or Trump supporters coordinate or assist in any way with these violations of U.S. law?
Trump campaign aides reportedly met with representatives of Persian Gulf governments who offered to violate U.S. law to help elect Trump. What came of those meetings? [Remaining key 12 questions listed in full article.]
Michael Gerson asks
Are Republicans abetting a demagogue — or something worse?
:
Much about the future of American politics — and the historical judgment that will be visited on those associated with it — depends on the answer to one question: Is President Trump an instinctual demagogue or an instinctual authoritarian?

On most days, the evidence favors the former interpretation. Trump often acts like a desperate, self-interested politician, convinced that his enemies fight dirty and determined to out-slime them. So he pursues a strategy of character assassination against the special counsel on the model of President Bill Clinton discrediting Ken Starr. This is squalid and damaging, but at least familiar.

Then there are other days — and more and more of them — that justify the latter interpretation. Rather than a politician trying to muddy the waters, Trump seems more like a strongman probing the limits of democracy. He seems less like Clinton and more like Turkey's Recep Tayyip Erdogan, seeking to dismantle institutional checks on his authority. "This is what it looks like," Sen. Jeff Flake(R-Ariz.) said, "when you stress-test all of the institutions that undergird our constitutional democracy at the same time."
The US Geological Survey is
recording Kilauea's volcanic activity
:
At Kilauea Volcano's summit, a nearly continuous plume of gas and steam billows out of the Overlook vent and drifts with the wind. Overflights collect visual information to quantify change and inform our assessment of hazards. https://t.co/oOL3HwFcrh pic.twitter.com/2rM4WfdKqd

— USGS Volcanoes? (@USGSVolcanoes) May 24, 2018