Good morning.


Wednesday in Whitewater will be partly sunny with a high of 95. Sunrise is 5:15 AM and sunset 8:35 PM for 15h 19m 35s of daytime. The moon is a waning gibbous with 98.4% of its visible disk illuminated.
On this day in 1878, Eadweard Muybridge takes a series of photographs to prove that all four feet of a horse leave the ground when it runs; the study becomes the basis of motion pictures.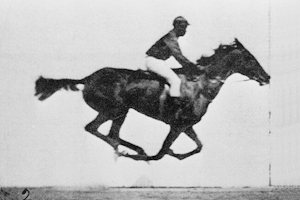 ---
Beth Daley of The Conversation interviews Brian Blank on 5 things to know about the Fed's interest rate increase and how it will affect you. Excerpted below is the introduction to the interview and Blank's answer to question 3:
The Federal Reserve is raising interest rates for the third time this year, on June 15, 2022, as it seeks to counter inflation running at the fastest pace in over 40 years. The big question is how much it will lift rates. Before the latest consumer prices report on June 10, most market watchers and economists expected a 0.5-percentage-point hike. But now, more are anticipating a 0.75-point increase – which would be the largest in nearly 30 years. The risk is that higher rates will push the economy into a recession, a fear aptly expressed by the recent plunge in the S&P 500 stock index, which is down over 20% from its peak in January, making it a "bear market."

What does this all mean? We asked Brian Blank, a finance scholar who studies how businesses adapt and handle economic downturns, to explain what the Fed is trying to do, whether it can succeed and what it means for you.

….

3. What's a 'soft landing' and is it likely?

A soft landing refers to the way that the Fed is attempting to slow inflation – and therefore economic growth – without causing a recession.

In order to stabilize prices while not hurting employment, the Fed is expected to increase interest rates rapidly in the coming months – and it currently forecasts rates to be at least 1 percentage point higher by 2023. It has already lifted its benchmark rate twice this year by a total of 0.75 percentage point.

Historically, when the Fed has had to raise rates quickly, economic downturns have been difficult to avoid. Can it manage a soft landing this time? Powell has insisted that its policy tools have become more effective since its last inflation fight in the 1980s, making it possible this time to stick the landing. Many economists and other observers remain uncertain. And a recent survey of economists notes that many anticipate a recession beginning next year.

That said, the economy is still relatively strong, and I'd say the odds of a recession beginning next year are still probably close to a coin flip.
See also former Fed chairman Ben Bernanke on why Inflation Isn't Going to Bring Back the 1970s. (Excerpted on Twitter as a thread.)
---
Cow Wanders Into Farmer's Office: