Good morning.

Wednesday in Whitewater will be partly cloudy with a high of seventy-eight. Sunrise is 5:18 AM and sunset 8:37 PM, for 15h 18m 45s of daytime. The moon is a waxing gibbous with 99.7% of its visible disk illuminated.
Today is the five hundred ninety-second day.
Days since Trump's election, with 11.9.16 as the first day.
Whitewater's Parks & Rec Board is scheduled to meet at 5:30 PM.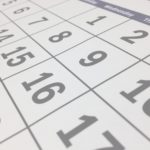 On this day in 1837, the Milwaukee Sentinel is founded:
On this date the Milwaukee Sentinel, the oldest newspaper in the state, was founded as a weekly publication by Solomon Juneau, who also was Milwaukee's first mayor. [Source: History Just Ahead: A Guide to Wisconsin's Historical Markers edited by Sarah Davis McBride, p. 19]
Recommended for reading in full —
Jeff Stein reports
The federal debt is headed for the highest levels since World War II, CBO says
:
Government debt is on track to hit historically high levels and at its current growth rate will be nearly equal in size to the U.S. economy by 2028, the Congressional Budget Office said Tuesday.

By the end of this year, the ratio of federal debt to the United States' gross domestic product will reach 78 percent, according to the CBO, the highest ratio since 1950.

The debt is projected to grow to 96 percent of GDP by 2028 before eventually surpassing the historical high of 106 percent it reached in 1946.

Currently, the federal government's debt burden is about $15 trillion, according to Marc Goldwein, senior vice president of the Committee for a Responsible Federal Budget, a nonpartisan think tank.
Jamelle Bouie reminds that
Donald Trump Is Still Not Popular
:
But Trump's improvement is overstated. Even after that spike, polling averages show him well below his margin in the 2016 presidential election. FiveThirtyEight has him with 42.3 percent approval to 51.6 percent disapproval. HuffPost Pollster has him with 42.8 percent approval to 51.8 disapproval, and RealClearPolitics has him with 43.7 percent approval to 51.1 percent disapproval. These are averages, so they don't capture recent trends, which show Trump on the decline. A new Gallup poll released on Monday shows Trump back where he was before the brief spike: with 41 percent approval to 55 percent disapproval.

To put those numbers in context, Trump is less popular at this point in his term than any president since Gerald Ford. If his job approval continues its recent decline, then he'll once again claim the mantle of historic unpopularity.

….

On the issues, Trump remains at a distinct disadvantage. Most Americans prefer Democrats on health care and taxes, as majorities oppose Obamacare repeal and the Republican tax law. While White House officials see immigration as a wedge issue for Trump, most Americans reject his approach to the border. Seventy-five percent say immigration is a "good thing" and just 29 percent say immigration to the United States should be decreased. Two-thirds of Americans opposed his child-separation policy.
Gabriel Sherman reports
"Stephen Actually Enjoys Seeing Those Pictures at the Border"
:
Meanwhile, as the border crisis spirals, the absence of a coordinated policy process has allowed the most extreme administration voices to fill the vacuum. White House senior policy adviser Stephen Miller has all but become the face of the issue, a development that even supporters of Trump's "zero-tolerance" position say is damaging the White House. "Stephen actually enjoys seeing those pictures at the border," an outside White House adviser said. "He's a twisted guy, the way he was raised and picked on. There's always been a way he's gone about this. He's Waffen-SS."
(This isn't how Miller's opponents describe him; it's how one of his colleagues describe him.)
Chris Buckley and Henry Fountain report
In a High-Stakes Environmental Whodunit, Many Clues Point to China
:
XINGFU, China — Last month, scientists disclosed a global pollution mystery: a surprise rise in emissions of an outlawed industrial gas that destroys the atmosphere's protective ozone layer.

The unexpected spike is undermining what has been hailed as the most successful international environmental agreement ever enacted: the Montreal Protocol, which includes a ban on chlorofluorocarbons, or CFCs, and which was expected to bring a full recovery of the ozone layer by midcentury. But the source of the pollution has remained unknown.

Now, a trail of clues leads to this scrappy industrial boomtown in rural China.

Interviews, documents and advertisements collected by The New York Times and independent investigators indicate that a major source — possibly the overwhelming one — is factories in China that have ignored a global ban and kept making or using the chemical, CFC-11, mostly to produce foam insulation for refrigerators and buildings.
Now that's a stump remover —
Machine Can Destroy A Tree Stump In Seconds
: