Good morning.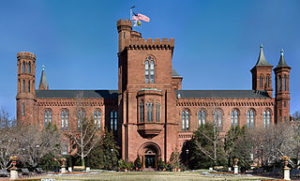 On this day in 1846, Pres. Polk signs legislation to establish the Smithsonian Institution as "an Establishment for the increase & diffusion of knowledge."
Recommended for reading in full:
Todd Richmond reports Expert: More than 500 Wisconsin elections clerks use outdated systems:
Election officials across the country have stepped up efforts to block hackers from wreaking havoc during the 2020 contests after Russians interfered with the 2016 presidential election. Congress has been warned that there could be more foreign interference next year, when Wisconsin is expected to be a presidential swing state again.

But Wisconsin Elections Commission Election Security Lead Tony Bridges said in a memo to commissioners released Friday that some local clerks are still logging into the state election system using Windows XP or Windows 7.

Microsoft stopped supporting Windows XP in 2014 and said it will stop providing free security updates for Windows 7 in January. Bridges wrote that it's safe to assume a large percentage of clerks won't upgrade before the deadline or pay for updates. Even clerks with current operating systems often fail to install security patches, he said.

The failure to maintain current operating systems exposes state elections to tremendous risk, Bridges wrote. He pointed to an incident in March in which a ransomware variant called Ryuk shut down vital systems in Jackson County, Georgia, including computers supporting emergency dispatch. Ransomware is software designed to shut down computer systems or data until a ransom is paid.

Ryuk gained access to the systems through a file-sharing vulnerability in older networks. An update that eliminated the vulnerability had been available since 2017, but no one had bothered to install it. The county ended up paying a $400,000 ransom to unlock the system.
Lawrence Andrea reports Wisconsin election officials consider lending new equipment to towns with outdated systems:
Wisconsin elections officials are considering spending more than $800,000 to replace outdated equipment, update software and further address computer security as the state prepares for the 2020 presidential election.

Among the proposals in a Wisconsin Elections Commission plan is to establish a program that would lend new computers to municipalities with outdated operating systems.

More than 500 state elections system users are on computer systems that have reached the end of their life or will do so in the next six months, according to a commission memo. Some of these users have plans to update their systems, but the commission is proposing lending 250 devices to municipalities unable to replace them.

The loans will be free and distributed on a first-come, first-served basis. The equipment is expected to cost up to $300,000.