Good morning.


Wednesday in Whitewater will see occasional morning showers and a high of seventy-one. Sunrise is 6:17 AM and sunset 7:33 PM, for 13h 16m 23s of daytime. The moon is a waning gibbous with 90.9% of its visible disk illuminated.
Today is the six hundred fifty-fourth day.
Days since Trump's election, with 11.9.16 as the first day.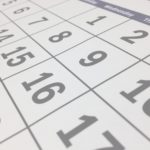 Whitewater's Joint Review Board meets today at 4 PM.
On this day in 2005, Hurricane Katrina makes its second landfall:
Hurricane Katrina was an extremely destructive and deadly Category 5 hurricane that struck the Gulf Coast of the United States in August 2005, causing catastrophic damage from central Florida to eastern Texas. Subsequent flooding, caused largely as a result of fatal engineering flaws in the flood protection system[3] around the city of New Orleans, precipitated most of the loss of lives. The storm was the third major hurricane of the record-breaking 2005 Atlantic hurricane season, as well as the third most intense tropical cyclone on record to make landfall in the United States, behind only the 1935 Labor Day hurricane and Hurricane Camille in 1969.

….

Overall, at least 1,245 people died in the hurricane and subsequent floods, making it the deadliest United States hurricane since the 1928 Okeechobee hurricane. Severe property damage occurred in numerous coastal areas, such as Mississippi beachfront towns where boats and casino barges rammed buildings, pushing cars and houses inland; water reached 6–12 miles (10–19 km) from the beach. Total property damage was estimated at $125 billion (2005 USD),[2][1] roughly four times the damage wrought by Hurricane Andrew in 1992,[6] tying Katrina with Hurricane Harvey of 2017 as the costliest Atlantic tropical cyclone on record.[7]
Recommended for reading in full —
Molly Beck reports
Wisconsin corrections officials don't have current info for nearly 3,000 sex offenders
:
MADISON – State corrections officials don't have current information for nearly 3,000 people convicted of sexual crimes, a new state analysis shows.

Of the more than 25,000 offenders on the state's Sex Offender Registry, 2,735 are considered noncompliant as of Aug. 20 — which could mean the offender has reported a false address to the Department of Corrections or they haven't updated their place of employment with the state, among other violations.

Among the offenders who are noncompliant, 308 have absconded — or are refusing to keep in touch with DOC agents, according to a recent Legislative Fiscal Bureau analysis.

….

DOC spokesman Tristan Cook said the number of sex offenders who have intentionally stopped communicating with agents is in the hundreds, not thousands.
(Honest to goodness, the supposed defense from Walker's Department of Corrections is that the number sex offenders who have intentionally stopped communicating is in the hundreds? That's not a defense, it's an admission.)
Mary Spicuzza and Patrick Marley report
Scott Walker declares Zoo Interchange is done, even as years of work remain
:
Walker on Monday celebrated the completion of the core of the Zoo Interchange, even though work on the interchange's north leg is behind schedule. The overall construction project has for years tormented Milwaukee-area commuters.

"The Zoo Interchange Core is completed on time and on budget," the GOP governor said in a statement.

….

In 2011, Walker promised to complete the entire Zoo Interchange project by 2019. He's meeting that deadline for the core of the project, but not its north leg.

RELATED: No gridlock relief: Wisconsin DOT makes — then abandons — plans to ease Zoo Interchange traffic.

That work now isn't expected to be done until 2023 at a cost of $232.6 million — 16 percent more than last year's estimate of $202.6 million, according to the Daily Reporter.

That work will get done by 2023 only if the governor and Legislature approve the funding in next year's state budget. Walker hasn't decided yet whether to make enough money available to meet that already-delayed deadline, according to this office.
Katelyn Ferral reports
Wisconsin DOT report shows total transportation funding has fallen under Scott Walker:
The Wisconsin Department of Transportation reports that total funding across all state transportation programs has fallen since Gov. Scott Walker took office in 2011, despite statements Walker has made insisting he has made historic investments.

According to a DOT report on 2018-2019 budget trends released last week, spending has fallen across every road program, including major highway development, local road aid and assistance and southeast Wisconsin freeways, which saw the most dramatic decline.

From fiscal year 2011-2012, funding for major highway development decreased by 31.2 percent, highway improvement funding fell by 23.8 percent and local road funding fell 13.4 percent in constant 2017 dollars. Funding for southeast freeways dropped by 51.1 percent.

Debt service on transportation borrowing has increased 66.9 percent since fiscal year 20121-12, according to the report.
CBS reports
on an even worse hurricane than Katrina
:
Last year, President Trump implied that Hurricane Maria was not "a real catastrophe, like Katrina." Today, new estimates reveal that over a thousand more people died in Puerto Rico than in Katrina. https://t.co/QygQgHx9ng pic.twitter.com/SHUqQeXinh

— CBS News (@CBSNews) August 28, 2018
See also Hurricane Maria caused an estimated 2,975 deaths in Puerto Rico, new study finds.
A fireball streaking through Midwest sky was visible from 8 states
: