Good morning.


Tuesday in Whitewater will be partly cloudy,  with a high of eighty-one.  Sunrise is 5:53 AM and sunset 8:07 PM, for 14h 13m 51s of daytime.  The moon is a waning crescent with 20.2% of its visible disk illuminated.
Today is the six hundred thirty-second day.
Days since Trump's election, with 11.9.16 as the first day.
Whitewater's Common Council meets at 6:30 PM.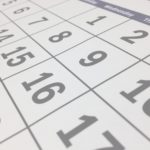 On this day in 1782, Gen. George Washington creates the original Purple Heart:
The original Purple Heart, designated as the Badge of Military Merit, was established by George Washington – then the commander-in-chief of the Continental Army – by order from his Newburgh, New York headquarters on August 7, 1782. The Badge of Military Merit was only awarded to three Revolutionary War soldiers by Gen. George Washington himself. General Washington authorized his subordinate officers to issue Badges of Merit as appropriate. From then on, as its legend grew, so did its appearance. Although never abolished, the award of the badge was not proposed again officially until after World War I.[5][6]
Recommended for reading in full — 
Cass Sunstein writes 
Trump's Russia Admission Is No Mere Scandal. It's a Betrayal
:
No candidate for high office, and no presidential campaign, should even think about accepting Russia's help "to get information on an opponent."

This conclusion is not merely a matter of common sense. It is linked with the deepest fears of those who founded our nation. Many people are puzzled by the constitutional provision limiting eligibility for the presidency to "natural born" citizens. But it attests to the founders' desire to ensure something they prized perhaps above all: loyalty.

In the decisive debates over the impeachment clause, James Madison pointed to the risk that a president "might betray his trust to foreign powers." Focusing on the electoral process itself, George Mason asked, "Shall the man who has practised corruption & by that means procured his appointment in the first instance, be suffered to escape punishment?"
Aaron Blake writes
Trump is trying to argue collusion isn't illegal. But he's admitted it is — on multiple occasions
:
Last week, President Trump and his lawyer Rudolph W. Giuliani argued that collusion isn't a crime. But on Monday, Trump suggested that Hillary Clinton should be investigated for this supposed non-crime.

"Collusion is very real with Russia," Trump quoted conservative commentator Dan Bongino as saying on Trump's favorite Fox News morning show, "but only with Hillary and the Democrats, and we should demand a full investigation."

"Collusion with Russia was very real. Hillary Clinton and her team 100% colluded with the Russians, and so did Adam Schiff who is on tape trying to collude with what he thought was Russians to obtain compromising material on DJT. We also know that Hillary Clinton paid through….

….a law firm, eventually Kremlin connected sources, to gather info on Donald Trump. Collusion is very real with Russia, but only with Hillary and the Democrats, and we should demand a full investigation." Dan Bongino on @foxandfriends Looking forward to the new IG Report!

Investigations, it bears emphasizing, are generally launched to find illegal activity. Trump's call to investigate Clinton's alleged collusion with Russia — a complex and strained theory having to do with the Steele dossier — would seem to belie his true opinion about whether collusion is, in fact, a crime.

But it's hardly the first time he's admitted the obvious: that while the word "collusion" doesn't appear in the criminal code, it is synonymous with and related to very real crimes. Over and over, mostly through his allegations of Democratic collusion, he's acknowledged the criminal nature of collusion in ways that would seem to make it much more difficult for his lawyers to press the case that collusion by Donald Trump Jr. or anybody else wasn't criminal. [Blake lists 5 times that Trump, himself, conceded so-called collusion is illegal.]
  Bob Bauer writes Trump's Preposterous 'Collusion is Not a Crime' Defense: What Real Lawyers—If Asked—Would Have Advised His Campaign About the Trump Tower Meeting:
Federal election law pairs the these prohibitions on foreign national electoral activity with restrictions on the behavior of the would-be U.S. beneficiaries.  U.S. nationals, including campaigns, cannot "substantially assist" a foreign national in any of these activities, and Americans cannot solicit, accept or receive any such illegal foreign-national support. Viewed together, these prohibited activities— assistance, solicitation, acceptance, or receipt—certainly capture the essence of what some might understand by references to "collusion."

From the standpoint of a competent lawyer, the 2016 Trump Tower meeting with Kremlin emissaries directly implicates these rules. The Russians did not merely offer information, plucked from the sky: In the first place, they had to have procured it. To have done so would normally require the expenditure of funds "in connection with" a federal election: opposition material assembled on a U.S. presidential candidate. Certainly the Russian traveling party spent money to travel to the United States for the meeting. Both the material they proposed to provide and the expenses associated with creating and arranging to deliver it raise the serious question of in-kind contributions to the campaign. Moreover, the hypothetical campaign lawyer would have to be concerned that urging the campaign to invest its own resources in a specific line of attack on Hillary Clinton would constitute illegal "participation" in the campaign's decision-making on its own spending.

….

But then again, Trump and his senior campaign team may not have asked the lawyers for their opinion. They could well have had their reasons: The most obvious and troubling of the possible explanations is that, anticipating a negative response, they may have chosen to proceed without the advice of counsel to pursue victory with Russian help. Then the lawyers would have been consulted only after the fact, to come up with whatever public defense they could devise. This is the road that may have brought the Trump team to this moment—that is, to Rudy Giuliani and the absurd "collusion is not a crime" theory of the president's case.
The Committee to Investigate Russia has a page on
Everything We Know About Russia and President Trump
:
Donald Trump's connection to Russia and Russian interests dates back more than 35 years. His family and associates also have well-documented ties.

Since it can be challenging to keep track of all the players and moving parts in the ever-growing Russia investigations, lawyer Steven Harper and the producers at BillMoyers.com created this interactive Trump-Russia Timeline. It is a comprehensive, easy-to-navigate tool designed to show what has happened and what still is developing in the story of the president, his inner circle, and a tangled web of Russian oligarchs, hackers, and government officials.

First launched in February 2017, the Trump-Russia Timeline now contains more than 1,000 entries. View it in its entirety below, or select one or more names at a time and explore that particular storyline.

The timeline is updated regularly as new developments emerge.
Here is a screenshot from the interactive timeline – just a portion of a fine resource for Americans who want to know more about Russian influence over Trump: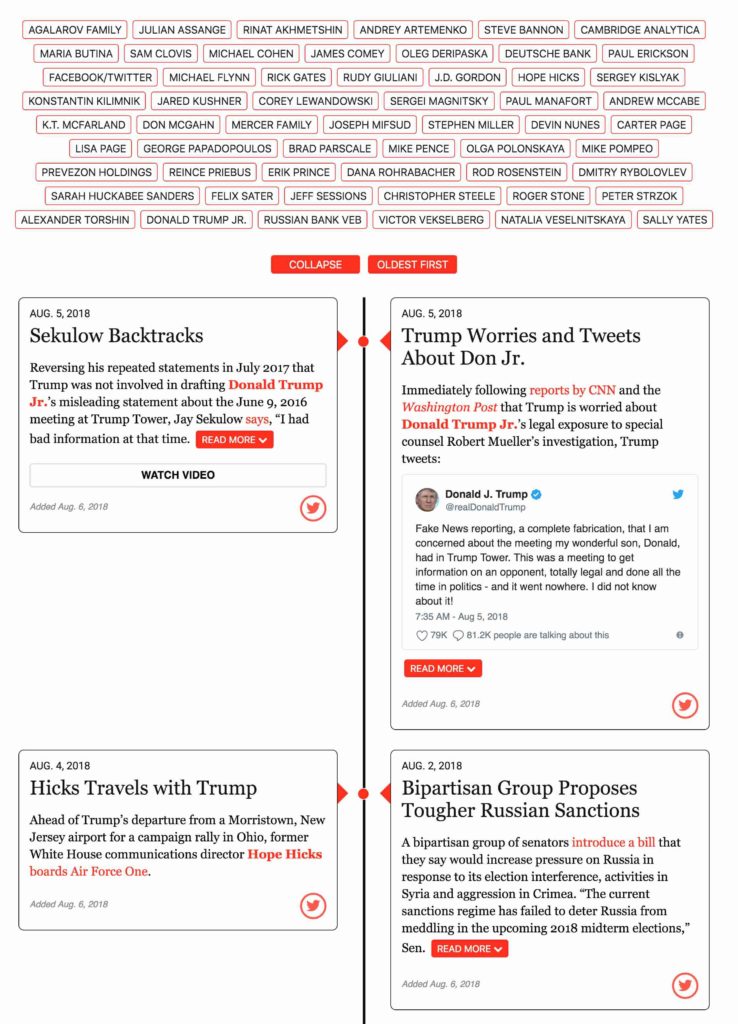 Why 350°F is the magic number for baking
: