Good morning.


Saturday in Whitewater will be partly sunny with a high of 79.  Sunrise is 6:39 AM and sunset 6:57 PM for 12h 18m 52s of daytime.  The moon is a waxing gibbous with 93.1% of its visible disk illuminated.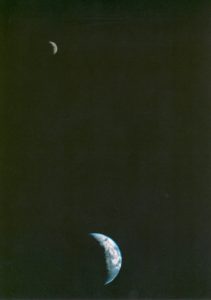 On this day in 1977, Voyager I takes the first distant photograph [7.25 million miles] of the Earth and the Moon together.
---
 Kelly Meyerhofer reports What is the student vaccination rate at your UW System campus?:
Student vaccination rates at Wisconsin's public universities range widely from 91% at UW-Madison to 38% at UW-Parkside, according to figures released Friday.

The data offers the first complete picture of COVID-19 vaccination rates across the University of Wisconsin System, which has encouraged but not required students and employees to get the shot. The approach differs from at least half a dozen private universities and colleges in the state that are requiring vaccination.

The System's stance against vaccine mandates has frustrated some faculty members, many of whom worry about returning in person to teach in mostly aging buildings that they describe as poorly ventilated. They believe a mandate would provide a much safer learning environment.

COVID-19 mitigation measures in place at System campuses include an indoor mask mandate and, at most campuses, required weekly testing for unvaccinated individuals.

The percentage of fully vaccinated students as of Wednesday are:

UW-Madison: 91%
UW-La Crosse: 75%
UW-Milwaukee: 74%
UW-Eau Claire: 69%
UW-Whitewater: 64%
UW-Oshkosh: 61%
UW-Stout: 58%
UW-Green Bay: 55%
UW-River Falls: 55%
UW-Superior: 50%
UW-Platteville: 47%
UW-Stevens Point: 46%
UW-Parkside: 38%
The distance and difference between the most-vaccinated and least-vaccinated campuses is notable (and disconcerting).
---
Megapod of Humpback Whales Filmed Off Australia Coast:
A megapod of humpback whales was filmed off the Sapphire Coast of Australia last week. According to Simon Miller, skipper and owner of Sapphire Coastal Adventures, they typically see 20 whales during this time of year feeding, but this time there were 100+ whales. Miller said he had never seen that many whales in his 19 years of operation.