Good morning.
Saturday in Whitewater will be mostly sunny with a high of ninety-two. Sunrise is 6:44 AM and sunset 6:49 PM, for 12h 04m 33s of daytime. The moon is a waxing crescent with 11.2% of its visible disk illuminated. Today is the three hundred eighteenth day.Days since Trump's election, with 11.9.16 as the first day.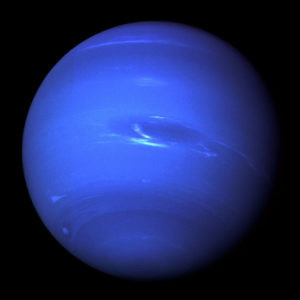 On this day in 1846, Johann Gottfried Galle identifies Neptune as a planet: "…a German astronomer from Radis, Germany, at the Berlin Observatory who, on 23 September 1846, with the assistance of student Heinrich Louis d'Arrest, was the first person to view the planet Neptune and know what he was looking at. Urbain Le Verrier had predicted the existence and position of Neptune, and sent the coordinates to Galle, asking him to verify. Galle found Neptune in the same night he received Le Verrier's letter, within 1° of the predicted position. The discovery of Neptune is widely regarded as a dramatic validation of celestial mechanics, and is one of the most remarkable moments of 19th-century science."
Recommended for reading in full — 
Patrick Marley and Jason Stein report that Russians tried to hack election systems of 21 states in 2016, officials say:
MADISON, Wis. — Russians attempted to hack elections systems in 21 states in the run-up to last year's presidential election, officials said Friday.

The U.S. Department of Homeland Security notified states of the attempted breaches on Friday, said Michael Haas, director of the Wisconsin Elections Commission. The attempt in Wisconsin was unsuccessful, he said.

Homeland Security officials said the effort was conducted by "Russian government cyber actors," according to Haas. He said he did not know which states other than Wisconsin were part of the hacking attempt.

According to the Associated Press, states that were targeted included some key political battlegrounds, such as Florida, Ohio, Pennsylvania, Virginia and Wisconsin.

The AP contacted every state election office to determine which ones had been informed that their election systems had been targeted. The others confirming were Alabama, Alaska, Arizona, California, Colorado, Connecticut, Delaware, Illinois, Iowa, Maryland, Minnesota, North Dakota, Oklahoma, Oregon, Texas and Washington….
Kevin Collier reports that States Outraged DHS Waited A Year To Tell Them Russians Tried To Hack Their Computers:
State election officials are demanding to know why it took the Department of Homeland Security a year to inform them that their state's voter registration systems had been probed by Russian hackers ahead of the 2016 election.

On Friday, DHS notified the chief election officer or secretary of state of 21 states that Russian hackers had tried to probe their voter registration systems. That was nearly a full year after ABC News first reported that "more than 20" states' systems had been targeted….

The late notification angered state officials.

"My boss, Michael Haas, testified on June 21 at that Senate Intelligence Committee hearing. At that hearing, somebody from DHS went before him and mentioned 21 states," Wisconsin Election Commission Public Information Officer Reid Magney told BuzzFeed News, referring to Manfra's June testimony. Yet neither Manfra nor anyone else told anyone at the Wisconsin Election Commission the department was aware the state had been targeted until Friday….
Bethania Palma reports that Trolls, Bots, 'Useful Idiots' Attack New Committee Aimed at Exposing Russian Propaganda Campaigns ("The newly-formed Committee to Investigate Russia quickly came under the exact type of propaganda attack it is trying to expose"):
On 20 September 2017, just hours after a consortium of high-profile figures from the American entertainment industry, news media and intelligence community formally announced the formation of the Committee to Investigate Russia (CIR), social media bots, paid trolls, and "useful idiots" kicked into high gear.

The newly-formed organization was launched by director and actor Rob Reiner, with aims to "help Americans recognize and understand the gravity of Russia's continuing attacks on our democracy". The web site aggregates relevant information about the Russian active measures, hacking and collusion investigations into one place and offers links to relevant news stories, timelines, and a list of key players.

Its inaugural video features Academy Award-winning actor Morgan Freeman cautioning Americans in his famous baritone about Russian influence operations and saying in regards to Russian interference in the 2016 election, "We were attacked. We are at war." But even as the organization aims to point the spotlight on the Kremlin's attempts to influence Americans' political and social behavior, predictably, Russia-linked bots and trolls retaliated with social media-driven attacks that followed now-familiar patterns.

Andrew Weisburd, non-resident fellow at Alliance for Securing Democracy (a bipartisan, transatlantic initiative housed at The German Marshall Fund of the United States) and one of the researchers behind Hamilton68, a real-time tool that tracks Russian influence operations on Twitter, told us that the reaction seems driven in part by the success of countermeasures like CIR, which are elevating the American public's awareness of a hostile world power's efforts to influence them:

"It is certainly *a* type of attack, not the only one, but one that to me suggests it they are increasingly sensitive to being held accountable for their own actions.

Keeping in mind that I'm not privy to Kremlin discussions of the matter, it seems clear to me that repeated public exposure of active measures campaigns, continually driving home the same basic point, that the Kremlin has harmed the United States and is continuing to do so, is very effective. I also suspect that Russians may put more stock in what celebrities say than many Americans do. If Steven Seagal's opinion matters, so does Morgan Freeman's. Certainly, as dedicated propagandists, they would see the value in Freeman delivering the CIR message."

(Seagal, while perhaps most famous for starring in 1992's Under Siege, has in recent years occupied himself with making a string of low-budget, direct-to-video action movies — and with building a friendship with President Vladimir Putin, who offered him Russian citizenship in November 2016.)
In a rambling speech last night, from the three-million-vote-lagging, second-place candidate in the last election, now holding federal power:
As the crowd laughed, the president asked: "Any Russians in the audience? Are there any Russians in the audience, please? I don't see too many Russians. I didn't see too many Russians in Pennsylvania. I didn't see too many Russians."
(A simple test of a remark like this: if it seems persuasive, then the person persuaded is either ignorant or a dolt. Most people are very sharp, but it's not most people one finds at a Trump rally. Trump dishes slop for those who find slop tasty.)
Florian Ledoux recently recorded humpback whales by drone: