Good morning.

Friday in Whitewater will be partly sunny with a high of 79. Sunrise is 6:45 AM and sunset 6:47 PM for 12h 01m 35s of daytime. The moon is a waning gibbous with 88.5% of its visible disk illuminated.
On this day in 1957, President Eisenhower sends the 101st Airborne Division to Little Rock, Arkansas, to enforce desegregation.
---
Devi Shastri reports University of Wisconsin schools post 1% enrollment decline, driven by decline in returning students:
Enrollment at University of Wisconsin campuses dropped 1% overall this fall, according to preliminary data released Wednesday.

The 13 universities have enrolled 163,708 students this year.

The decline seems to be driven by a decline in the number of returning students, some of which may have been related to fallout from COVID and the effect it had on the campus experience.

The number of first-year students and new transfer students is up by 4%, or 1,316 students. But the number of returning undergraduates dropped by 4%, or 3,305 students.

….

Here are the enrollment increases or decreases by campus as collected by UW System based on student registration during the first week of school. Because the data is preliminary, the percentages could change.

UW-Madison: +6%
UW-Green Bay: +3%
UW-Superior: +2%
UW-Oshkosh: -1%
UW-Stevens Point: -1%
UW-La Crosse: -2%
UW-Milwaukee: -3%
UW-Eau Claire: -4%
UW-Stout: -4%
UW-Whitewater: -4%
UW-Parkside: -7%
UW-River Falls: -8%
UW-Platteville: -11%
As with other schools, UW-Whitewater saw an overall deline, but with an increase in the size of its freshman class. (Some of these first-year undergraduates may be students who decided against attending UW-Whitewater last year, and are now part of the '21 fall semester class.)
The decline evidenced in these prelimary 2021 numbers matches a steady decline in UW-Whitewater's enrollment after 2016, as a combined total from the Whitewater and Rock County campuses ('multiple values'):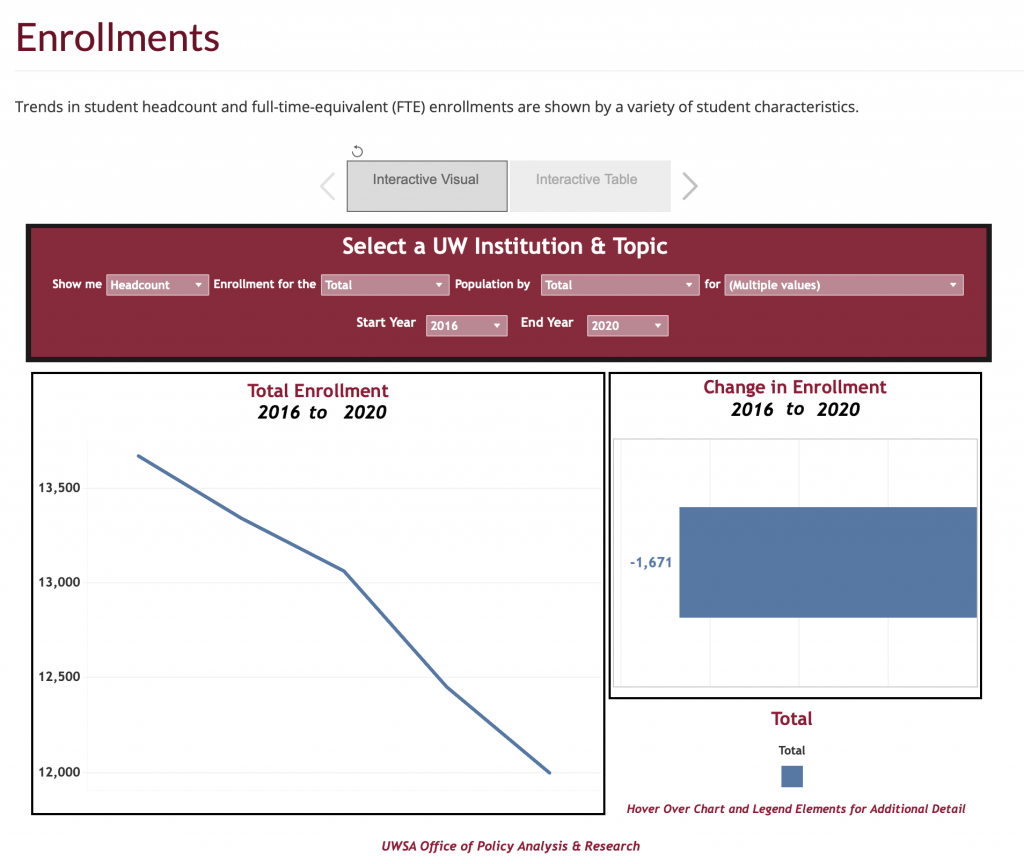 No single year since 2016 (UW-Whitewater's enrollment peak) has been decisive or notable by decline — each year has seen a similar drop in total enrollments.
---