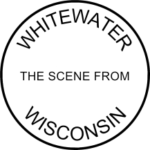 Whitewater's longtime politician, current school board member, and ersatz newsman Jim Stewart has published an update on candidacies for upcoming school board, city council, and county board races.
A few quick comments:
1. Stewart's Update on Compensation. Stewart has an update to his post, or rather UPDATED, on the compensation for each office. Why he thinks that matters he doesn't say. If the sums he lists are an enticement to run, then he's enticing the wrong candidates. No one should be running for the money. If Stewart thinks these sums are high, well, they're not half so high as the millions that Stewart authorized for wasteful projects while on Whitewater's city council: TID 4, an 'Innovation Center,' etc.
If Stewart had voted for even one fewer failed project while in office, he might have saved enough to fund politicians' salaries for decades.
2. County Board. One reads from Stewart's website that Whitewater resident Jerry Grant is running for the Walworth County Board of Supervisors: "Jerry has the desire to return to the County Board and continue to serve the constituents of District 4, which is most of the City of Whitewater." No other candidate Stewart lists – there are over a half dozen – receives this positive explanation of desire. It's not quoted, it's simply stated. That's why Stewart's not a newsman, never was, never will be. He can't distinguish between his views and objective, indisputable fact.
3. School Board. Stewart spent many years on the board, left over a decade ago, tried to return but lost a competitive race in 2015, and then returned to the board in 2016 after submitting his name as the only interested candidate. Whitewater has a school board that is established on a principle of collective governance, but a single board member who speaks as though he were all the board, all the administration, all the district, as an official spokesperson. Whitewater's common council endured a similar situation during Stewart's tenure there.
These are among the weak local practices, as one finds in other small towns, that have preceded the worse national ones that now beset us.
Because the community's politics is weak and poorly ordered, these collective bodies lack the strength to reject a conflict-riddled approach from even one striving politician.
There's a saying that to serve slices of a pie fairly, one should make the server take the last piece. Whitewater's situation represents the opposite approach, where one politician out of several takes first, leaving what's left on the plate for the rest.
Embed from Getty Images