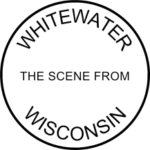 Even during the most difficult national conditions, there are likely to be local conflicts. A dispute in Whitewater over the powers of the city's Landmarks Commission is one such conflict: a purely local matter. Proposed changes to Whitewater's Municipal Code, Title 17, Landmarks Commission, are before Common Council tonight. See Whitewater, Wisconsin, Municipal Code § 17.04.010 et seq.
There are two proposed changes to the existing ordinances – both draft amendments are embedded below, at the end of this post. News of opposition to these changes reached me last week, along with information on a rally at City Hall (to be held immediately before tonight's council session). One can easily guess that I'm not part of the groups either favoring or opposing these changes.
I am curious about the amendments, however, and I do find coverage of them interesting.
There are two amendments, not one. While a local politician's website lists opposition to one of the amendments (Agenda Item O-2: "Ordinance Amending Chapter 17.12.040 to create section authorizing the Common Council authority to rescind Landmarks designations for City of Whitewater owned Landmarks (Councilmember Grady Request)") it omits discussion of another amendment entirely (Agenda Item O-1: "Ordinance Amending Chapter 17.12.040 to add requirement for advance Common Council review of proposed Landmark Designation for Property owned by City of Whitewater. (Councilmember Grady Request)."
That's curious, because while there may be policy arguments for or against either amendment, the ordinance draft for Agenda Item O-1 raises not only policy questions, but to be blunt, questions of basic legal drafting.
Indeed, if the longstanding members of the Whitewater Common Council cannot spot the obvious defect in the Agenda Item O-1 amendment, then failure to do so calls into question what years on the Whitewater Common Council might teach, if anything.
In this way, an unexpected controversy over Whitewater's Landmarks Commission may yet tell residents something about the quality of local governance.
We'll see.
Proposed amendments following —