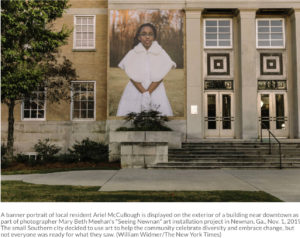 One reads, in the New York Times, about How 17 outsize portraits rattled a small southern town ('Not everyone was ready for what they saw'). After a white-nationalist rally in Newnan, Georgia, that town
put up 17 large-scale banner portraits, images of the ordinary people who make up the town. They hang from the perches of brick buildings around downtown. There's Helen Berry, an African-American woman who for years worked at a sewing factory. Wiley Driver, a white worker who folded and packed blankets at a local mill before his death in 2018. Jineet Blanco, a waitress who arrived in Newnan carrying her Mexican traditions and dreams.

….

The portraits were meant to be inclusive, upend stubborn preconceptions and unravel the cocoons people had created within the community. And they did — but they also exposed how immigration and demographic change have recast the racial dynamics that once defined the United States, adding new layers of anxiety on the old tensions that persist across the country and in small cities like Newnan.
I'm from Whitewater, not Newnan, and I'll place that town's particular selection of its residents aside. It's also worth noting that a municipal government's selection of residents' portraits would be, even in less contentious times, fraught with complaining.
Instead, one has reason to wonder: how would Whitewater choose?
Ten or twenty years ago, one would have been able to answer that question easily and confidently: Whitewater's government and self-described notables would have picked portraits of themselves. They most certainly would not have picked ordinary residents, on the basis of diversity or any other criterion. They would have put their own portraits, signs, banners, handprints, sayings, etc., all over town if they'd have thought of it. (Names they understood – they plastered those on walls; portraits, however, require an artistry and imagination they lacked.)
Today, however, the choice of residents' portraits would be much harder. What's left of the town's self-designated notables would be widely ridiculed if they chose portraits of themselves. No awe – simply shock. They might – doubtless – want to pick themselves even now, but their diminishing numbers and serial policy failures have perhaps increased, if slightly, their caution in this regard.
(Although I would not pick portraits for Whitewater, or encourage Whitewater to pick, a principle of last becoming first would be a sound one – this city has had enough of first staying first.)
As it is, the city is now sufficiently diverse that yesterday's majority is today only a minority of the city, and among that diminishing faction's notables there are mostly the aged and addled, the entitled but empty.
Whitewater's future will not recapitulate her past.