Editors of small-town newspapers sometimes lack the judgment (and self-respect) to remain independent of government. During these lapses of decision-making, one finds that elected or appointed officials become, themselves, reporters on their own stories. (For a case like this in Whitewater involving a school board member, see Public Officials Should Not Be Reporters.)
Margaret Sullivan, of the Washington Post, replies to an account of a local paper (the Kinston Free Press of North Carolina) that decided to run a government press release as a front page, above-the-fold story: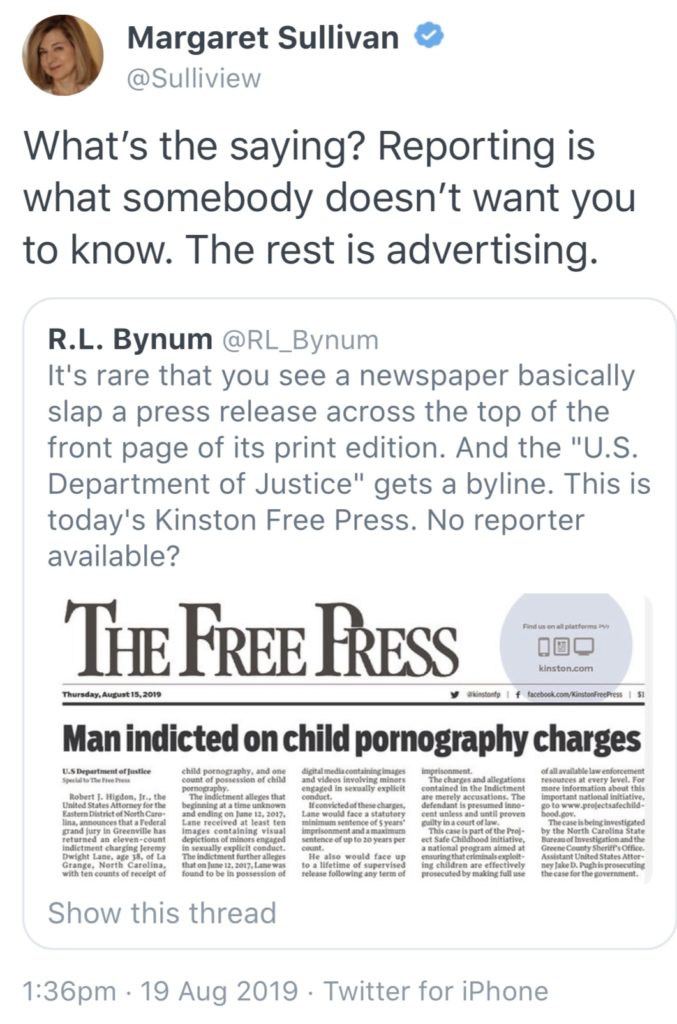 Someone should be writing about a serious indictment – that person should be an independent reporter, not a government official.
Margaret Sullivan – online @Sulliview and at the Post – is always interesting: a strong thinker and compelling writer.
Press releases, under Sullivan's sound formulation, are a form of advertising, not reporting.
There's much conceit publications telling the world that they are legitimate newspapers, when they're simply running press releases and government announcements.
Blogs like FREE WHITEWATER are modern-day versions of the pamphlets that played a large measure at America's founding. (See Bailyn's Ideological Origins of the American Revolution for a discussion of pamphleteering's influence in that formative era.)
This website's description as one of commentary is plain: "FREE WHITEWATER is a website of commentary on politics, policy, and popular culture, published from Whitewater, Wisconsin since 2007."
Editors and officials who mix government and reporting respect neither good government nor commendable reporting.