Adam Khan, writing at @Khanoisseur, has an answer for why Trump was able to prevail, despite myriad political & personal failings. Khan's answer explains part of Trump's success (and on the national front, I think he's chiefly right):
Investigative journalism was gutted at news rooms during the recession–partly why Trump was possible @fredericg https://t.co/SIPiRjLB62

— Adam Khan (@Khanoisseur) February 5, 2017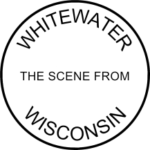 Locally, however, in places like Whitewater there never was much investigative journalism, and newspapers became incurious boosters of small-town notables long before the Great Recession.
There's something sad about local groups that believe (or at least pretend with apparent conviction) that adopting Babbitt's boosterism is a 'visionary' development. It's an imaginative result only if one looks ahead believes that grandiose claims, dodgy data, an anti-market outlook, and nativist policies could possibly represent a hopeful future.
More than a few town notables in places like Whitewater paved the way for Trumpism. They made this possible. See, along these lines, The National-Local Mix (Part 2). Those of us in an implacable resistance have much work hard work, and likely many hard losses, before we prevail in opposition.
When we do, Trump will go, and Trumpism with him. More than that, however: the causes of Trumpism in places like Whitewater will go, too.
About eighteen months ago, thinking only of these earlier causes, I wrote in reply to a prominent social & political figure in town, predicting that 'not one of those practices will endure to this city's next generation.'
Whether she believed this, I don't know, and candidly it matters not at all what either of us believes.
The prediction will prove true nonetheless.