Catherine Rampell observes Tough economies usually push people into more education. It's not happening this time. She writes that
Usually, postsecondary enrollment increases during tough economies, as workers seek shelter from the lousy job market and invest in upgrading their skills. This can be a (small) silver lining of downturns: If displaced workers choose wisely when it comes to educational and retraining programs, they can emerge from the recession better equipped to boost their earnings. In the long run, a higher-skilled populace increases economic growth, too.

….

lots of fresh data show that college completions and new enrollment have plummeted since the coronavirus pandemic began. That's particularly true for programs below the level of bachelor's degrees. The number of first-time associate's degree earners dropped 6.7 percent in spring 2020 from the year prior, according to the National Student Clearinghouse Research Center; first-time certificate earners fell nearly 20 percent.

Enrollment trends for the current school year look bad, too. Enrollment overall is down 2.5 percent from the previous year. Much steeper declines are clear among first-time postsecondary students (13.1 percent) and especially first-time students over age 24 (down 30.1 percent). These non-traditional-aged students are presumably those most likely to be switching careers.
There's a local implication for Whitewater: how much of UW-Whitewater's enrollment gains over the last decade were a consequence of bad economic conditions during and after the Great Recession? That recession began nationally at the end of 2007 and continued through mid-2009 (but its effects have endured in places like Whitewater).
UW-Whitewater's enrollment was mostly stable at the turn of the century, but began to increase as the Great Recession tightened its grip on the area: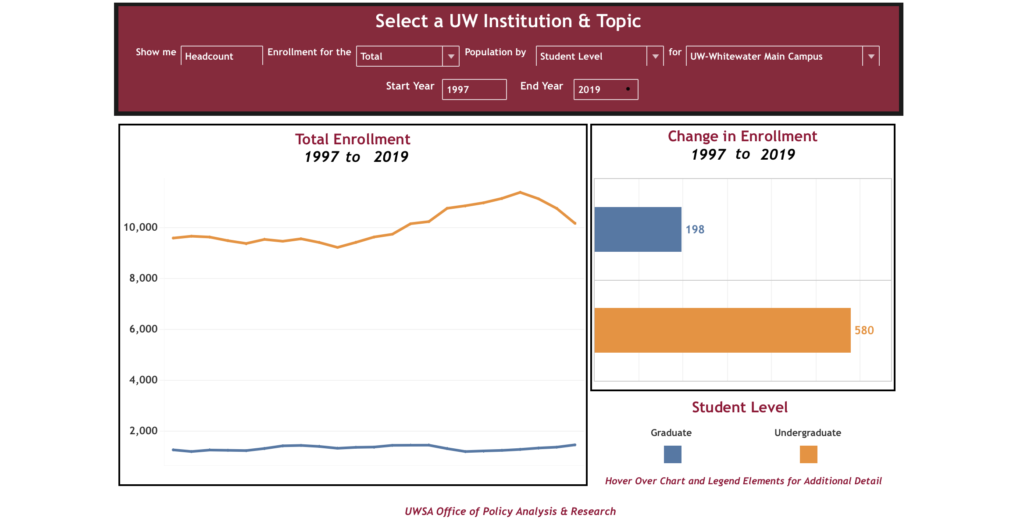 There's no easy answer to this question: enrollment gains likely came variously, for different groups of students: attraction to the university, refuge from the Great Recession, etc.  The gains Whitewater saw in the late aughts and early teens of this century have faded into enrollment declines.
Two points are safely made: some meaningful part of Whitewater's past enrollment gains likely came from a bad economy, and Rampell's assessment that this bad economy won't spur new enrollment gains likely applies locally, too.