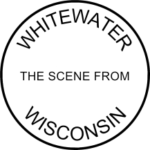 In a presentation from September on the state of the city (really meaning the state of Whitewater's municipal government), City Manager Cameron Clapper tackled again the 'Same Ten People Problem' (STPP), where only a few people participate in municipal meetings, etc. One can find the full video presentation below; Clapper's remarks on the STPP appear from 26:20 to 34:02.
A few remarks about all this, below:
Credit Where Credit Is Due. City Manager Clapper has discussed his concern about participation before, much to his credit. It is a problem, although one that some would rather not discuss, so much the better to avoid a solution that might dilute their influence.
Clapper's (Partial) Solution. In his remarks, Clapper offers POLCO, a web-based community survey provider, as a partial solution to the STPP. That's novel, actually. POLCO bills itself (mostly) as a way to allow officials to receive community opinion on key issues; Clapper's now holding POLCO out as a way to entice participation beyond mere survey responses.
I'm not sure how effective POLCO will be, but it's more likely to be useful as a gateway to additional individual participation than as an accurate representation of community opinion (the problems of collecting an accurate surevy through POLCO are too great, to put it mildy). As a way to whet someone's appetite, though, Clapper may be right, and may have found a way to make POLCO one part of a solution on participation. (It's worth noting that he contends it's one solution, not the only solution.)
The STPP. I've written about Whitewater's STPP before. See The Perimeter Fence and The Solution to the 'Same Ten People Problem.' From the latter post:
In a post from yesterday I wrote about how cultures have perimeter fences, figurative boundaries marking the divide between what they consider acceptable and what they don't, between those of the community and those outside of it.

Whitewater's maintained a perimeter fence that is too circumscribed, and by design too impermeable. It's more than generational change that limits participation.

We've a fence that's too close and too high….
That's the source of the STPP in Whitewater: a local culture that expects a few leading figures and the community story be channeled through a few narrow gates of a few high walls.
What's Coming. I've always felt that Whitewater will be better when she evolves more completely into a community with multiple sources of information, and diverse points of view. See New Whitewater's Inevitability.
The idea of wrapping the community into one package was, as a digital imitation of the Register (when that paper still mattered), was always yesterday's idea, a retrograde notion. Bundling the city in a box, adding a bow, and presenting 'Whitewater!' was always yesterday's outlook; it was visionary only if one defines myopia as keen eyesight.
The future – for Whitewater and other towns – has always been myriad sources, each independently contributing to a vibrant community.
Truthfully, she's already part way there: there are dozens of local sources of information, from dozens of community groups, written in the style that suits each group, respectively. Look only in one place, and one misses so much.
It makes sense that Cameron Clapper would want more government participation now; it won't come that soon, yet it will come. There are likely to be much harder days of challenge between now and then. We would have done better if we had made this transition sooner, of course.
Still, much of what seems so vital now won't last into a New Whitewater, but then each generation should – and inevitably will – make its own choices.
If City Manager Clapper stays in Whitewater for another decade – and despite disagreements with him, one hopes he does – then he'll see these changes.
Between now and then, there will be a hard slog in Whitewater, but there's no better place, in all the world, to be.