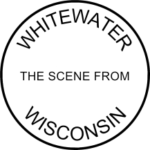 This is the first post in a series considering related local topics of cultures & communications within the city.
I'll start with an introductory series of assumptions, some I'll flesh out in greater detail in the series, but all of which state plainly my views.
1.  In America's current political climate, it's national politics that necessarily predominates. See, The National-Local Mix ("Trump is a fundamentally different candidate from those who have come before him.  Not grasping this would be obtuse.  Writing only about sewing circles or local clubs or a single local meeting while ignoring Trump's vast power as president – and what it will bring about – would be odd. Someone in Tuscany, circa 1925, had more to write about than the countryside.")
2.  The near-term outlook for Whitewater's economy is a mediocre one. See, Local Assumptions and Outlook, Winter 2016 ("I'd say the outlook is for turbulence in the national political-economy, and stagnation in the local one. See, The National-Local Mix and The Local Economic Context of It All.  The way out of several years' local stagnation is a more decisive break with past, but there's no evidence whatever that Whitewater's local government will take this step; nothing else will be adequate.")
3.  Stagnation is, in a wider economy that's growing, relative decline.
4.  Stagnation has fiscal, economic, and cultural consequences.
5.  The long-term outlook for Whitewater is favorable, significantly because many existing practices and local notables' advocacy of them have no long-term future.  See, New Whitewater's Inevitability.
6. Grand public solutions in this environment will prove ineffectual; they're what created these mediocre conditions. See, The Next Big Thing.
7. A strategy of advancing private over public accomplishments is the best way to weather hard time in a community drenched in public initiatives. See, An Oasis Strategy.
8. Whitewater is a multicultural city, no matter how hard some fight to hide or deny that simple truth. See, The Meaning of Whitewater's Not-Always-Mentioned Demographics, A Small But Diverse City, Seldom Described That Way, and Parts and Wholes.
9. A strategy of making private cultural accomplishments, rather than public projects, a priority won't work if one doesn't distinguish between the vibrant and the moribund. 
10. Choices among local cultural options will shorten — or lengthen — the duration of local stagnation.
11. Local insider accounts help others understand policymakers' thinking, but have little or no independent policy value. See, The Last Inside Accounts.
12. Particular local leaders are talented; their collective product is often sub-par, as a few hold the talented ones back. See, Whitewater's Major Public Institutions Produce a Net Loss (And Why It Doesn't Have to Be That Way).
Tomorrow: Part 2.