The Lion's Club has announced the Grand Marshals for this year's July 4th Parade —
THE WHITEWATER LIONS CLUB 2012 GRAND MARSHALS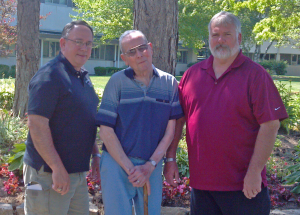 The Whitewater Lions Club for the first time in recent memory has named a two generation family that has provided service to our country as the 4th of July Parade Grand Marshals. The O'Connor family, Jim and his two sons, Mike and Pat, are the 2012 Parade Grand Marshals. The O'Connor family has a history of serving our country in uniform that dates back to the Civil War.
Jim entered the service in 1952 and served 16 ½ years. He was commissioned in 1953 and served in Korea with the 25th Division. In 1956 he became a helicopter pilot and in 1962 he was flying support missions for the infantry in Vietnam. Jim retired in 1969 and returned to Whitewater and has been active in business and community affairs.
Mike the oldest son of Jim and Peg O'Connor graduated from Whitewater High School in 1970 and then enlisted in the Army. He had training at Fort Campbell KY, Fort Polk LA and was assigned to Germany briefly before going to Vietnam in 1971 there he was assigned to the 1st Cavalry Division at Bien Hoa. After serving his time in Vietnam he returned to the states and completed his enlistment at Fort Riley KS as a squad leader. Mike graduated from UW-Stout. He is employed at UW-Whitewater as the University Center Building and Grounds Superintendent, the institution he always wanted to work for.
Pat the youngest O'Connor son came to Whitewater when he was less than a month old when his Dad was assigned to Korea. Pat graduated from Whitewater High School in 1971 and attended the United States Military Academy. Upon graduation he started on a 20 year career in the Army that took him to Fort Carson, CO, Camp Casey, Korea, and a couple of tours at Fort Campbell, KY with the 101st Airborne. He served in Desert Shield/Desert Storm as Executive Officer for the 1st Battalion 187th Infantry Regiment with service along the Euphrates River. Following his retirement in 1996 he worked in emergency management and in 2010 he was selected to serve as Director, Bureau of Response and Recovery at Wisconsin Emergency Management, which responds to all disasters and works with FEMA. He has worked on eight Presidentially Declared Disasters. Pat has also coached the very successful UW-Whitewater Rugby team for 20 years.
The Whitewater Lions Club would like to thank the O'Connor family for their outstanding service to our country and community.