Good morning.


Monday in Whitewater will see afternoon thundershowers with a high of 77.  Sunrise is 7:04 AM and sunset 6:17 PM for 11h 12m 51s of daytime.  The moon is a waxing crescent with 31.3% of its visible disk illuminated.
 Whitewater's Planning Commission meets at 6 PM.
 On this day in 1767, surveying for the Mason–Dixon line separating Maryland from Pennsylvania is completed.
---
Collin Binkley and Ryan Foley of the Associated Press report Flush with COVID-19 aid, schools steer funding to sports:
One Wisconsin school district built a new football field. In Iowa, a high school weight room is getting a renovation. Another in Kentucky is replacing two outdoor tracks — all of this funded by the billions of dollars in federal pandemic relief Congress sent to schools this year.

The money is part of a $123 billion infusion intended to help schools reopen and recover from the pandemic. But with few limits on how the funding can be spent, The Associated Press found that some districts have used large portions to cover athletics projects they couldn't previously afford.

Critics say it violates the intent of the legislation, which was meant to help students catch up on learning after months of remote schooling. But many schools argue the projects support students' physical and mental health, one of the objectives allowed by the federal government.

Rep. Bobby Scott, the top Democrat on the U.S. House education committee, said the money shouldn't be used to fund athletics at the expense of academics. It was meant to help students, he said, not sports programs.

"I suspect you can make a case for anything, but the purpose is clear: It's to open safely, stay open safely and deal with learning loss," Scott said. "These are targeted resources needed to address the fact that a lot of children just didn't achieve much for about a year."

Robin Lake, director of the Center on Reinventing Public Education, said every dollar of pandemic relief spent on sports could be used to expand tutoring, reduce class sizes and take other steps to help students who are struggling academically.

….

When school officials in Whitewater, Wisconsin, learned they would be getting $2 million in pandemic relief this year, they decided to use most of it to cover their current budget, freeing up $1.6 million in local funding to build new synthetic turf fields for football, baseball and softball.

Athletics officials in the district of 1,800 students said the project was sorely needed to replace fields prone to heavy flooding. They touted the federal money as a chance to solve the problem without asking local taxpayers for funding.

"If we don't do it now with this money, I'm not sure when we would ever do something like this," athletic director Justin Crandall told the school board in May. "I don't see us being a district that would go to a referendum for turf fields."

Two school board members objected, with one raising concerns that just $400,000 was being used to address student learning loss — the minimum to meet a requirement that at least 20% goes toward that purpose.

The board approved the plan over those objections, and the new football field had its grand opening in September. District Superintendent Caroline Pate-Hefty declined to answer questions about the project.
Reporters Foley and Binkley were thorough: they knew that Whitewater spent this money for artificial turf, the amount spent, the date of the meeting authorizing the vote in favor, the margin of the vote, and were able to quote remarks made during that meeting's discussion.  That's solid work. 
This AP story has, by virtue of its subject and the reach of the AP, become a national story (e.g., Washington Post, Raleigh News & Observer, Miami Herald.) Photos of Whitewater's new artificial turf field accompanied the story, and on the AP's Twitter feed: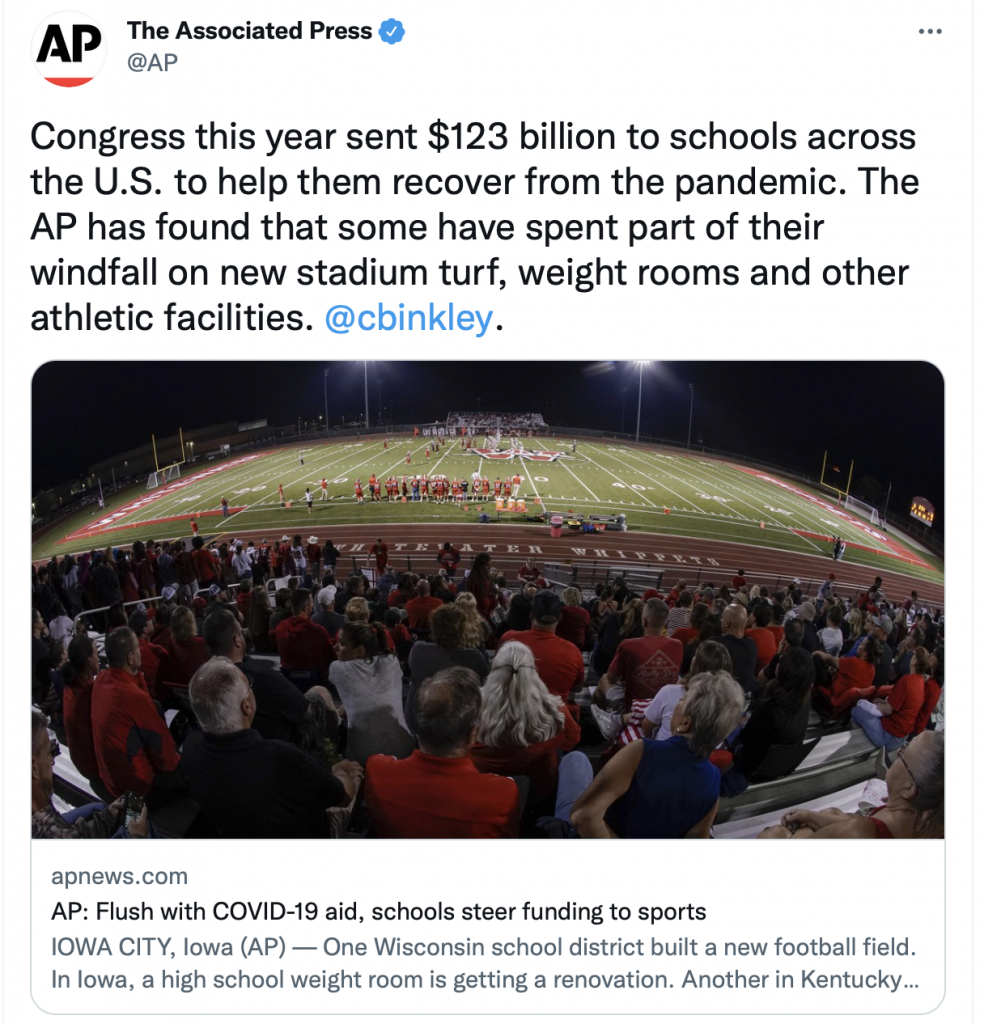 (AP photographer Morry Gash took photographs of Whitewater's new field. He's a fine sports photographer, and they knew they had a good story. Our field appears in the photos that accompanied the story in print and online, 1 and 2.)
Alicia Menendez featured Whitewater on her MSNBC television program American Voices with the subject title Some schools misuse COVID relief funds for sports:
An AP investigation found that some schools have been using federal COVID relief money on sports. Critics say that money should be going toward academics, helping children get back on track after experiencing setbacks during the pandemic. Associated Press education reporter Collin Binkley covered this story. He joined American Voices with Alicia Menendez to discuss.