Good morning.


Thanksgiving in Whitewater will be cloudy with a high of 37.  Sunrise is 7:00 AM and sunset 4:24 PM for 9h 23m 45s of daytime.  The moon is a waning gibbous with 69.3% of its visible disk illuminated.
 On this day in 1783, The last British troops leave New York City three months after the signing of the Treaty of Paris.
---
 Mitch Smith reports As Turkeys Take Over Campus, Some Colleges Are More Thankful Than Others ('From California to Minnesota to Massachusetts, turkeys have taken a liking to university life, leading to social media stardom and crosswalk confrontations'):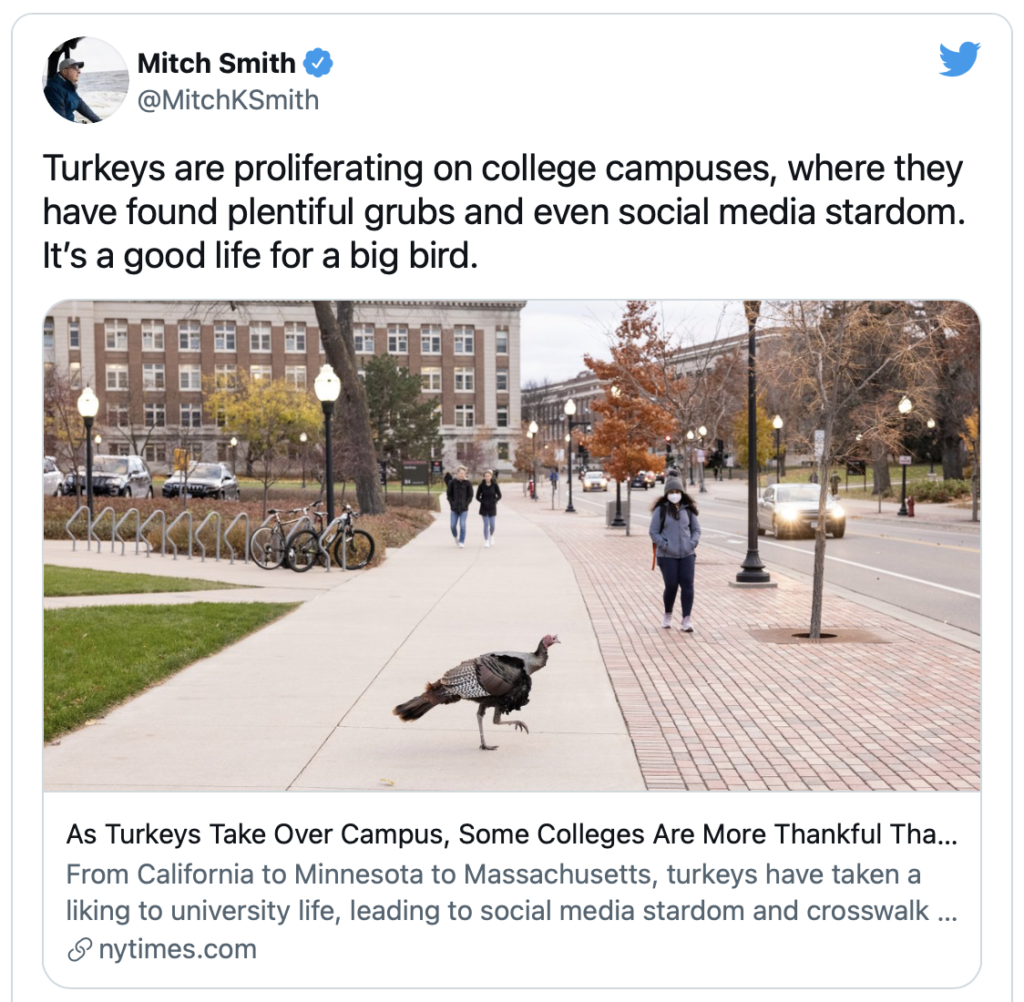 MINNEAPOLIS — They are lounging next to bike racks and outside dorms. They are strutting across Harvard Yard. And, yes, they are occasionally fanning their feathers and charging at innocent students.

Across the nation, from the riverbanks of the University of Minnesota to the forests of the University of California, Santa Cruz, wild turkeys have gone to college. And they seem to like it. Maybe too much.

Once rare in most of the United States, turkeys became one of the great conservation success stories of the last half-century. But as efforts to expand the bird's range flourished across the countryside, the turkeys also trotted into cities, laying down roosts in alleys, parks, backyards and, increasingly, at institutions of higher learning.

"College campuses are just ideal habitat," said David Drake, a professor and extension wildlife specialist at the University of Wisconsin, where a sizable flock likes to hang out near apartments for graduate students. "You've got that intermixing of forested patches with open grassy areas and things like that. Nobody's hunting."

….

There is little formal study of college turkeys, but on campus after campus, there is widespread agreement that their numbers have exploded in the last decade or so.

Alex Jones, who manages the Campus Natural Reserve at California, Santa Cruz, said he never saw a turkey as a student there in the 1990s. Now they are everywhere, sometimes in groups of dozens: outside dining halls, on the branches of redwood trees and, quite often, in streets blocking traffic.

"The funniest thing to me is that they'll take the crosswalk sometimes," Mr. Jones said.
---