Good morning.


Sunday in Whitewater will be cloudy with a high of forty-five.  Sunrise is 6:32 AM and sunset 4:44 PM, for 10h 11m 59s of daytime.  The moon is a waxing crescent with 40.5% of its visible disk illuminated.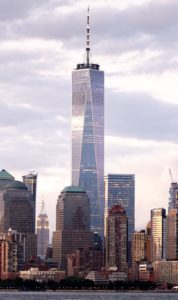 On this day in 2014, One World Trade Center (Freedom Tower) opens as the principal building on the former World Trade Center site.
Recommended for reading in full:
 The Racine Journal Times reports Union Grove woman allegedly drunk during parent-teacher conference, tries to flee deputy:
According to the criminal complaint:

A Racine County Sheriff's Office deputy was dispatched to Union Grove Elementary School, 1745 Mildrum St., on Thursday for a report of an intoxicated parent trying to leave the school with children. The deputy located Raboine's vehicle on Main Street and 15th Avenue (the intersection of highways 11 and 45) and activated the police squad's emergency lights and sirens.

The deputy reported that the vehicle did not slow down or pull over but continued to maneuver around other vehicles that had. The driver pulled into a driveway in the 700 block of 9th Avenue, exited the vehicle and ran towards the back of the residence. The deputy pursued on foot, found the driver attempting to unlock the back door and asked her to stop. She opened the back door and allegedly attempted to close it on the pursing deputy. The driver was identified as Raboine and she was taken into custody.

….

According to court records, Raboine was arrested for operating while intoxicated earlier this month in a similar incident. On Oct. 16, the principal had summoned law enforcement because Raboine had not picked up her children from school. Raboine called the school from the parking lot, asking that the children be sent to the car; she was allegedly slurring her words. She was told she needed to enter the building to collect her children and was reportedly stumbling while walking and slurring her speech. The principal then called the Sheriff's Office.

At her initial appearance on Thursday, bail for Raboine was set at $1,000. Her preliminary hearing is scheduled for 8:30 a.m. on Nov. 6.
(Assuming these allegations are true, Raboine would be a danger to her children, to others, and to herself. Restrictions on the number of taverns – something I oppose – aren't what serial over-drinkers need most. They, and we, need a criminal law with a therapeutic approach that acts quickly to prevent and then treat cases of alcohol abuse. Wisconsin is lax in this regard, and modern-day temperance warriors who focus on sales rather than over-consumption are simply ignoring the problems of addiction. Addicts will find – or improvise – the substances of their craving; they'll sometimes risk others' safety while doing so. If all the taverns and gin joints in Wisconsin disappeared tomorrow, we'd still have significant alcoholism and numerous drunk drivers. Along the way to a healthier community, members of the Tavern League who over-sell to patrons should be held to account by a repeal of Wis. Stat. § 125.035 'Civil liability exemption: furnishing alcohol beverages.')