Good morning.


Thursday in Whitewater will be mostly cloudy with a high of 52. Sunrise is 7:25 AM and sunset 4:29 PM for 9h 04m 23s of daytime. The moon is a waxing crescent with 44.4% of its visible disk illuminated.
 On this day in 1845, the United States annexes the Republic of Texas.
---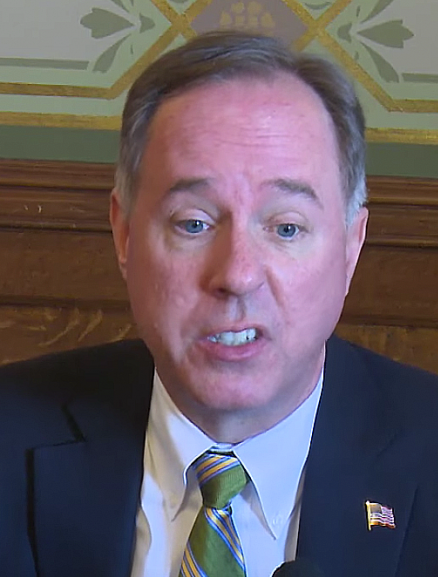 Foxconn was, and remains, a national embarrassment for Wisconsin. See a FREE WHITEWATER category dedicated to Foxconn. Through it all, after years of revealed mistakes and lies, Assembly Speaker Robin Vos has been a Foxconn booster. See Speaker Vos shares excitement for Foxconn deal with Wisconsin (from 2021, long after the rest of America had grown hoarse from laughing about the deal). 
Now — still— Vos has the temerity to offer advice about business development in Wisconsin. Corrinne Hess reports Robin Vos calls state's economic development agency an 'abject failure,' says large companies not looking to Wisconsin:
Assembly Speaker Robin Vos is calling the state's economic development department an "abject failure," and says Wisconsin can no longer compete with other states to attract large companies.

Vos, who appointed himself to the Wisconsin Economic Development Corp.'s board in January 2021, said he took himself off the board this year because he "couldn't take it anymore."

"Their strategy is cookie cutter, literally saying to every business in the state 'we'll give you $5,000 or $10,000' that drives little or no innovation," Vos said. "What industry should we really try to make bigger in Wisconsin? What should we say 'you're a thing of the past that we shouldn't invest in?' We don't have any of those discussions."

Democrats fired back, calling Vos the lead advocate for WEDC's creation under former Gov. Scott Walker.

"It is no surprise that he chooses to walk away from leadership at a time when there are opportunities for WEDC to shift to a more sustainable strategy that strengthens local economies and supports small businesses," said state Rep. Francesca Hong, D-Madison, who was recently appointed to the WEDC board.
This libertarian blogger is no supporter of the WEDC, although fortunately there's no chance that the agency will ever find again a project as fraudulent as Foxconn has been. A lightning bolt of such destructive intensity is not going to strike us twice. 
Nevertheless, it says something about Vos's shamelessness that he'd venture any opinion on development.
How many times does a person or clique get to make development mistakes before they're no longer allowed to do so? 
---
 Llama on the Loose Sends Police on a Wild Chase: 
A loose llama led police on a chase in Fairfax County, VA, earlier this month, and multiple officers were needed to wrangle it. Aerial video with thermal imaging released by police shows the llama in a backyard. Body-worn camera video shows officers trying to lasso the llama with a rope, but it keeps getting away.

'Always ready to give chase when a suspect flees, our officers and animal protection police (APP) encountered a nimble, furry suspect Sunday night,' the police department wrote alongside the video on Facebook.

Eventually, three officers surrounded the llama and secured the animal with a rope, then led it to a waiting trailer. Police said the llama was later transported to an animal shelter.