Good morning.


Valentine's Day in Whitewater will be cloudy with a high of forty-one.  Sunrise is 6:52 AM and sunset 5:25 PM, for 10h 33m 31s of daytime.  The moon is a waxing gibbous with 66.6% of its visible disk illuminated.


On this day in 1819, an inventor is born: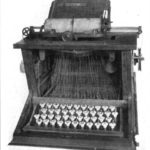 On this date, the inventor of the modern typewriter, C. Latham Sholes, was born. Sholes moved to Wisconsin as a child and lived in Green Bay, Kenosha, and Milwaukee. In 1867, in Milwaukee, he presented his first model for the modern typewriter and patents for the device were taken out in 1868. Sholes took the advice of many mechanical experts, including Thomas Edison, and so claims that he was the sole inventor of the typewriter have often been disputed.
Recommended for reading in full:
 Dan Friedman reports Paul Manafort Lied to Robert Mueller About Russian Contacts, Judge Rules:
A federal judge ruled Wednesday that Paul Manafort lied to prosecutors about his contacts with a colleague who had suspected ties to Russian intelligence, activity that occurred while Manafort ran President Donald Trump's 2016 campaign and continued into 2018.

Judge Amy Berman Jackson found that Manafort violated an agreement he reached in September with special counsel Robert Mueller's office to cooperate fully with their inquiry into Trump campaign contacts with Russia. Jackson's ruling, which came during a sealed hearing Wednesday, will likely bring Manafort a longer prison term when Jackson sentences him next month on charges including money laundering, obstruction of justice, and conspiracy, to which he pleaded guilty last year.

The ruling also underscores a key allegation from Mueller: Manafort lied to cover up contacts he had with a suspected proxy for the Russian government while serving as head of Trump's campaign.

Jackson agreed that prosecutors had shown that Manafort misled prosecutors about his contacts with Konstantin Kilimnik—a longtime Manafort employee in Ukraine—who prosecutors have said retains active ties to Russian military intelligence, known as GRU. Federal prosecutors charged agents of the same agency with carrying out hacks of the Democratic National Committee and other Democrats as part of an effort to help Trump win the presidency.
See also Document: Judge Rules Manafort Lied While Under Cooperation Agreement:
[embeddoc url="https://freewhitewater.com/wp-content/uploads/2019/02/ABJ-Order-on-Manafort-Lies.pdf" width="100%" download="all" viewer="google"]
 Shawn Johnson writes Report: Special Ed Funding Gap Grows To $1B:
A lack of new state funding for special education has forced school districts across Wisconsin to find that money elsewhere, according to a new report by a public policy think-tank.

That discrepancy between what schools need and what the state gives them has grown to more than $1 billion per year.

"The takeaway is it doesn't only affect special education kids," said Anne Chapman, a senior researcher at the Wisconsin Policy Forum, which issued the report. "Because of the way Wisconsin chooses to fund both regular education and special education, this sort of what you might call underfunding of the costs of special ed cascades to affect all the school districts in the state."