Good morning.
Saturday in Whitewater will be mostly cloudy with a high of twenty-eight. Sunrise is 6:49 AM and sunset 5:28 PM, for 10h 38m 58s of daytime. The moon is a waxing gibbous with 86.2% of its visible disk illuminated.
On this day in 1923, Egyptologist Howard Carter opens the burial chamber of Tutankhamun.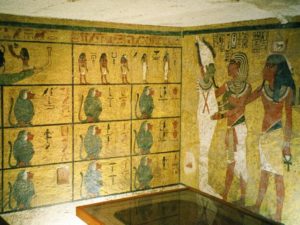 Recommended for reading in full:
Glenn Kessler and Meg Kelly write Fact-checking Trump's announcement of a national emergency:
Where to begin with President Trump's rambling news conference to announce he was invoking a national emergency to build a border wall? It was chock-full of false and misleading claims, many of which we've previously highlighted, either in our database of Trump claims or our list of Bottomless Pinocchios. Here's a summary of 14 of the most noteworthy claims, starting with immigration ones first. [The full article addresses each claim.]
The Committee to Investigate Russia writes Stone Case Definitely Tied to Russian Hacker Case:
In arguing against a change of judge for Roger Stone, special counsel prosecutors reveal search warrants on accounts related to the 12 indicted Russian hackers turned up Stone communications with WikiLeaks. Not only does this explain the relevance of Stone appearing before the same judge assigned to the Russian hacker case, but it also presents the possibility Stone's outreach was more than just the one exchange we already know for certain.
Although Zachary Basu of Axios reports Mueller says Paul Manafort should serve 19-24 years in prison, that's a misreading of the government's sentencing memorandum. In fact, the Special Counsel's Office doesn't expressly make any recommendation of its own:
As an initial matter, the government agrees with the guidelines analysis in the Presentence Investigation Report (PSR) and its calculation of the defendant's Total Offense Level as 38 with a corresponding range of imprisonment of 235 to 293 months, a fine range of $50,000 to $24,371,497.74, a term of supervised release of up to five years, restitution in the amount of $24,815,108.74, and forfeiture in the amount of $4,412,500.

Second, while the government does not take a position as to the specific sentence to be imposed here, the government sets forth below its assessment of the nature of the offenses and the characteristics of the defendant under Title 18, United States Code, Section 3553(a).
(Emphasis added. This is very clever – agreeing with the PSR is less than taking a position on a specific sentence. The court may decide not to impose so lengthy a sentence in any event.)
Hope Kirwan reports Wisconsin Counties Hopeful New Money For Groundwater Will Help Address Causes:
Gov. Tony Evers announced he was directing the state Department of Natural Resources to allocate $75,000 to the Southwest Wisconsin Groundwater and Geology (SWIGG) study in a statement released Wednesday.

The SWIGG study focuses on private wells in Grant, Lafayette and Iowa countries. An initial round of testing found 42 percent of tested wells were at unsafe levels of bacteria or nitrates, a compound linked to a variety of health problems.