Good morning.

Wednesday in Whitewater will be sunny with a high of thirty. Sunrise is 6:41 AM and sunset 5:35 PM, for 10h 53m 31s of daytime. The moon is a waxing crescent, with 30.42% of its visible disk illuminated. Today is the four hundred sixty-eighth day.Days since Trump's election, with 11.9.16 as the first day.
Whitewater's Parks & Rec Board meets at 5:30 PM.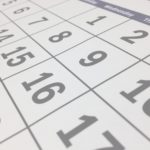 On this day in 1885, the Washington Monument is dedicated: "some 800 people attended a dedication ceremony for the Washington Monument, an obelisk situated roughly due west of the U.S. Capitol and due south of the White House. After construction had been suspended in 1876 due to lack of funds, Congress passed a concurrent resolution, appropriating $2 million to complete the monument to the American Revolutionary War leader and the nation's first president. Sen. John Sherman (R-Ohio), chairman of the Joint Congressional Committee for the Monument, noted that the edifice was "simple in form, admirable in proportions, composed of enduring marble and granite, resting upon foundations broad and deep."
On this day in 1918, the Wisconsin Assembly rejects a denunciation of La Follette: "a move to denounce Sen. Robert La Follette and the nine Wisconsin congressmen who refused to support World War I failed in the State Assembly, by a vote of 76-15. Calling LaFollette "disloyal," the amendment's originator, Democrat John F. Donnelly, insisted that La Follette's position did not reflect "the sentiment of the people of Wisconsin. We should not lack the courage to condemn his actions." Reflecting the majority opinion, Assemblyman Charles F. Hart retorted that "The Wisconsin State Legislature went on record by passing a resolution telling the President that the people of this state did not want war. Now we are condemning them for doing that which we asked them to do."
Recommended for reading in full —
➤ Jim Rutenberg, Megan Twohey, Rebecca R. Ruiz, Mike McIntire, and Maggie Haberman report Tools of Trump's Fixer: Payouts, Intimidation and the Tabloids:
In early 2016, after a legal affairs website uncovered old court cases in which a female former Trump business partner had accused him of sexual misconduct, Mr. Cohen released a statement suggesting that the woman, Jill Harth, "would acknowledge" that the story was false. Ms. Harth said the statement was made without her permission, and that she stands by her claims. It was not the last time Mr. Cohen would present a denial on behalf of a woman who had alleged a sexual encounter with Mr. Trump.

In August of that year, Mr. Cohen learned details of a deal that American Media had struck with a former Playboy model, Karen McDougal, that prevented her from going public about an alleged affair with Mr. Trump. Mr. Cohen was not representing anyone in the confidential agreement, but he was apprised of it by Ms. McDougal's lawyer, and earlier had been made aware of her attempt to tell her story by the media company, according to interviews and an email reviewed by The New York Times.

Two months later, Mr. Cohen played a direct role in a similar deal involving an adult film star, Stormy Daniels, who once said she had had an affair with Mr. Trump. Last week, Mr. Cohen said he used his own money for the $130,000 payment to her, which has prompted a complaint alleging that Mr. Cohen violated campaign finance regulations. Legal experts also have noted that the payment on behalf of his client may have violated New York's ethics rules.

Mr. Cohen, who is still described as Mr. Trump's personal lawyer although he is no longer on the Trump Organization payroll, has denied any wrongdoing and insists the arrangement was legal. In an interview, he disputed details of some of his other activities that were described to The Times. But he has never shied away from his role as Mr. Trump's loyal defender. "It is not like I just work for Mr. Trump," Mr. Cohen said in an interview in 2016. "I am his friend, and I would do just about anything for him and also his family."
➤ Asha Rangappa observes For Mueller, this is only the beginning [additional items in linked essay]:
Critics of Mueller's investigation have been quick to suggest the indictment proves that no collusion took place between the Trump campaign and Russia. President Donald Trump reiterated as much in a string of tweets on Saturday and Sunday, in which he argued yet again "that the only Collusion was between Russia and Crooked H, the DNC and the Dems" and that the Russians "are laughing their asses off in Moscow!"

And although this indictment does not make the allegation of Trump campaign collusion explicitly, it may be too early to jump to any definitive conclusions. As a lawyer and former FBI agent who conducted counterintelligence investigations, I believe Mueller achieved five things with this indictment, all of which suggest this is not the end of the story.
1. Neutralizing Russia

The most extraordinary aspect of Mueller's indictment is that it lays out, in great detail, one aspect of a large-scale Russian intelligence operation against the United States. It's not surprising that the FBI uncovered the operation: As part of its counterintelligence mandate, the FBI's job is to identify and disrupt the activities of foreign spies in the United States.
➤ Neil MacFarquhar reports Russian Trolls Were Sloppy, but Indictment Still 'Points at the Kremlin':
MOSCOW — Trolling political opponents has become so routine in Russia, such a part of the everyday landscape, that operations are typically performed without much effort to cover any tracks.

So when Russian trolling techniques were exported to the United States as part of the effort to influence the 2016 presidential election, it seems to have been done with the same lack of discipline that characterizes the practice in Russia.

That devil-may-care attitude helped make possible the identification and indictment of 13 Russians and three Russian companies, with the United States accusing them of trying to subvert the election, including efforts to bolster the candidacy of Donald J. Trump and undercut the campaign of his opponent, Hillary Clinton.

Just because the operation was thinly veiled, however, does not mean that the Russian trolling — creating provocative online posts about immigration, religion and race to try to sway voters — lacked high-level support.

Indeed, ever since the first reports surfaced in 2014 about the existence of a troll farm called the Internet Research Agency, there have been questions about its Kremlin ties.
➤ Natalia V. Osipova and Aaron Byrd answer the question How Do Russian Bots Work?:
➤ This Brewery Uses Crayfish To Control Water Purity: