Good morning.

Sunday in Whitewater will be partly sunny with a high of forty-two. Sunrise is 7:11 AM and sunset 6:57 PM, for 11h 45m 14s of daytime. The moon is a waning crescent with 31.1% of its visible disk illuminated. Today is the four hundred eighty-sixth day.Days since Trump's election, with 11.9.16 as the first day.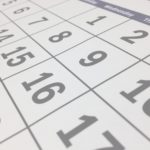 On this day in 1941, Pres. Roosevelt signs the Lend-Lease Act (formally: An Act to Promote the Defense of the United States). On this day in 1865, the 3rd Wisconsin Cavalry takes part in a skirmish in Clear Lake, Arkansas.
Recommended for reading in full —
➤ Maggie Haberman and Michael S. Schmidt report Trump Talks With Clinton Impeachment Lawyer About Aiding in Mueller Response:
The lawyer, Emmet T. Flood, met with Mr. Trump in the Oval Office this past week to discuss the possibility, according to the people. No final decision has been made, according to two of the people.

Should Mr. Flood come on board, the two people said, his main duties would be a day-to-day role helping the president navigate his dealings with the Justice Department.

Two people close to the president said that the overture to Mr. Flood did not indicate any new concerns about the inquiry. Still, it appears, at the least, to be an acknowledgment that the investigation is unlikely to end anytime soon.

Mr. Flood would not replace Ty Cobb, the White House lawyer who since the summer has taken the lead role in dealing with the special counsel, Robert S. Mueller III. But Mr. Cobb has told friends for weeks that he views his position as temporary and does not expect to remain in the job for much longer.
(A lawyer familiar with impeachment proceedings would only be significant if one thought that the investigation would not merely last longer, but would produce even more damning findings, in conditions under which the House might take up impeachment.)
➤ Seung Min Kim, Jenna Johnson and Philip Rucker report At Pennsylvania rally, Trump again calls for the death penalty for drug dealers:
Trump said that allowing prosecutors to seek the death penalty for drug dealers — an idea he said he got from Chinese President Xi Jinping — is "a discussion we have to start thinking about. I don't know if this country's ready for it."

"Do you think the drug dealers who kill thousands of people during their lifetime, do you think they care who's on a blue-ribbon committee?" Trump asked. "The only way to solve the drug problem is through toughness. When you catch a drug dealer, you've got to put him away for a long time."

It was not the first time Trump had suggested executing drug dealers. Earlier this month, he described it as a way to fight the opioid epidemic. And on Friday, The Washington Post reported that the Trump administration was considering policy changes to allow prosecutors to seek the death penalty.
(Most people are very sharp, but imagine being part of a crowd so ignorant – or stupid – that the death penalty would seem like an effective solution to opioid addiction, or any other kind of addiction. The people at these Trump's rallies are both individually deplorable and collectively confirmation that whites cannot possibly be better than others. Supportive presence at a Trump rally is prima facie evidence that one resides in the bottom quartile of understanding or ability.)
➤ Rebecca Moss reports Injured Nuclear Workers Finally Had Support. The Trump Administration Has Mothballed It:
Nearly three years ago, President Barack Obama responded to long-standing concerns that workers exposed to toxic chemicals at the country's nuclear weapons labs were not receiving proper compensation.

Obama created an advisory board to be composed of scientists, doctors and worker advocates. Their recommendations have led to significant changes, including the repeal of a rule that made it more difficult for workers who'd been injured in the last two decades to get compensation.

President Donald Trump and his administration have taken a different approach: His Labor Department has let nearly all of the board member's terms expire — and so far hasn't nominated new ones.

"For two years our board put a lot of brain power and cutting-edge expertise into developing recommendations," said Ken Silver, an occupational health professor at Eastern Tennessee State University, who until last month was a board member. "Without appointing another board, those recommendations may disappear into the ether."

Silver was one of 14 members on the Advisory Board on Toxic Substances and Worker Health whose terms expired in February. The remaining member's term expires in the middle of this month. The Department of Labor has kept silent on when it will appoint a new board. Meetings have been put on hold until further notice, according to the Labor Department's website.
➤ Mark Ebner reports 'Picked Apart by Vultures': The Last Days of Stan Lee ("Months after losing his wife, the 95-year-old comic book legend is surrounded by charlatans and mountebanks"):
You might expect Stan Lee, at age 95, to be enjoying the fruits of his many labors: Marvel Comics, the company he served as the former president and chairman of, dominates popular culture. Characters he co-created — among them Spider-Man, Iron Man, X-Men, and the Avengers — are household names. He's a comics legend, with his own star on the Hollywood Walk of Fame. When Marvel sold to Disney in 2010 for $4 billion, he personally pocketed a cool $10 million, and tours the world as its ambassador emeritus. And midway through his tenth decade, Black Panther, based on a character he and Jack Kirby first envisioned in 1966, currently sits atop the global box office charts, and carries a Rotten Tomatoes score of 97%.

Instead, seven months after the death of Joan, his wife of almost 70 years, beset with pneumonia, the apparent victim of gross financial malfeasance and surrounded by a panoply of Hollywood charlatans and mountebanks, he may be facing his greatest challenge, every bit the equal of any of the psychologically flawed superheroes he helped shepherd into being. According to one insider with working knowledge of Lee's current situation, "It's a real fucking mess over there. I think his money will be gone in a few weeks… Stan and [his daughter] JC are literally being picked apart by vultures."

In just over two months, there have been published reports of an unauthorized check for $300,000 written from Lee's business account without his knowledge to Hands of Respect, a "merchandising company" and ersatz charity formed by Lee and Jerry Olivarez, a former business associate of his daughter's. The word "loan" is inscribed on the face of the check.

Other red flags included the purchase in the fall of 2017 of an $850,000 condo in West Hollywood a short distance from Lee's home in the Hollywood Hills; and $1.4 million that mysteriously disappeared in a complicated wire-transfer transaction. Most dramatically—and according to published reports— police on February 16th were called to Lee's home to remove long-time bodyguard Mac "Max" Anderson, often seen accompanying Lee at his lucrative live appearances, after he allegedly threatened Lee and his daughter. Anderson's attorney declined to comment for this story.
Japan's favorite, mochi, has become a Hawaii treat—at least in Nora Uchida's kitchen. Uchida, a third-generation Japanese-American living in Hilo, Hawaii, inherited her grandmother's mochi recipe and evolved it to include the colors and eclectic tastes of her beloved state. For the past 25 years, she and her family have owned and operated Hilo's last mochi storefront, Two Ladies Kitchen. If you can beat the line running out the door on weekends, you're in for a delicious, only-in-Hawaii treat.