Good morning.

Wednesday in Whitewater will be sunny with a high of forty-eight. Sunrise is 7:06 AM and sunset 7:00 PM, for 11h 54m 01s of daytime. The moon is a waning crescent with 8.6% of its visible disk illuminated. Today is the four hundred eighty-ninth day.Days since Trump's election, with 11.9.16 as the first day.
Whitewater's Birge Fountain Committee meets at 6:30 PM.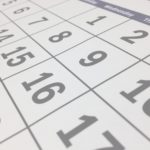 On this day in 1794, Eli Whitney receives a patent for the cotton gin. On this day in 1854, the Baraboo River floods: "On the night of March 14, 1859, the Baraboo River, greatly swollen by spring rains and melting snow, went on a rampage, taking out a dam that supplied power for the flour mill of Bassett and Pratt. The flour mill was then the 'largest institution of its kind for many miles around and about it centered the interest of the entire community'. Nearly 500 men responded to the catastrophe. The progress of the water was checked by the felling of trees. The flour in the mill was hauled to safety with team and wagons. The flood caused damage to the lower Maxwell Dam." To see what life was like then in Baraboo — and throughout much of southern Wisconsin at the time — read this letter by settler Charles Abbott to his family in New Hampshire."
Recommended for reading in full —
➤ Heather Hurlburt describes The Mess Rex Tillerson Is Leaving Behind:
Tillerson will leave a legacy, for sure. First, in the diminishment of his office — something which was not entirely his fault. Trump wasn't the first president who couldn't resist the temptation to be his own secretary of State, or to undercut his secretary to prevent him from gaining international stature that could rival his own. And as the National Security Council has grown in size and influence, and modern communications have allowed anyone to connect across national lines, State's influence has been declining over the decades. But, with Trump's gratuitous cruelty added to Tillerson's missteps, Pompeo will get to Foggy Bottom with the prestige and clout of his office at its lowest ever. (It's a long way down from Thomas Jefferson.) He may find that he misses the CIA.

Second, the State Department itself is — there's no kind word for it — a mess.  Tillerson achieved something that diplomatic geeks had tried and failed for 20 years — getting reporters, members of Congress, and even voters to care about State Department personnel policy. Not because he succeeded in reforming the Department to his vision, but because his ideas went so publicly awry. His plan to reform and restructure the State Department produced a steady leak of embarrassing PowerPoint slides and memos. Just last week a Politico reporter tweeted his deputy's "Strategic Hiring Initiative" line by line, with commentary pointing out how much it seemed to presage further staff cuts. His ideas on personnel reforms — prevent spouses from working in embassies overseas, shut the pipeline of super-talented fellows entering the State Department out of graduate school, run every decision through a tiny team — produced headlines and outrage among people who had never cared much about State before.

More than 100 senior diplomats have resigned since Tillerson took office, leaving top ranks understaffed. At the same time, Tillerson canceled, delayed, or shrunk entire classes of new junior diplomats. As of last month, more than 100 ambassadorial positions were unfilled, as were many higher-level positions back in Washington. Not only is the department smaller, but most of its senior women, and officers of color, are gone — meaning that the service looks less like our country and less like the rest of the world with which it must interact. Gina Abercrombie-Winstanley, one of the senior ambassadors who chose to leave during Tillerson's tenure, said: "No doubt we are as disappointed as he."
➤ Michael Tomasky contends Why Mike Pompeo as Secretary of State Should Scare You More Than Rex Tillerson reports ("A bumbler who disagrees with Trump from time to time is better than a yes man as America's chief diplomat"):
Pompeo? By all accounts he admires Trump; and is for the most part on the same page. He's been briefing the president daily. They have, as Trump said himself Tuesday morning, "chemistry." When I think about what kind of man it takes to develop "chemistry" with Donald Trump, and realize that that man is about to be the United States' top diplomat, it somehow leaves me less than reassured.

Pompeo will be, in all likelihood, a better manager of the department than Tillerson. He's been a congressman and he's been running the CIA. Of course, Tillerson hailed from one of the biggest private companies in the world, but Pompeo also knows his way around Washington better than Tillerson did. He'll fill posts. I'd bet we'll have an ambassador in Seoul now—one of the more glaring empty diplomatic seats—fairly soon. This is where the positive stories will come in two months from now.

But he'll be filling those posts with hard-liners and Trump loyalists. So now we are likely to see, in a way we did not see for these first 14 months, the president being able to execute his foreign-policy, well, vision.

So look for the administration to cancel the Iran deal. Pompeo has been a big critic of it. Look for a harder line, if such is possible, on Israel and the Palestinians. On Russia, Pompeo has taken a far more anti-Putin line than Trump; after all, he heads an agency that is part of the consensus view that Russia meddled in the election to help Trump. Just this past weekend, Pompeo challenged Putin's dismissal of meddling claims as "false." Will Pompeo try to: persuade the president of this view, or spend the next few months trying to make his boss forget he ever held it? Count me among those skeptical that the potentially new secretary of State won't learn the lessons from the just axed secretary of State—that fealty to Trump is the key currency.
➤ Peter Baker and Michael D. Shear report Strong Performance by Democrat Conor Lamb in Pennsylvania Shakes Trump and G.O.P.:
While the president hobnobbed with wealthy donors in the exclusive enclave of Beverly Park, the voters in the suburbs south of Pittsburgh were in revolt, giving the Democratic candidate a narrow lead in a special election in Pennsylvania that was taking on outsize proportions.

Just as they did outside Birmingham and Montgomery, Ala., in December, and Richmond, Va., and Washington, D.C., in November, energized and angry suburban voters were swamping the Trump stalwarts in the more rural parts of those regions, sending a clear message to Republicans around the country.

While Republican turnout in a district that Mr. Trump won by 20 percentage points was healthy, Democrats showed once again that they could tap unions and other traditionally friendly groups to get their voters out in droves. The N.A.A.C.P. helped win Attorney General Jeff Sessions' Alabama Senate seat for Doug Jones in December. Organized labor, once seen as fractured and feckless in the Trump era, gave the Democrat Conor Lamb his lead in Pennsylvania overnight.

Rick Saccone, the Republican candidate who wrapped himself in Mr. Trump's cloak and drew the president to his district last weekend in a bid to rescue a faltering campaign, trailed Mr. Lamb, a former Marine seeking to show his party can compete even in red territory. Mr. Lamb held a lead of just 641 votes early Wednesday, with some absentee ballots still to be counted, but Democrats went ahead and claimed victory.
➤ Karoun Demirjian reports Intel panel Republicans seem to back away from finding that Russia was not trying to help Trump:
The leader of the House Intelligence Committee's Russia investigation seemed to back off Tuesday from the most surprising finding in the GOP's report that Russia was not trying to help President Trump, as the panel's top Democrat trashed the product as a political gift to the White House.

Rep. K. Michael Conaway (R-Tex.) told reporters Tuesday that "it's clear [Russian officials] were trying to hurt Hillary [Clinton]" by interfering in the 2016 election and that "everybody gets to make up their own mind whether they were trying to hurt Hillary, help Trump, it's kind of glass half full, glass half empty."

That equivalence stands in sharp contrast to the conclusions of a 150-page GOP-drafted report Conaway announced to the news media on Monday that concludes that the intelligence community "didn't meet the standards" of proof necessary to determine that Russia meddled in the 2016 election with the aim of helping Trump.

…

His comments came after other panel Republicans, including Reps. Trey Gowdy (R-S.C.) and Thomas J. Rooney (R-Fla.) gave interviews in which they stressed that there was evidence that Russia had tried to damage Clinton's candidacy.
➤ Meet the Man Protecting Venezuela's Eagles:
Alexander Blanco Márquez is a veterinary doctor going to great heights to save the harpy eagles of Venezuela. As victims of poaching and deforestation, these beautiful birds have been diminishing in numbers over the years. Watching their species destroyed in the wild, Márquez decided to take matters into his own hands. Now, he's going to extremes to protect these eagles, oftentimes putting his own life on the line.