Good morning.

Monday in Whitewater will be sunny with a high of forty-seven. Sunrise is 6:57 AM and sunset 7:06 PM, for 12h 05m 43s of daytime. The moon is a waxing crescent with 4.1% of its visible disk illuminated . Today is the four hundred ninety-fourth day.Days since Trump's election, with 11.9.16 as the first day.
The Whitewater CDA's Seed Capital Committee meets at 5 PM and the Library Board at 6:30 PM. The Whitewater School Board meets at 6:30 PM, with its regular session beginning at 7 PM.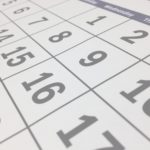 C-SPAN, the Cable-Satellite Public Affairs Network, launches on this day in 1979. On this day in 1865, the Battle of Goldsborough, North Carolina, begins: "The 21st, 22nd and 25th Wisconsin Infantry regiments took part in the battle at Goldsborough, North Carolina, during the Campaign of the Carolinas. Three Union armies totaling 100,000 men attacked the city in order to control its strategically important railroad lines."
Recommended for reading in full —
➤ Karen Freifeld, Sarah N. Lynch, and Mark Hosenball report Exclusive: Sources contradict Sessions' testimony he opposed Russia outreach:
WASHINGTON (Reuters) – U.S. Attorney General Jeff Sessions' testimony that he opposed a proposal for President Donald Trump's 2016 campaign team to meet with Russians has been contradicted by three people who told Reuters they have spoken about the matter to investigators with Special Counsel Robert Mueller or congressional committees.

Sessions testified before Congress in November 2017 that he "pushed back" against the proposal made by former campaign adviser George Papadopoulos at a March 31, 2016 campaign meeting. Then a senator from Alabama, Sessions chaired the meeting as head of the Trump campaign's foreign policy team.

"Yes, I pushed back," Sessions told the House Judiciary Committee on Nov. 14, when asked whether he shut down Papadopoulos' proposed outreach to Russia.

Sessions has since also been interviewed by Mueller.

Three people who attended the March campaign meeting told Reuters they gave their version of events to FBI agents or congressional investigators probing Russian interference in the 2016 election. Although the accounts they provided to Reuters differed in certain respects, all three, who declined to be identified, said Sessions had expressed no objections to Papadopoulos' idea.

One person said Sessions was courteous to Papadopoulos and said something to the effect of "okay, interesting."

The other two recalled a similar response.

"It was almost like, 'Well, thank you and let's move on to the next person,'" one said.
➤ Joby Warrick reports Poisoning of Russian ex-spy puts spotlight on Moscow's secret military labs:
Since the start of Putin's second term, a construction boom has been underway at more than two dozen institutes that were once part of the Soviet Union's biological and chemical weapons establishment, according to Russian documents and photos compiled by independent researchers. That expansion, which includes multiple new testing facilities, is particularly apparent at secret Defense Ministry laboratories that have long drawn the suspicions of U.S. officials over possible arms-treaty violations.

Russian officials insist that the research in government-run labs is purely defensive and perfectly legal. But the effort has come under increased scrutiny in the wake of allegations of Moscow's involvement in the poisoning of a former Russian spy and his daughter in Britain. Both were sickened by exposure to Novichok, a kind of highly lethal nerve agent uniquely developed by Russian military scientists years ago.

"The big question is, why are they doing this?" said Raymond Zilinskas, a chemical and biological weapons expert with the James Martin Center for Nonproliferation Studies in Monterey, Calif. In a newly released book, "Biosecurity in Putin's Russia," ­Zilinskas and co-author Philippe Mauger analyze hundreds of contract documents and other records that show a surge in Russian research interest in subjects ranging from genetically modified pathogens to nonlethal chemical weapons used for crowd control.
➤ Michael Biesecker, Jake Pearson, and Jeff Horwitz report Trump wildlife protection board stuffed with trophy hunters:
WASHINGTON (AP) — A new U.S. advisory board created to help rewrite federal rules for importing the heads and hides of African elephants, lions and rhinos is stacked with trophy hunters, including some members with direct ties to President Donald Trump and his family.

A review by The Associated Press of the backgrounds and social media posts of the 16 board members appointed by Interior Secretary Ryan Zinke indicates they will agree with his position that the best way to protect critically threatened or endangered species is by encouraging wealthy Americans to shoot some of them.

One appointee co-owns a private New York hunting preserve with Trump's adult sons. The oldest son, Donald Trump Jr., drew the ire of animal rights activists after a 2011 photo emerged of him holding a bloody knife and the severed tail of an elephant he killed in Zimbabwe.
➤ Clive Irving contends Elon Musk's 'Big F**king Rocket' Is a Big F**ing Deal:
Elon Musk, the maestro of SpaceX, has figured out a new way to fly into deep space. In doing so he seems to have disrupted all previous proposals for returning to the moon and reaching beyond to Mars.

Musk is gambling on the success of a project that is a radical departure from anything seen before—and far simpler than any competing space program. It is centered on a 157-foot long spaceship named BFR (Big Fucking Rocket). No kidding: That's longer than the longest version of the Boeing 737 and, with a width of 29 feet it's eight feet wider than the Airbus A380 super jumbo's fuselage.

It will be designed to be used in three ways: to carry three kinds of payloads—people, cargo, or fuel (playing the role of a tanker to refuel other vehicles in space).
➤ This Artist Creates Mesmerizing Moving Sculptures: