Good morning.

Sunday in Whitewater will be sunny with a high of fifty-six. Sunrise is 6:59 AM and sunset 7:05 PM, for 12h 05m 43s of daytime. The moon is a waxing crescent with 1.2% of its visible disk illuminated . Today is the four hundred ninety-third day.Days since Trump's election, with 11.9.16 as the first day.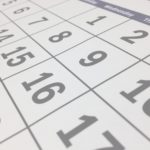 On this day in 1963, the United States Supreme Court, in a unanimous decision, rules in Gideon v. Wainwright that the Constitution requires state courts to appoint attorneys for criminal defendants who cannot afford to retain counsel on their own.
On this day in 1953, the Boston Braves announce that they will move to Milwaukee. (They later moved to Atlanta to become the Atlanta Braves.)
Recommended for reading in full —
➤ Chris Hayes explains What 'Law and Order' Means to Trump:
Time and again, the president denounces "illegals" and "criminals" and the "American carnage" they wreak on law-abiding Americans. He even advised an audience of police officers to rough up suspects they were arresting.

Yet this tough-guy stance disappears when the accused are in the president's inner circle. In defending Rob Porter, the White House senior aide accused of abuse by both of his ex-wives, the president wondered whatever happened to due process while praising a man accused of giving his wife a black eye. (Mr. Porter denies the abuse.)

As tempting as it is to hammer Mr. Trump for his epic hypocrisy, it is a mistake. The president's boundless benefit of the doubt for the Rob Porters and Roy Moores of the world, combined with off-with-their-heads capriciousness for immigrants accused of even minor crimes, is not a contradiction. It is the expression of a consistent worldview that he campaigned on and has pursued in office.

In this view, crime is not defined by a specific offense. Crime is defined by who commits it. If a young black man grabs a white woman by the crotch, he's a thug and deserves to be roughed up by police officers. But if Donald Trump grabs a white woman by the crotch in a nightclub (as he's accused of doing, and denies), it's locker-room high jinks.

…

A political movement that rails against "immigrant crime" while defending alleged abusers and child molesters is one that has stopped pretending to have any universalist aspirations. The president's moral framework springs from an American tradition of cultivating fear and contempt among its white citizens against immigrants, indigenous people and people of color, who are placed on the other side of "the law." It's a practice that has taken on new strength at a time when many white people fear they may be outnumbered, outvoted and out of time.

…

If all that matters when it comes to "law and order" is who is a friend and who is an enemy, and if friends are white and enemies are black or Latino or in the wrong party, then the rhetoric around crime and punishment stops being about justice and is merely about power and corruption.
➤ Matthew Rosenberg, Nicholas Confessore, and Carole Cadwalladr report How Trump Consultants Exploited the Facebook Data of Millions:
LONDON — As the upstart voter-profiling company Cambridge Analytica prepared to wade into the 2014 American midterm elections, it had a problem.

The firm had secured a $15 million investment from Robert Mercer, the wealthy Republican donor, and wooed his political adviser, Stephen K. Bannon, with the promise of tools that could identify the personalities of American voters and influence their behavior. But it did not have the data to make its new products work.

So the firm harvested private information from the Facebook profiles of more than 50 million users without their permission, according to former Cambridge employees, associates and documents, making it one of the largest data leaks in the social network's history. The breach allowed the company to exploit the private social media activity of a huge swath of the American electorate, developing techniques that underpinned its work on President Trump's campaign in 2016.

…

Christopher Wylie, who helped found Cambridge and worked there until late 2014, said of its leaders: "Rules don't matter for them. For them, this is a war, and it's all fair."

…

But the full scale of the data leak involving Americans has not been previously disclosed — and Facebook, until now, has not acknowledged it. Interviews with a half-dozen former employees and contractors, and a review of the firm's emails and documents, have revealed that Cambridge not only relied on the private Facebook data but still possesses most or all of the trove.
➤ Danny Hakim and Matthew Rosenberg report Data Firm Tied to Trump Campaign Talked Business With Russians:
When the Russia question came up during a hearing at the British Parliament last month, Alexander Nix did not hesitate.

"We've never worked in Russia," said Mr. Nix, head of a data consulting firm that advised the Trump campaign on targeting voters.

"As far as I'm aware, we've never worked for a Russian company," Mr. Nix added. "We've never worked with a Russian organization in Russia or any other country, and we don't have any relationship with Russia or Russian individuals."

But Mr. Nix's business did have some dealings with Russian interests, according to company documents and interviews.

Mr. Nix is a director of SCL Group, a British political and defense contractor, and chief executive of its American offshoot, Cambridge Analytica, which advised the Trump campaign. The firms' employees, who often overlap, had contact in 2014 and 2015 with executives from Lukoil, the Russian oil giant.

…

Cambridge Analytica also included extensive questions about Russia's president, Vladimir V. Putin, in surveys it was carrying out in American focus groups in 2014. It is not clear what — or which client — prompted the line of questioning, which asked for views on topics ranging from Mr. Putin's popularity to Russian expansionism.
➤ Jason Stein and Patrick Marley report Eric Holder, Tammy Baldwin call for action on Russian Twitter trolls' Wisconsin meddling:
State and federal leaders from former U.S. Attorney General Eric Holder to members of the Wisconsin Legislature called Friday for a federal response to news that Russian Twitter trolls sought to stoke racial division in the wake of the August 2016 unrest in Milwaukee's Sherman Park.

The Milwaukee Journal Sentinel reported Thursday that Russia-linked accounts got thousands of retweets for their racially charged posts made only hours after the chaos in the Sherman Park neighborhood and less than three months before the 2016 presidential election won by President Donald Trump.

After a Madison campaign visit Friday on behalf of state Supreme Court candidate Rebecca Dallet, Holder said Congress should hold hearings on the Russian interference in Milwaukee and said the FBI and U.S. Attorney's office should investigate, as well.

"If you have the connection between that kind of effort and a foreign government, yeah, that's the basis for a federal investigation," Holder told reporters. "I think it's incumbent upon people both at the state level and the federal level to hold hearings, to find exactly who was behind that and what was the impact of that effort."
(Emphasis added.)
➤ Explore the Valley Protecting Hawaii's Ancient Plants:
For the past 1,500 years, Limahuli Valley on Kauai has been a green haven, a wilderness preserved to exist just as the native Hawaiians experienced it. It is home to plant life unlike anything found in the rest of the world, with many endangered plants thriving in the valley. The Limahuli Garden and Preserve hopes to continue their conservation efforts so these plants can survive for generations to come. Join director Kawika Winter for a tour of this lush nature preserve.