Good morning.

Friday in Whitewater will be mostly sunny with a high of forty-six. Sunrise is 6:27 AM and sunset 5:46 PM, for 11h 19m 11s of daytime. The moon is full, with  99.7% of its visible disk illuminated. Today is the four hundred seventy-seventh day.Days since Trump's election, with 11.9.16 as the first day.
Whitewater's Police and Fire Commission meets at 4:30 PM.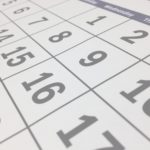 On this day in 1904, Dr. Seuss, Theodor Seuss Geisel, is born. On this day in 1967, Beloit students and faculty protest Dow: "a group of Beloit College students and faculty staged a silent vigil, protesting Dow Chemical representatives recruiting prospective employees on the Beloit campus. Dow Chemical manufactured napalm, or jellied gasoline, used by the U.S. military in bombing raids during the Vietnam conflict. Dow was prominently protested the same year at the University of Wisconsin Madison campus."
Recommended for reading in full —
➤ Natasha Turak reports 'Straight up stupid,' 'incompetent' and 'misguided': Economist Adam Posen rips Trump's tariffs:
President Donald Trump's proposed tariffs on steel and aluminum imports are "straight up stupid," a top economist told CNBC on Friday.

Trump's tariffs announcement Thursday night has been broadly condemned by both sides of the U.S. political spectrum and the international community at large.

"This is just straight up stupid," Adam Posen, president of the Peterson Institution for International Economics, said Friday. "This is fundamentally incompetent, corrupt or misguided."

Posen, who served at the Federal Reserve Bank of New York in the mid-1990s, currently sits on the panel of economic advisors to the U.S. Congressional Budget Office.

The president's protectionist move, which would impose a 25 percent levy on all steel imports and 10 percent on aluminum, has garnered widespread criticism, with trade partners of the U.S. already threatening to retaliate. Downstream producers of steel and aluminum products — including car, plane and consumer goods manufacturers — say it will jack up their costs, and experts fear a trade war that could harm global growth.
➤ The New York Times editorial board writes Jared Kushner Flames Out ("Bad advice, shady deals and incompetence define the presidential son-in-law's tenure at the White House"):
For more than two centuries, the principle that federal officials would be selected on the basis of merit, not heredity, has been protected as much by tradition, cultural norms and a desire to avoid the appearance of impropriety as it has been by law. That has proved an insufficient bulwark against an insecure, ignorant president, and his administration, and the American people are now paying the price.

What a liability Mr. Kushner has proved to be. American officials have intercepted conversations in which at least four countries, including China and the United Arab Emirates, discussed ways to take advantage of Mr. Kushner's indebtedness, naïveté and ignorance of foreign policy to further their interests, according to The Washington Post. This week, The Times reported that Kushner Companies received hundreds of millions of dollars in loans through American companies, including Citigroup and the private equity firm Apollo Global Management, after their top executives met with Mr. Kushner in the White House. The Qatari government's investment fund was a major investor in Apollo's real estate trust.

This was all occurring while Mr. Kushner had access to top-secret intelligence, despite having failed to secure a permanent security clearance. His faulty disclosures of his financial interests and foreign contacts and his indebtedness have most likely held up his clearance for more than a year. His access was downgraded this week from top secret to secret, hardly reassuring.
➤ Richard Painter contends "This is how you run a banana republic":
"This is how you run a banana republic," says @RWPUSA of the Trump administration #inners pic.twitter.com/6EQobY7u8T

— All In w/Chris Hayes (@allinwithchris) March 2, 2018
➤ Tim Mak reports Depth Of Russian Politician's Cultivation Of NRA Ties Revealed:
A prominent Kremlin-linked Russian politician has methodically cultivated ties with leaders of the National Rifle Association, and documented efforts in real time over six years to leverage those connections and gain access deeper into American politics, NPR has learned.

Russian politician Alexander Torshin claimed his ties to the National Rifle Association provided him access to Donald Trump — and the opportunity to serve as a foreign election observer in the United States during the 2012 election.

Torshin is a prolific Twitter user, logging nearly 150,000 tweets, mostly in Russian, since his account was created in 2011. Previously obscured by language and by sheer volume of tweets, Torshin has written numerous times about his connections with the NRA, of which he's a known paid lifetime member. NPR has translated a selection of those posts that document Torshin's relationship to the group.These revelations come amid news that the FBI is investigating whether Torshin, the deputy governor of the Bank of Russia, illegally funneled money to the National Rifle Association to assist the Trump campaign in 2016, McClatchy reported in January.
➤ Here's Popcorn Under A Microscope: