Good morning.

Wednesday in Whitewater will be partly sunny with a high of thirty. Sunrise is 6:18 AM and sunset 5:52 PM, for 11h 33m 42s of daytime. The moon is a waning gibbous with  67.4% of its visible disk illuminated. Today is the four hundred eighty-second day.Days since Trump's election, with 11.9.16 as the first day.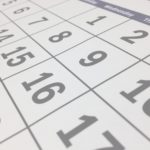 On this day in 1965, during the Selma to Montgomery marches, Bloody Sunday leaves protesters severely injured:
The Selma to Montgomery marches were three protest marches, held in 1965, along the 54-mile (87 km) highway from Selma, Alabama to the state capital of Montgomery. The marches were organized by nonviolent activists to demonstrate the desire of African-American citizens to exercise their constitutional right to vote, in defiance of segregationist repression, and were part of a broader voting rights movement underway in Selma and throughout the American South. By highlighting racial injustice, they contributed to passage that year of the Voting Rights Act, a landmark federal achievement of the Civil Rights Movement.

…

The first march took place on March 7, 1965, organized locally by Bevel, Amelia Boynton, and others. State troopers and county possemen attacked the unarmed marchers with billy clubs and tear gas after they passed over the county line, and the event became known as Bloody Sunday.[6][7] Law enforcement beat Boynton unconscious, and the media publicized worldwide a picture of her lying wounded on the Edmund Pettus Bridge.[8]
Recommended for reading in full —
➤ Betsy Woodruff and Spencer Ackerman report Trump Lawyer Michael Cohen Received Inside Info From Russia Probe ("Closed-door testimony before the House Russia probe is supposed to stay behind closed doors. Somehow, it got into the hands of another witness—and key Trump confidant—instead"):
On Dec. 19, 2017, a former staffer for Sen. John McCain named David Kramer testified before the House intelligence committee behind closed doors. He'd played a role in bringing the salacious and unverified Steele dossier to the FBI's attention, and members peppered him with questions about it.

Then something unusual happened. Word of Kramer's testimony got out—to the lawyer of another witness.

The following, based on conversations with multiple sources familiar with the matter, illuminates the extraordinary breakdown of trust between committee investigators and the witnesses they call. It also suggests that some people working on the committee investigation may be trying to covertly assist one of the president's closest allies—when the president's inner circle is ostensibly a focus of their probe.

A few days after Kramer's testimony, his lawyer, Larry Robbins, got a strange call. The call was from Stephen Ryan, a lawyer who represents Trump's longtime personal attorney Michael Cohen. Cohen is facing scrutiny from special counsel Robert Mueller and congressional investigators regarding potential coordination between Trump's team and the Kremlin. He featured prominently in the Steele dossier—the document that Kramer handled—and is suing BuzzFeed for publishing it.
➤ Rosalind S. Helderman, Tom Hamburger, and Josh Dawsey report Special counsel has examined episodes involving Michael Cohen, Trump's longtime lawyer:
Special counsel Robert S. Mueller III has requested documents and interviewed witnesses about incidents involving Michael Cohen, the longtime lawyer for President Trump whose wide-ranging portfolio has given him a unique vantage point into Trump's business, campaign and political activities.

There is no indication that Cohen is a subject or target of the investigation into Russian interference in the 2016 election. But the scrutiny of his interactions is another sign of the far-reaching nature of the special-counsel probe, which is examining members of the president's inner circle and aspects of Trump's past business outreach to Russia.

As one of Trump's closest advisers, Cohen played a role in at least two episodes involving Russian interests that have drawn Mueller's attention, according to several people familiar with document subpoenas and witness interviews.

One area of focus has been negotiations Cohen undertook during the campaign to help the Trump Organization build a tower in Moscow. Cohen brought Trump a letter of intent in October 2015 from a Russian developer to build a Moscow project. Later, he sent an email to Russian President Vladi­mir Putin's chief spokesman seeking help to advance the stalled project. He said he did not recall receiving a response.
➤ Jennifer Jacobs reports Trump Confronted Cohn on Trade Hours Before Resignation, Sources Say:
President Donald Trump demanded economic adviser Gary Cohn's cooperation on tariffs in a meeting in the Oval Office Tuesday — asking Cohn directly if he would support his decision to move forward with the plan.

Trump, during the trade policy meeting in the Oval Office Tuesday, asked for an update on the legal paperwork that will make the tariffs official and discussed the timing of the signing of the tariffs order. He then sought confirmation that everyone — and especially Cohn — was willing to stand behind him.

According to one source with knowledge of the exchange, Trump specifically asked Cohn: We're all on the same team, right? He then asked if Cohn was going to support the president on the issue.

Cohn didn't answer, the people said.
➤ Linda Qiu describes  President Trump's Exaggerated and Misleading Claims on Trade ("The president's claims about massive trade deficits, tariffs and the World Trade Organization are overstated and contradicted by his own economic report"):
In defending his embrace of steep tariffs — and in comments that seem to encourage a trade war — President Trump has repeatedly claimed massive trade imbalances, unfair practices and an international system that benefits everyone but the United States.

But these claims are often overstated and contradicted by his own economic council. Here is a fact-check of recent comments that Mr. Trump has made on trade deficits, the World Trade Organization and tariffs.

"We have a trade deficit of $800 billion a year." — March 6 remarks

This is exaggerated.

A White House spokesman said the $800 billion deficit figure that Mr. Trump has cited refers to the trade balance in goods. The Department of Commerce reported a $810 billion deficit in goods in 2017, but a total trade deficit of $566 billion that includes a trade surplus in services.

Mr. Trump's preoccupation with trade in goods contradicts his own White House economic report, which he signed and was released in February.

The United States' economy has shifted "away from manufacturing and toward service provision industries" in recent decades, according the report. "Focusing only on the trade in goods alone ignores the United States' comparative advantage in services."

Like most developed countries, the United States is primarily a services economy, said Scott Lincicome, a trade analyst at the Cato Institute, a libertarian think tank. And American service sectors — like accounting, finance, technology, engineering and law — are globally dominant.

"By focusing only on goods, you make it seem far weaker than it actually is," Mr. Lincicome said. Doing so also means "ignoring a large, growing and vibrant part of the economy," he said.
➤ James Gorman and Christopher Whitworth describe Pelican Spiders, Ancient Assassins That Eat Their Own Kind: