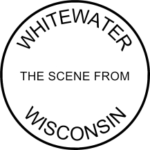 A hard condition of our communities is found among Dreamers vulnerable to unjust deportation; the hard work on their behalf is found among those who have actively protested in defense of those Dreamers.
For the rest of us, Voces de la Frontera offers an opportunity to contribute to pay the fines of twenty-three who protested at the Racine office of US Speaker of the House Paul Ryan. I've contributed, and I hope that others will, too.
Below readers will find the original fundraisng letter from Voces de la Frontera, in English and Spanish:
March 5th.

Today, 23 brave community members were arrested in an act of civil disobedience at the Racine office of US Speaker of the House Paul Ryan. They were demanding Speaker Ryan protect immigrant youth and pass the clean Dream Act now!

Will you take five minutes to contribute $20 towards the fines these bold leaders have been ordered to pay?

All 23 have been released! Among those arrested in Wisconsin were children of immigrant parents, public school teachers, a union ironworker, elected officials, Catholic Workers, and retirees.

Today has been an incredible day. In the hours leading up to the civil disobedience, hundreds of students from five Milwaukee and Racine high schools walked out of classes and marched on Paul Ryan's Racine office.

We took these bold actions because after today, immigrant youth will begin losing DACA protections in much higher numbers, thanks to the President's cruel decision to eliminate the program, and Speaker Ryan's refusal to allow a vote on the clean Dream Act.

While we acted in Wisconsin, dozens of leaders in Washington, D.C. were arrested outside of Ryan's Washington office as part of the national fight for the clean Dream Act now.

Click here to donate to the fund to pay the fines of the 23 Wisconsin leaders arrested today.
Hoy, 23 miembros de la comunidad valientes fueron arrestados en un acto de desobediencia civil en frente de la oficina de Racine del líder de la Cámara de Representantes de Estados Unidos, Paul Ryan. ¡Exigieron que Ryan proteja a los jóvenes inmigrantes y apruebe el limpio Dream Act ahora!

¿Tomarán cinco minutos para contribuir $20 hacia las multas que estos audaces líderes han sido ordenados a pagar?

Haga clic aquí para contribuir.

¡Todos los 23 han sido liberados! Los arrestados en Wisconsin incluyeron hijos de padres inmigrantes, maestros de las escuelas públicas, un herrero sindicalista, oficiales electos, Trabajadores Católicos y jubilados.

Hoy ha sido un día increíble. En las horas antes de la desobediencia civil, cientos de estudiantes en cinco preparatorias en Milwaukee y Racine salideron de sus clases y marcharon a la oficina de Paul Ryan en Racine.

Tomamos estas acciones audaces porque después de hoy, los jóvenes inmigrantes comenzarán a perder las protecciones de DACA en números mucho más altos, gracias a la cruel decisión del Presidente de eliminar el programa, y gracias a Paul Ryan, que ha rechazado hasta ahora permitir un voto sobre el Dream Act limpio. ??

Mientras actuábamos en Wisconsin, docenas de líderes en Washington, DC también fueron arrestados afuera de la oficina de Ryan en Washington como parte de la lucha nacional por el Dream Act.

Haga clic aquí para donar al fondo para pagar las multas de los 23 líderes de Wisconsin arrestados hoy.

Gracias, ¡y favor de compartir la página para recaudar los fondos!