Good morning.

Thursday in Whitewater will be variably cloudy, with a high of sixty-three. Sunrise is 6:16 AM and sunset 7:34 PM, for 13h 17m 53s of daytime. The moon is a waning crescent with 13.3% of its visible disk illuminated. Today is the five hundred eighteenth day.Days since Trump's election, with 11.9.16 as the first day.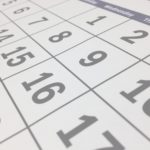 On this day in 1961, the Civil War begins with the Confederate attack on Fort Sumter.
Recommended for reading in full —
➤ Conservative Erick Erickson describes an Epic rant from a GOP member of Congress:
Erick Erickson caught up with a friend in Congress recently while he was visiting Washington DC. This guy supports Donald Trump in public, but in private he's—oh, what's the right word? Disillusioned? Despondent? Boiling over with rage?

Anyway, he told Erickson he needed to vent about Trump, so they strolled down the aisles of a local Safeway and Erickson turned on his recorder:

He may be an idiot, but he's still the President and leader of my party and he is capable of doing some things right. But dammit he's taking us all down with him. We are well and truly f**ked in November….It's like Forrest Gump won the presidency, but an evil, really f*cking stupid Forrest Gump. He can't help himself. He's just a f**king idiot who thinks he's winning when people are b*tching about him.

….If we get to summer and most of the primaries are over, they just might pull the trigger if the President fires Mueller. The sh*t will hit the fan if that happens and I'd vote to impeach him myself. Most of us would, I think. Hell, all the Democrats would and you only need a majority in the House. If we're going to lose because of him, we might as well impeach the motherf**ker.

….I say a lot of shit on TV defending him, even over this. But honestly, I wish the motherf*cker would just go away. We're going to lose the House, lose the Senate, and lose a bunch of states because of him. All his supporters will blame us for what we have or have not done, but he hasn't led. He wakes up in the morning, sh*ts all over Twitter, sh*ts all over us, sh*ts all over his staff, then hits golf balls. F*ck him. Of course, I can't say that in public or I'd get run out of town.
(There's little on which Erickson and I would agree, but I've never known him to be dishonest – the conversation is almost certainly genuine.)
➤ Patrick Marley and Jason Stein report Wisconsin Rep. Dale Kooyenga says he will cover $30,000 settlement for taking protester's sign as video is released:
Rep. Dale Kooyenga said Wednesday he would reimburse taxpayers $30,000 to settle a lawsuit, just as the state released video footage showing Kooyenga removing a protest sign critical of Republicans from a public area of the Capitol.

Kooyenga, a Brookfield Republican running for the state Senate, has given various explanations at different times for taking the sign last year, saying that he did so as a joke, that he thought the sign was inappropriate and that he believed it created a safety hazard because it could have hidden something dangerous.

…

In May, Donald Johnson of Madison placed a sign in the Capitol that criticized Republican President Donald Trump, without naming him, as "corrupt" and "a serial groper." It said Republicans backed the president, "we the people be damned."

Johnson had a state permit to display the sign in the Capitol, and he said he taped a copy of it to the back of the sign.

That month, Kooyenga removed the sign and put it in his office as a joke and because he thought it was inappropriate, according to what he told Capitol Police at the time. After Johnson complained about the missing sign, the Capitol Police saw on security video that Kooyenga had taken the sign and recovered it from him.

Gov. Scott Walker's administration initially declined to release a copy of the video of Kooyenga taking the sign to the Milwaukee Journal Sentinel and other media outlets. But the administration released it Wednesday after the Journal Sentinel and others requested it for a second time, saying that the settlement made the video a record of interest to the public.

 

Kooyenga has also said he took the sign because his military training had taught him that signs against curved walls create "clear risks" to the public because they could conceal something dangerous. The video shows the sign is on an easel and it appears it would be difficult to hide something behind it.

His critics have called Kooyenga's claims about safety laughable.

"How does he even get through an intersection? Because there are a lot of signs at intersections," Sen. Jon Erpenbach (D-Middleton) said.
➤ Brian Chen writes that I Downloaded the Information That Facebook Has on Me. Yikes:
When I downloaded a copy of my Facebook data last week, I didn't expect to see much. My profile is sparse, I rarely post anything on the site, and I seldom click on ads. (I'm what some call a Facebook "lurker.")

But when I opened my file, it was like opening Pandora's box.

With a few clicks, I learned that about 500 advertisers — many that I had never heard of, like Bad Dad, a motorcycle parts store, and Space Jesus, an electronica band — had my contact information, which could include my email address, phone number and full name. Facebook also had my entire phone book, including the number to ring my apartment buzzer. The social network had even kept a permanent record of the roughly 100 people I had deleted from my friends list over the last 14 years, including my exes.

There was so much that Facebook knew about me — more than I wanted to know. But after looking at the totality of what the Silicon Valley company had obtained about yours truly, I decided to try to better understand how and why my data was collected and stored. I also sought to find out how much of my data could be removed.
➤ Matt Velazquez writes 76ers 130, Bucks 95: With plenty on the line, the Bucks flop into the postseason:
PHILADELPHIA – The Milwaukee Bucks saved their worst for last.

With playoff seeding and a first-round draft pick hanging in the balance, the Bucks put forth an atrocious display at the Wells Fargo Center on Wednesday night, falling 130-95, to the Philadelphia 76ers. The 35-point margin represents Milwaukee's biggest blowout loss of the season.

"We didn't finish strong and we didn't play well and that's very disappointing," Bucks coach Joe Prunty said. "Hopefully it's a learning lesson for us."

The 76ers played without all-star Joel Embiid (fractured orbital bone) and sharpshooter J.J. Redick, who was scratched from the starting lineup due to back tightness moments before the game.
➤ Bonsai!!!: