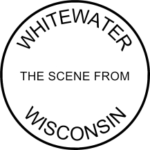 Paul Ryan hasn't been Whitewater's congressman since the last gerrymandering. We've faraway septuagenarian multi-millionaire James Sensenbrenner now.
Ryan, however, has been more powerful than Sensenbrenner ever could be. Janesville's Ryan has held greater political power than anyone in our town, to be sure, ever has or ever will.
And yet, and yet, Ryan's done.
If Trumpism's stain has finished Ryan – and it has – a similar political fate awaits those many other officials, near or far, allied with Trumpism.
People choose freely: sometimes well, sometimes poorly. Ryan chose poorly, and brought this on himself.
Ryan's not the first, and he won't be the last, to wither before one's eyes. Neither power, nor entitlement, nor pride sustained Ryan. They won't sustain anyone else, either.