Good morning.

Friday in Whitewater will be rainy with a high of forty-eight. Sunrise is 6:14 AM and sunset 7:35 PM, for 13h 20m 41s of daytime. The moon is a waning crescent with 7.4% of its visible disk illuminated. Today is the five hundred nineteenth day.Days since Trump's election, with 11.9.16 as the first day.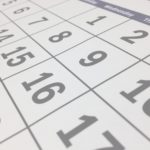 Thomas Jefferson is born on this day in 1743.
Recommended for reading in full —
➤ Molly Beck reports State employee discipline for sexual harassment ranged from reprimands to termination:
State employees in the last five years have been disciplined for asking a co-worker for her underwear and naked photos, for giving a gift to a co-worker, for slapping a co-worker's buttocks at a convention and for sending a sexually explicit text message, among other alleged behavior.

The discipline leveled for the alleged sexual harassment and misconduct included requiring letters of apology, reprimands, a suspension and, in one case, termination, according to records released recently by the state Department of Administration.

In another case, records indicate an assistant district attorney who was accused of grabbing a co-worker's breasts and placing the co-worker's hand on his crotch resigned amid an investigation into the allegations.

The records were released to the Wisconsin State Journal in response to a request by the newspaper in November under the state's open records law amid increased scrutiny on how government institutions address complaints of sexual harassment.

The cases involve employees of the state Capitol Police Department, the Department of Financial Institutions, two district attorneys offices, DOA Facilities Management and the Department of Tourism.
➤ William G. Gale writes The fiscal picture is worse than it looks—and it looks bad:
On the surface, CBO's new projections of the federal debt and deficits over the next 10 years paint a troubling picture. But, dig deeper and the story gets … more dire. The Federal government is not only running enormous deficits, but we are doing so at a time of full-employment. When the inevitable recession comes, we will be in deep trouble.

Here's the bad part:  Under current law, CBO projects that the debt—currently 77 percent as large as annual GDP—will rise to 96 percent of GDP by 2028. And that's if Congress does nothing. If instead, Congress votes to extend expiring tax provisions—such as the many temporary tax cuts in the 2017 tax overhaul—and maintain spending levels enacted in the budget deal (which is called the "current policy" baseline), debt is projected to rise to 105 percent of GDP by 2028, the highest level ever except for one year during World War II (when it was 106 percent).

…

Here's the worse part: The conventional comparison is misleading. The projected budget deficits in the coming decade are essentially "full-employment" deficits. This is significant because, while budget deficits can be helpful in recessions by providing an economic stimulus, there are good reasons we should be retrenching during good economic times, including the one we are in now. In fact, CBO projects that, over the 2018-2028 period, actual and potential GDP will be equal. As President Kennedy once said "the time to repair the roof is when the sun is shining."  Instead, we are punching more holes in the fiscal roof.
➤ Susan Hennessey, Matthew Kahn, Benjamin Wittes offer Seven Takeaways From Trump's Threats Against Rod Rosenstein:
In short, it is not only unclear whether Rosenstein will be fired, it is also unclear what precisely the consequences would be—at least in immediate legal terms—if he is fired.

With those caveats, here are seven observations about the possible firing of Rosenstein:

First, firing Rosenstein is not the same as firing Mueller, but it would be borne of the same corrupt purpose.

…

Second, there is no non-corrupt reason to fire Rosenstein. Rosenstein is, to be sure, a complicated figure. His tenure as deputy attorney general has been marked by some ugly incidents, most significantly when he authored the memo designed to provide the president with a pretext for firing Comey as FBI director. But whatever criticisms of Rosenstein may be valid, none of them is related to the reason Trump wants to fire him.

…

Third, it would be no better for Trump to force Rosenstein's recusal than to remove him from office entirely. Trump tweeted Wednesday encouraging people to watch Sean Hannity's show on Fox News that evening. The program was largely dedicated to advocating that Rosenstein be fired. Alan Dershowitz, who has become something of an adviser to the president, argued that rather than directly fire Rosenstein, he would "do it differently"—perhaps sidelining him from the investigation by insisting on his recusal. CNN has reported that the White House is drafting talking points in line with Dershowitz's message, arguing that Rosenstein's involvement in Comey's firing makes him too conflicted to continue overseeing the investigation. [Additional observations in full article.]
➤ Noted book critic Michiko Kakutani writes James Comey Has a Story to Tell. It's Very Persuasive:
In his absorbing new book, "A Higher Loyalty," the former F.B.I. director James B. Comey calls the Trump presidency a "forest fire" that is doing serious damage to the country's norms and traditions.

"This president is unethical, and untethered to truth and institutional values," Comey writes. "His leadership is transactional, ego driven and about personal loyalty."

Decades before he led the F.B.I.'s investigation into whether members of Trump's campaign colluded with Russia to influence the 2016 election, Comey was a career prosecutor who helped dismantle the Gambino crime family; and he doesn't hesitate in these pages to draw a direct analogy between the Mafia bosses he helped pack off to prison years ago and the current occupant of the Oval Office.

…

The central themes that Comey returns to throughout this impassioned book are the toxic consequences of lying; and the corrosive effects of choosing loyalty to an individual over truth and the rule of law. Dishonesty, he writes, was central "to the entire enterprise of organized crime on both sides of the Atlantic," and so, too, were bullying, peer pressure and groupthink — repellent traits shared by Trump and company, he suggests, and now infecting our culture.
➤ There's a Microscale Robot on This Penny That Can Travel Through Your Body: