Good morning.

Monday in Whitewater will see flurries with a high of thirty-six. Sunrise is 6:09 AM and sunset 7:38 PM, for 13h 28m 59s of daytime.
Today is the five hundred twenty-second day.
Days since Trump's election, with 11.9.16 as the first day.
Whitewater's Library Board is scheduled to meet at 6:30 PM.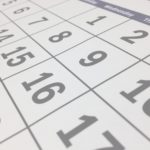 On this day in 1944, the USS Wisconsin is commissioned.
Recommended for reading in full —
➤ The New York Times editorial board writes The President Is Not Above The Law:
Mr. Mueller's investigation has already yielded great benefit to the country, including the indictments of 13 Russians and three companies for trying to undermine the presidential election. None of us can know if prosecutors will eventually point the finger at the president himself. But should Mr. Trump move to hobble or kill the investigation, he would darken rather than dispel the cloud of suspicion around him. Far worse, he would free future presidents to politicize American justice. That would be a danger to every American, of whatever political leaning.

The president is not a king but a citizen, deserving of the presumption of innocence and other protections, yet also vulnerable to lawful scrutiny. We hope Mr. Trump recognizes this. If he doesn't, how Republican lawmakers respond will shape the future not only of this presidency and of one of the country's great political parties, but of the American experiment itself.
➤ Michelle Ye Hee Lee and Anu Narayanswamy report Trump's reelection committee has spent more than $1 out of every $5 on legal fees this year:
President Trump's reelection campaign spent more than $1 out of every $5 on attorney fees this year as the president contended with the ongoing special counsel investigation and a new legal challenge from an adult-film star.

Of the $3.9 million that Trump's committee spent in the first quarter of 2018, more than $834,000 went to eight law firms and the Trump Corp. for legal fees, according to new Federal Election Commission records filed Sunday.

The latest figures bring the Trump campaign's total spending on legal fees to nearly $4 million since the president took office, records show. In the last quarter of 2017, Trump's campaign committee spent $1.1 million in legal fees.
➤ Nicole Cobler reports Trump nominee for federal judgeship had rejected Texas lawsuit against Trump University:
An Austin lawyer who dropped the state of Texas' investigation of Trump University in 2010 may get a lifetime post as a federal judge.

President Donald Trump named former Texas Deputy Attorney General David Morales on Tuesday to a trial bench in Corpus Christi. Morales had been recommended to the White House by Sens. John Cornyn and Ted Cruz.

Morales made headlines during the presidential campaign when news outlets learned that in May 2010 the state's consumer protection division had sought permission to pursue what it believed was a strong case against Trump and Trump University. Investigators asserted that Texas taxpayers had been bilked out of more than $2.6 million, and sought to file a $5.4 million lawsuit.
Morales rejected the recommendation. Texas dropped its investigation. Trump University voluntarily ceased operations in Texas.
➤ Adam Davidson sees Michael Cohen and the End Stage of the Trump Presidency:
There are lots of details and surprises to come, but the endgame of this Presidency seems as clear now as those of Iraq and the financial crisis did months before they unfolded. Last week, federal investigators raided the offices of Michael Cohen, the man who has been closer than anybody to Trump's most problematic business and personal relationships. This week, we learned that Cohen has been under criminal investigation for months—his e-mails have been read, presumably his phones have been tapped, and his meetings have been monitored. Trump has long declared a red line: Robert Mueller must not investigate his businesses, and must only look at any possible collusion with Russia. That red line is now crossed and, for Trump, in the most troubling of ways. Even if he were to fire Deputy Attorney General Rod Rosenstein and then had Mueller and his investigation put on ice, and even if—as is disturbingly possible—Congress did nothing, the Cohen prosecution would continue. Even if Trump pardons Cohen, the information the feds have on him can become the basis for charges against others in the Trump Organization.

This is the week we know, with increasing certainty, that we are entering the last phase of the Trump Presidency. This doesn't feel like a prophecy; it feels like a simple statement of the apparent truth. I know dozens of reporters and other investigators who have studied Donald Trump and his business and political ties. Some have been skeptical of the idea that President Trump himself knowingly colluded with Russian officials. It seems not at all Trumpian to participate in a complex plan with a long-term, uncertain payoff. Collusion is an imprecise word, but it does seem close to certain that his son Donald, Jr., and several people who worked for him colluded with people close to the Kremlin; it is up to prosecutors and then the courts to figure out if this was illegal or merely deceitful. We may have a hard time finding out what President Trump himself knew and approved.

However, I am unaware of anybody who has taken a serious look at Trump's business who doesn't believe that there is a high likelihood of rampant criminality. In Azerbaijan, he did business with a likely money launderer for Iran's Revolutionary Guard. In the Republic of Georgia, he partnered with a group that was being investigated for a possible role in the largest known bank-fraud and money-laundering case in history. In Indonesia, his development partner is "knee-deep in dirty politics"; there are criminal investigations of his deals in Brazil; the F.B.I. is reportedly looking into his daughter Ivanka's role in the Trump hotel in Vancouver, for which she worked with a Malaysian family that has admitted to financial fraud. Back home, Donald, Jr., and Ivanka were investigated for financial crimes associated with the Trump hotel in SoHo—an investigation that was halted suspiciously. His Taj Mahal casino received what was then the largest fine in history for money-laundering violations.
➤ Watch as a Hungry, Cranky Croc Destroys Watermelon With Powerful Jaw: