Good morning.

Sunday in Whitewater will see sleet and snow with a high of thirty-five. Sunrise is 6:11 AM and sunset 7:37 PM, for 13h 26m 14s of daytime. The moon is new with .3% of its visible disk illuminated.
Today is the five hundred twenty-first day.
Days since Trump's election, with 11.9.16 as the first day.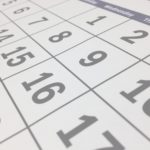 On this day in 1861, Wisconsin receives the call: "On this date Governor Alexander W. Randall received a telegram from Washington requesting one regiment of 780 men to serve the Union for three months in the Civil War. Within a week ten companies, from Kenosha, Beloit, Horicon, Fond du Lac, Madison, and Milwaukee were ready. [Source: The History of Wisconsin, Vol. II by Richard N. Current]"
Recommended for reading in full —
➤ Peter Stone and Greg Gordon report Sources: Mueller has evidence Cohen was in Prague in 2016, confirming part of dossier:
The Justice Department special counsel has evidence that Donald Trump's personal lawyer and confidant, Michael Cohen, secretly made a late-summer trip to Prague during the 2016 presidential campaign, according to two sources familiar with the matter.

Confirmation of the trip would lend credence to a retired British spy's report that Cohen strategized there with a powerful Kremlin figure about Russian meddling in the U.S. election.

It would also be one of the most significant developments thus far in Special Counsel Robert Mueller's investigation of whether the Trump campaign and the Kremlin worked together to help Trump win the White House. Undercutting Trump's repeated pronouncements that "there is no evidence of collusion," it also could ratchet up the stakes if the president tries, as he has intimated he might for months, to order Mueller's firing.
➤ Norman Eisen and Richard Painter contend Donald Trump's 5 reasons to fire Rod Rosenstein reveal true aim: Obstructing Robert Mueller:
President Trump reportedly is considering firing Rod Rosenstein, the deputy attorney general who appointed special counsel Robert Mueller and supervises his investigation into Russian interference in the 2016 election. To prepare the way, Trump has by our count floated five rationales internally and externally for doing so. The briefest scrutiny of these purported justifications shows that they are baseless, and makes apparent the president's true motivation: to obstruct the investigation that Rosenstein oversees.

Trump has reportedly complained about Rosenstein being a Democrat and coming from heavily Democratic Baltimore. In fact, Rosenstein is a decades-long registered Republican who worked as a federal prosecutor in Baltimore. That was part of a long career at the Justice Department devoted to the rule of law under both Republican and Democratic presidents. He was selected from a pool of Republican lawyers and nominated by Trump for his position as deputy attorney general. [Attys. Eisen and Painter then consider remaining five of Trump's thin bases.]
➤ Nicole Lewis and Maurice Chammah write Seven Years Behind Bars for Two Joints — And Now He's Free ("Bernard Noble, whose case became a symbol of harsh drug laws, walks out of a Louisiana prison"):
Bernard Noble, who became a national symbol of harsh drug laws after he was sentenced to 13 years of hard labor for carrying about two joints worth of marijuana, was released from prison early Thursday morning.

Noble, 51, was freed on parole after his lawyer and a team of advocates — including billionaire New York hedge fund manager Daniel Loeb — spent years pressing courts, governors and lawmakers to reverse the long sentence. He ultimately served seven years in prison.

"I really felt special, seeing my family and everyone waiting for me," Noble told The Marshall Project by phone after he walked out of Bossier Parish Medium Security Prison, where his mother, sister, and other family members awaited his release.

"I cried a lot of times in prison silently because you can't do it out loud in a treacherous place like that. But I always said, 'one day it's gonna get better,' " he said.

His freedom marked the end of a convoluted and high-profile legal journey that began in 2010, when he was arrested while biking in New Orleans, where he was visiting family. Police said they found about three grams of marijuana in his possession.
(One shouldn't have to smoke anything – I don't – to grasp that these sentences are disgracefully high. Yet for it all, there's a lumpen lobby that screams for sentences like this, as long as they are visited on a different demographic.)
➤ Judy Newman reports State of Wisconsin Investment Board employees to take home $11.6 million in bonuses:
Employees of the State of Wisconsin Investment Board — the agency that manages retirement funds for more than 600,000 current and former public workers — will share in bonuses totaling $11.6 million, the agency said Friday.

It is the fourth-highest bonus pot in the past five years.

The incentive payments, approved by the SWIB board of trustees, are based on the five-year investment earnings that exceed general market returns. That amounted to $759 million for the past five years ending in December.

…

Of this year's $11.6 million pot, two of SWIB's high-level employees will each get bonuses topping $500,000.
(These bonuses aren't high for private work of a similar kind – the obvious concern is that this isn't private work of a similar kind; these funds could be managed well by those no longer seeking career earnings, as a true public service.)
➤ Take a Tour of the Moon in 4K (courtesy of NASA):