Good morning.

Saturday in Whitewater will see a mix of rain and sleet with a high of thirty-eight. Sunrise is 6:13 AM and sunset 7:36 PM, for 13h 23m 27s of daytime. The moon is a waning crescent with 2.74% of its visible disk illuminated.
Today is the five hundred twentieth day.
Days since Trump's election, with 11.9.16 as the first day.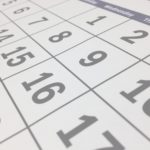 On this day in 1865, President Lincoln is shot and mortally wounded by John Wilkes Booth during a performance of "Our American Cousin" at Ford's Theater in Washington.
Recommended for reading in full —
➤ Scott Clement and Emily Guskin report Post-ABC poll: Majority of Americans support Mueller's probe of Russia, Trump campaign:
A clear majority of Americans support special counsel Robert S. Mueller III's investigation of Russian interference in the 2016 election and alleged collusion with President Trump's campaign, a new Washington Post-ABC News poll finds.

The results show backing for inquiries into Trump's orbit on several fronts.

Nearly 7 in 10 adults say they support Mueller's focus on possible collusion with Russia. Sixty-four percent say they want the special counsel investigating Trump's business activities. And a 58 percent majority supports investigating alleged payments by Trump associates to silence women who say they had affairs with him.
➤ Prof. of Law Randall D. Eliason writes Mueller doesn't need to talk to Trump:
So how could Mueller make his obstruction case, whether in an indictment or — as appears more likely — in a report? The key to obstruction of justice is proving corrupt intent, and Mueller would prove it the same way prosecutors typically do: through circumstantial evidence. This could include the suspicious timing of events; evidence of the president's actions and their likely consequences; lies and conflicting explanations for the president's behavior; testimony of those who had conversations with the president, witnessed his behavior, or who were otherwise involved; the president's own contemporaneous statements about such things as his decision to fire FBI Director James B. Comey; and any notes, emails, or other contemporaneous records that might shed light on the president's state of mind.

No single piece of evidence makes the case, but prosecutors would string them together until there was no longer any reasonable doubt about the corrupt intent behind the president's actions.

There is no doubt Mueller would like to interview the president. In addition to the questions about obstruction, prosecutors would love to hear what the president has to say about possible conspiracy with Russians to influence the election, as well as about other allegations swirling around his campaign and administration. But if Mueller thinks he has an argument for obstruction, he doesn't need an interview with Trump to make that case.
➤ Ashley Parker, Carol D. Leonnig, Josh Dawsey and Tom Hamburger report Trump's allies worry that federal investigators may have seized recordings made by his attorney:
President Trump's personal attorney Michael D. Cohen sometimes taped conversations with associates, according to three people familiar with his practice, and allies of the president are worried that the recordings were seized by federal investigators in a raid of Cohen's office and residences this week.

Cohen, who served for a decade as a lawyer at the Trump Organization and is a close confidant of Trump's, was known to store the conversations using digital files and then replay them for colleagues, according to people who have interacted with him.

"We heard he had some proclivity to make tapes," said one Trump adviser, who spoke on the condition of anonymity because of the ongoing investigation. "Now we are wondering, who did he tape? Did he store those someplace where they were actually seized? … Did they find his recordings?"

Cohen did not respond to requests for comment. Stephen Ryan, an attorney for Cohen, declined to comment. A White House spokeswoman referred a request for comment to Cohen and his attorney.
(It's hard to overstate how recklessly aberrant Cohen's conduct would be to tape conversations with clients or others in his orbit.)
➤ Krishnadvev Calamur contends The Syrian War Is Actually Many Wars:
Syrian President Bashar al-Assad seems to have won the civil war in his country—but that doesn't mean peace is coming. In fact, the conflict seems to be escalating—fueled by the many outside powers who have joined the Syrian battlefield with interests of their own.

"If you look at the literature on civil wars, it tends to suggest that the more foreign powers involved, the more difficult it is for a civil war to end—because most of those powers aren't willing to quit until either they are exhausted or their claims and desires have been met," said Christopher Phillips, author of the book The Battle for Syria: International Rivalryin the New Middle East. "And because a lot of them are backing proxies, the cost isn't necessarily that high."

Over the seven years of Syria's war, it has sucked in numerous other countries, who have attempted to shape the conflict with every tool from bombing to mercenaries to special operators to weapons shipments to money. The war has grown ever more complicated and more deadly over time, and Syria's future is now largely being determined outside of its borders. Who is fighting in Syria now, and why? [Calamur then lists roles of major fireign powers in the conflict.]
(The complexity of this conflict doesn't excuse Assad – he merits charges as a murder and war criminal, and belongs at The Hague for trial on those charges. The question for America is how to respond effectively, and whether Trump has the needed grasp that would underlie a genuinely effective response.)
➤ See Farol de Leça da Palmeira with a Mavic Air