Good morning.


Friday in Whitewater will be partly cloudy with a high of 61. Sunrise is 5:50 AM and sunset 7:53 PM for 14h 03m 33s of daytime. The moon is a waning crescent with 1.9% of its visible disk illuminated.
On this day in 1862, Union forces under David Farragut capture New Orleans.
---
Kellyanne Conway, mendacious Trump supporter, spoke during a visit to UW-Whitewater on Wednesday. For all the conservative worry over supposed speech suppression on UW System campuses, Conway spoke without interruption of any kind. Henry Redman reports Kellyanne Conway speech about liberals suppressing free speech meets no protest at UW-Whitewater:
Kellyanne Conway, a former adviser to President Donald Trump, gave a speech Wednesday evening at UW-Whitewater, focusing on threats to conservative speech from progressives as she spoke in front of nearly 200 people.

Speaking for about an hour in the half-full Timmerman Auditorium — which seats about 400 — Conway railed against threats to free speech as she repeatedly told the audience they were on "the right side" of issues ranging from immigration to abortion access, critical race theory and charter schools, while dropping the names of the many famous conservative figures she knows, including Trump and former Wisconsin Gov. Scott Walker. Among the people in attendance was state Sen. Steve Nass (R-Whitewater).

In the auditorium, fliers left on each chair from the campus police department gave guidance for exercising free speech "safely, respectfully and lawfully." A large number of police officers provided security at the event, which concluded without any disruptions inside or protests outside. The online announcement for the event included a statement that the hosts "reserve the right to remove disruptive or rowdy attendees."
Indeed, Conway — a defender of a Nebraska gubernatorial candidate facing complaints from eight women (including a Republican state senator) — was able to speak freely at UW-Whitewater without any protest.
Redman also notes that the auditorium was only half full. Perhaps there's not as much demand for downmarket Trump apologists as these Republicans believe.
A funny aside, though, presents itself on what the Republican organizers believe about themselves. One reads from FortAtkinsonOnline.com that "several seats within the auditorium were reserved for VIP guests."
So, at a Greyhound bus terminal, there are not separate sections for ordinary bums and VIP bums. No. There are only bums, each in the same unfortunate condition.
In a similar way, at a zoo, there are not separate sections for ordinary hyenas and VIP hyenas, but instead only animals of the same kind with mottled fur and crazed eyes. It's nutty that these conservatives showing up for Kellyanne Conway would somehow think it's possible to divide their ilk into separate classes.
There is only one.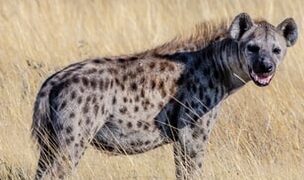 ---
Shanghai residents bang pots and pans in Covid lockdown protest:
Frustrated residents of Chinese city bang pots and pans to protest against living under a strict lockdown for nearly a month.