Good morning.

Wednesday in Whitewater will be sunny with a high of eighty-one. Sunrise is 5:30 AM and sunset 8:12 PM, for 14h 40m 25s of daytime. The moon is a waxing crescent with 1.7% of its visible disk illuminated.
Today is the five hundred fifty-second day.
Days since Trump's election, with 11.9.16 as the first day.
Whitewater's Finance Committee meets today at 7 AM, and her Parks & Rec Board at 6:30 PM.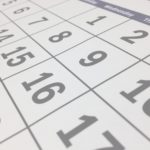 On this day in 1913, band leader Woody Herman is born in Milwaukee:
On this date Woody Herman was born in Milwaukee. A child prodigy, Herman sang and tap-danced in local clubs before touring as a singer on the vaudeville circuit. He played in various dance bands throughout the 20s and 30s and by 1944 was leading a band eventually known as the First Herd. In 1946, the band played an acclaimed concert at Carnegie Hall but disbanded at the end of the year. The following year, Herman returned to performing with the Second Herd that included a powerful saxophone section comprised of Herbie Steward, Stan Getz, Zoot Sims, and Serge Chaloff. He died in 1987.
Recommended for reading in full —
Jennifer Rubin writes
The gullible Trump finally finds out Kim Jong Un isn't 'honorable'
:
The Brookings Institution's Michael O'Hanlon observes that a "no more Mr. Nice Guy" stance actually is "more reassuring than the love fests that were happening previously, because they seemed surreal." There are a couple of ways to read this shift in tone. "Either Kim is now nervous about the whole détente process, given the clear U.S. goals, and wants to shut it down entirely, in which case the summit may not happen at all," says O'Hanlon. "Or, more likely, he is beginning the bargaining process in earnest, since the Trump administration was misinterpreting what he really meant and really was offering with all his talk of peace and denuclearization. It's not going to be that easy, or unilateral on his part, and most of us didn't think it would be."

If it is the latter, Trump may be particularly susceptible to Pyongyang's posturing. Trump's reliance on "chemistry" with world leaders and penchant for interpreting other countries' moves — be it the "nice" release of three Americans held in North Korea or a red-carpet welcome in China (the biggest ever!) — in personal terms are counterproductive when dealing with a methodical, aggressive regime. Instead of winning favor, Trump's childish rhetoric merely confirms adversaries' belief that they can manipulate him with a few superficial moves.

Nicholas Eberstadt warned in early March: "A good North Korean negotiating team seizes immediate control of the agenda. Typically it will suddenly stop talks, or unexpectedly demand resumption, to throw the other side off its game. If Team North does not take control of the agenda, talks get shut down until Team North says it is time to start talking again." In short, if they did not see Pyongyang's latest maneuver coming, Trump and his team are more gullible than we imagined.
Christopher Ingraham reports
Satellite data strongly suggests that China, Russia and other authoritarian countries are fudging their GDP reports
:
China, Russia and other authoritarian countries inflate their official GDP figures by anywhere from 15 to 30 percent in a given year, according to a new analysis of a quarter-century of satellite data.

The working paper, by Luis R. Martinez of the University of Chicago, also found that authoritarian regimes are especially likely to artificially boost their gross domestic product numbers in the years before elections, and that the differences in GDP reporting between authoritarian and non-authoritarian countries can't be explained by structural factors, such as urbanization, composition of the economy or access to electricity.
Noah Lanard writes
This Man Was Trump Before Trump. He Just Won Pennsylvania's Senate Primary
:
Nearly a decade before Donald Trump launched his campaign by accusing Mexico of sending "rapists" to the United States, Lou Barletta vowed to make the small city of Hazleton, Pennsylvania, "the toughest place on illegal immigrants in America." With Barletta as mayor, Hazleton became the first city in the country to pass a law that fined landlords who rented to undocumented immigrants and stripped employers of their business licenses if they hired unauthorized workers. On Tuesday, Republican voters chose Barletta, who is now one of Congress' foremost immigration hawks, to be the party's nominee in Pennsylvania's US Senate race.

…

As mayor, Barletta capitalized on the resentment among the city's aging white population of the new immigrants, who were mostly from the Dominican Republic. "What I'm doing here is protecting the legal taxpayer of any race," Barletta said in 2006. "And I will get rid of the illegal people. It's this simple: They must leave." He fulfilled his pledge to crack down on immigrants in 2006 when the city passed the Illegal Immigration Relief Act, the ordinance that punished people who rented to or hired undocumented immigrants. The law also made English Hazleton's official language and required all city business to be conducted in English unless federal law prohibited it. Barletta wore a bulletproof vest to the meeting where the measure passed to emphasize his claim that undocumented immigrants were driving up crime.

The law was so sweeping that the right-wing Federation for American Immigration Reform, which aggressively supports Trump's immigration agenda, argued it was too broad. A federal judge temporarily blocked the law before it went into effect, and the Supreme Court later allowed it to be permanently struck down. But the fight established the anti-immigrant credentials that underpinned Barletta's second bid for Congress in 2008. He lost again, but two years later he won the seat.
(A part of that which paved the way: a politician trafficking in racial resentment.)
Heather Long writes
Just about everything is odd about Trump's support of Chinese firm ZTE
:
It's odd that Trump, who campaigned on saving millions of U.S. jobs, suddenly says he cares about a few thousand Chinese jobs.

It's odd that Trump, who championed "America First," is worried about a single Chinese firm.

It's odd that Trump, who has spent months berating the Chinese for stealing U.S. intellectual property, is coming to the rescue of a Chinese telecom firm that's trying to compete with American companies such as Apple.

It's odd that Trump, who wants a strong U.S. military and business climate, is ignoring a House Intelligence Committee report from 2012 that concluded that ZTE "cannot be trusted to be free of foreign state influence and thus [poses] a security threat to the United States and to our systems."

It is odd that Trump, who has put extensive sanctions on Iran and North Korea, seems to be willing to forgive ZTE, a company that admitted it illegally shipped telecom equipment to Iran and North Korea. Trump's own Commerce Department punished ZTE in April for "egregious behavior," including repeatedly lying to the U.S. government. (The department banned U.S. companies from selling critical microchips and other products to ZTE for seven years.)
How Do You Move a Shark? Very Carefully
: