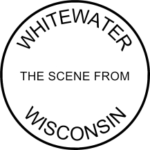 Whitewater has more than one food-shopping option in town, but only Walmart is of significant size. Many residents would like something beyond what we now have here in Whitewater: a dedicated grocery or a co-op.
Over these last few months, I've received emails from readers favoring one option, the other, both, or neither. (My thanks to each of you.) It's fair to say that most of those writing want something more than the choices now on offer, and every person writing has expressed strong feelings on the matter. I've written in reply to those who've written me, and had planned to write about the topic last week or this. Now, I'll wait a bit.
Last night, in reply to a question from a member of Common Council, the executive director of Whitewater's Community Development Authority agreed to give, in July, an update on grocery-store recruitment. As with many others in Whitewater, I'm curious how the CDA is progressing, and what publicly-funded offers (if any) they might propose to entice an out-of-town retailer to this city.
(There were other topics in the CDA update, some only raised in response to questions, and those answers are also food for thought.)
I'll wait patiently and with interest what municipal development officials have to say in July, about a grocery or co-op.