Good morning.

Thursday in Whitewater will be mostly sunny with a high of seventy-nine.  Sunrise is 5:29 AM and sunset 8:13 PM, for 14h 44m 25s of daytime.  The moon is a waxing crescent with 6.1% of its visible disk illuminated.
Today is the five hundred fifty-third day.
Days since Trump's election, with 11.9.16 as the first day.
Whitewater's Community Development Authority meets at 5:30 PM.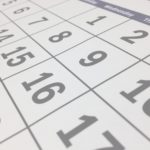 On this day in 1954, the United States Supreme Court hands down its unanimous decision in Brown v. Board of Education of Topeka, 347 U.S. 483 (1954).
Recommended for reading in full —
Gregory Korte and John Fritze report 
Trump Jr. told investigators he can't recall if he discussed Russian meeting with his father
:
WASHINGTON — After setting up a meeting with Russian agents to discuss what he thought would be incriminating information on Hillary Clinton in June 2016, Donald Trump Jr. made an 11-minute phone call to a blocked phone number, according to a transcript of his interview with Senate investigators released Wednesday.

Trump Jr. says he can't remember who he spoke to that night. But his father, now President Trump, used a blocked phone number at his home at the time, according to former campaign manager Corey Lewandowski. 

At a rally the next day, the presidential candidate alluded to information his campaign was gathering on Hillary Clinton. He said he was planning to give a "major speech" the following week "discussing all of the things that have taken place with the Clintons," he said.

"I think you're going to find it very informative and very, very interesting," Trump said. "I wonder if the press will want to attend, who knows."
Aaron Blake finds 
54 things Donald Trump Jr. couldn't 'recall' or 'remember' in his testimony
:
If there's one thing Donald Trump Jr. cleared up with his congressional testimony, it's that he doesn't remember a lot of things.

In a newly released transcript of his testimony, Trump repeatedly couched his answers about that June 2016 Trump Tower meeting by saying he did not "remember" or that he didn't "recall" certain things. Even when he was pretty sure, he'd say "not that I recall" or something like that. The result was a pretty cagey piece of testimony.

Below is a list of 54 substantive issues on which Trump cited his lack of a memory [list follows in full article].
(Bet he can remember his favorite escort service's phone number…)
Christine Emba writes
The GOP is quietly crafting work requirement waivers — for white people
:
In January, the Trump administration released new guidelines that would allow states to begin imposing work requirements on Medicaid recipients. It was a kindness, really: According to Seema Verma, administrator of the Centers for Medicare and Medicaid Services, meaningful work is essential to "economic self-sufficiency, self-esteem, wellbeing and … health."

Well, for some of us.

Since the announcement, states have raced to implement new work requirements, which will have the effect of bumping hundreds of thousands of their poorest citizens off the Medicaid rolls. But in more recent months, a number of GOP-controlled states have been quietly crafting waivers that would end up shielding rural, white residents from this new scheme for self-esteem.

It seems an unusually transparent move, even for a party that tends toward the blatant in its disdain for those not seen as "real Americans." But most of all, it's an example of how much-touted moral policy stances — such as solicitude for the "dignity of work," or "zero tolerance" for drugs, or "extreme" immigration vetting — often give shelter to less attractive tribal loyalties.
Gregory Korte and Alan Gomez report
Trump ramps up rhetoric on undocumented immigrants: 'These aren't people. These are animals.'
:
WASHINGTON — President Trump used extraordinarily harsh rhetoric to renew his call for stronger immigration laws Wednesday, calling undocumented immigrants "animals" and venting frustration at Mexican officials who he said "do nothing" to help the United States.

"We have people coming into the country or trying to come in, we're stopping a lot of them, but we're taking people out of the country. You wouldn't believe how bad these people are," Trump said.

"These aren't people. These are animals."
Wisconsin man encounters rare white deer fawn
:
A man searching for morel mushrooms in southern Wisconsin came across a white deer fawn. The animal appeared to be just hours old. Video courtesy Trent Zimmerman.
Zimmerman pulled out his cellphone and began taking video of the encounter.

The fawn tottered on its spindly legs as Maggie, a 1-year-old Labrador retriever, walked over to investigate.

Zimmerman can be heard on the video telling his dog to back off, an order to which Maggie promptly complied.

…

How rare are white deer? It's difficult to determine the frequency, according to scientists, but some estimates put it at 1 in 20,000 or 30,000.